Portable Subtitle Edit 4.0.2 Multilingual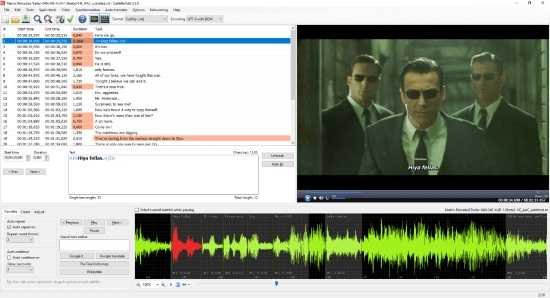 Subtitle Edit Portable is a feature-rich software program designed to help users create, edit and synchronize subtitles for movies, TV shows, and other video content. Developed by Nikolaj Lynge Olsson, the software has been widely praised for its user-friendly interface, extensive set of features, and powerful subtitle editing capabilities.
One of the key features of Subtitle Edit Portable is its ability to work with a wide range of subtitle file formats. The software supports all of the most popular subtitle file types, including SRT, SUB, SSA, ASS, STL, XML, and many others. This enables users to easily import existing subtitle files or create new ones from scratch, depending on their needs.
Once a subtitle file has been imported into Subtitle Edit Portable, users can take advantage of a variety of powerful editing tools to customize the text and timing of their subtitles. For example, the software includes a built-in spell checker that helps users identify and correct spelling errors in their subtitles. It also allows users to adjust the timing of individual lines of text, add or remove subtitle markers, and split or merge subtitle files as needed.
In addition to these basic editing tools, Subtitle Edit also includes a number of advanced features that make it a versatile and powerful tool for professional subtitle editors. For example, the software includes a translation mode that enables users to translate subtitles from one language to another with ease. It also includes a synchronization tool that automatically adjusts the timing of subtitles to match the audio track of a video file.
Another useful feature of Subtitle Edit is its ability to work with multiple subtitle files at once. Users can open and edit multiple files simultaneously, which makes it easy to compare and synchronize subtitles across different versions of a video or between different videos altogether.
To further simplify the subtitle editing process, Subtitle Edit includes a number of automation features that help users save time and improve accuracy. For example, the software can automatically detect and fix common errors in subtitle files, such as overlapping text or timing issues. It can also batch process large numbers of subtitle files at once, which makes it a great tool for professional editors who need to work with large volumes of content.
Overall, Subtitle Edit Portable is an essential tool for anyone who needs to create, edit, or synchronize subtitles for video content. Its user-friendly interface, extensive set of features, and powerful editing capabilities make it one of the best subtitle editing tools on the market today. Whether you're a professional editor or just starting out, Subtitle Edit has everything you need to get the job done quickly and efficiently.
Features
Create/adjust/sync/translate subtitle lines
Convert between SubRib, MicroDVD, Advanced Sub Station Alpha, Sub Station Alpha, D-Cinema, SAMI, youtube sbv, and many more (300+ different formats!)
Cool audio visualizer control – can display wave form and/or spectrogram
Video player uses mpv, DirectShow, or VLC media player
Visually sync/adjust a subtitle (start/end position and speed)
Audio to text (speech recognition) via Whisper or Vosk/Kaldi
Auto Translation via Google translate
Rip subtitles from a (decrypted) dvd
Import and OCR VobSub sub/idx binary subtitles
Import and OCR Blu-ray .sup files – bd sup reading is based on Java code from BDSup2Sub by 0xdeadbeef)
Can open subtitles embedded inside Matroska files
Can open subtitles (text, closed captions, VobSub) embedded inside mp4/mv4 files
Can open/OCR XSub subtitles embedded inside divx/avi files
Can open/OCR DVB and teletext subtitles embedded inside .ts/.m2ts (Transport Stream) files
Can open/OCR Blu-ray subtitles embedded inside .m2ts (Transport Stream) files
Can read and write both UTF-8 and other unicode files and ANSI (support for all languages/encodings on the pc!)
Sync: Show texts earlier/later + point synchronization + synchronization via other subtitle
Merge/split subtitles
Adjust display time
Fix common errors wizard
Spell checking via Libre Office dictionaries (many dictionaries available)
Remove text for hear impaired (HI)
Renumbering
Effects: Typewriter and karaoke
History/undo manager (Undo=Ctrl+z, Redo=Ctrl+y)
Compare subtitles
Multiple search and replace
Change casing using names dictionary
Merge short lines/split long lines
Export to PNG images (+bdn xml), Adobe Encore FAB image script, VobSub, Blu-ray sup, EBU stl, PAC, and plain text
Subtitle Edit can read, write, and convert between more than 300 subtitle formats, like:
SubRip (*.srt)
ABC iView
Adobe Encore
Advanced Sub Station Alpha
AQTitle
Avid
CapMaker Plus (*.cap, binary)
Captionate
Cavena890 (*.890, binary)
Cheetah Caption (*.cap, binary)
D-Cinema (Cinecanvas, both interop and smpte)
Dvd Studio Pro
Dvd Subtitle
EBU Subtitling data exchange format (*.stl, binary)
F4 (several variations)
Flash xml
Json (two variations, for use with JavaScript)
MicroDvd
MPlayer2
OpenDvt
PAC (*.pac, binary)
Pinnacle Impression
QuickTime Text
RealTime Text
Scenarist
Sony DVD Architect
Sub Station Alpha
SubViewer 1.0
SubViewer 2.0
Sami (*.smi)
Son (*.son, import only)
Subtitle Editor Project
Timed Text 1.0 (*.xml), also know as TTML or DFXP
Timed Text Draft (*.xml)
TMPlayer
TTXT
TurboTitle
Ulead Subtitle Format
Ultech (*.cap, binary, only read)
UTX
WebVTT
YouTube Annotations
YouTube Sbv
Zero G
Xml
Csv
VobSub (*.sub/*.idx, binary – can also be read from Matroska/mp4 files)
DVD Vob (*.vob, binary, read only)
Blu-ray sup (*.sup, binary, can also be read from Matroska files)
Bdn xml (*.xml + png images, read+write)
Transport Stream subtitles (*.ts)
+ several formats of unknown name
Release Note:
NEW:
UI layouts with support for TikTok/YouTube-shorts – thx leon/jmaraujouy/LearningJer
Language filter (to minimize the long list of languages in combo boxes)
Interjections are now language specific
Translate via Facebook's NLLB (requires local API) – thx sharadagg
Translate via LibreTranslate (requires local API) – thx AnonymousWebHacker
Statistics for selected lines
Shortcut "Set start time and go to next"
Add new json subtitle format – thx Neven
Add new json format – thx Tim
Add Video CD DAT subtitle format – thx Flitskikker
Add Italian SE word dictionary file – thx HG3112
BD SUP edit: Add "Select non-forced lines" – thx manuelrn
Take ASSA style from file in CLI – thx Ninelpienel
Split long lines in CLI – thx BenJamesAndo
Add new "Remove text for HI" option "only music symbols" – thx fraternl
Add format "Cavena 890" to "Batch convert" – thx Steve
IMPROVED:
Update Korean translation – thx domddol
Update Italian language – thx bovirus
Update Portuguese translation – thx hugok79
Update Polish translation – thx admas
Update Finnish translation – thx Teijo
Update Chinese translation – thx nkh0472
Update French translation – thx Pierre
Update Bulgarian translation – thx ?????
Update German translation – thx Netspark
Update Russian translation – thx elfriob
Update Spanish translations – thx jmaraujouy
Update Dutch translation – thx Flitskikker
Save settings from selected lines unbreak/break – thx David
Add simple page up/down for combo-boxes
Add access keys for message box buttons – thx Christophe
Use split container in "Break/split long lines" – thx oep42
Change max font size in ASSA style from 200 to 500 – thx Jim
Edit interjection is now a text box – thx Andrebavila
Bookmark list now has context menu with edit/delete – thx Andrebavila
Update Tesseract to 5.3.3 (2023-10-05, 64-bit only)
Auto-translate re-written, so it's easier to add new translators
Close all processes when closing Faster Whisper – thx Purfview
Allow drag-n-drop in "Multiple replace" rules – thx Clarencezzh
ASSA: "Replace style" now works on multi-selection – thx Leon
Add some support for ASSA inline color in bdsup export – thx Adam
Update cuBLAS/cuDNN libs to v2 for Purfview's Faster Whisper – thx Purfview
Update Purfview's Faster Whisper to r160.7 (large v3) – thx Purfview
Update Whisper CPP to v1.5.0
Update OpenAI Whisper to include large v3 model
Update FFmpeg/FFprobe to version 6.1 (from 6.0)
FIXED:
Fix for paste in waveform – thx Ruong
Fix remember text box settings (bold/size) – thx Siamak
Fix for two pass encoding in burn-in subs – thx Nounours
Fix crash in CSV reader – thx Waseem
Fix bug in "Remove text for HI" – thx Chamallow
Fix find/replace position – thx Omair
Fix 3-part time code in TTML – thx ms2048
Fix image export simple render center left/right align – thx TheFmC
Fix for "Merge short lines" with dialog – thx taxen
Fix duration combo-box frames in frame-time-code-mode – thx JDTR75
Fix for BD-SUP edit "toggle forced" – thx manuelrn
Fix Whisper post-processing language using "Translate to English" – thx github-roe
Fix "ASSA Tools – Set position" on Linux – thx PascalsHere
Fix for "Generate video with burned-in subtitle" in SMPTE mode – thx Jim
Fix remove of font name in ASSA/SSA – thx PureOcean
Fix possible freeze when loading XML files – thx Dvid
Fix issues with "Set end, add new, and go to new" – thx Lorqu1n/Flitskikker
Fix some missing Thai characters in format PAC – thx thehulk
Fix crash in spell check – thx Omair
Fix crash minimizing ASSA batch styles – thx Åke
Fix crash in "Replace" window after "File – New" – thx Leon
Downnload Subtitle Edit Portable