Portable XMedia Recode 3.5.8.8 (x64) Multilingual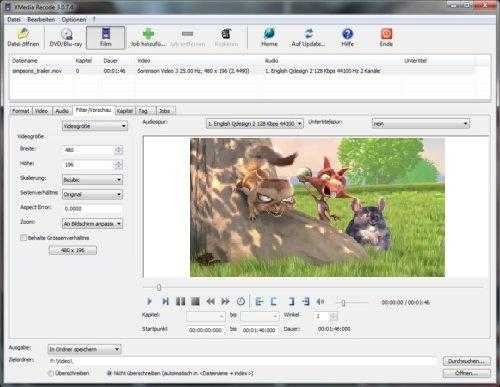 XMedia Recode Portable is a powerful and versatile video conversion software that allows users to convert videos between a wide variety of formats. Developed by Sebastian Dörfler, this software is popular for its ease of use, extensive format support, and advanced features.
One of the most notable features of XMedia Recode Portable is its user-friendly interface. The software's graphical user interface (GUI) is straightforward and intuitive, making it easy for both novice and experienced users to navigate. Users can quickly access all of the program's key features and settings through a series of tabs and menus, and the software provides helpful prompts and tooltips to guide users through each step of the conversion process.
XMedia Recode Portable supports a wide range of input and output formats, allowing users to convert videos from virtually any source to any desired format. Supported input formats include common video formats such as AVI, MPEG, MP4, MOV, WMV, and others, as well as less common formats like FLV, MKV, and WebM. Output formats are equally diverse, with options ranging from standard video formats to high-definition and 3D video formats.
In addition to its extensive format support, XMedia Recode also offers many advanced features that make it a popular choice among professionals and enthusiasts alike. For example, the software includes a powerful batch processing feature that allows users to convert multiple videos at once, saving valuable time and streamlining workflow. Users can also customize various aspects of the conversion process, including video and audio codecs, bitrate, resolution, and more.
Another noteworthy feature of XMedia Recode is its ability to perform simple video editing functions, such as trimming and cropping. These tools allow users to easily remove unwanted footage or adjust the aspect ratio of their videos. While these editing features are not as advanced as those found in dedicated video editing software, they are still useful for quick and simple edits.
Perhaps one of the most impressive features of XMedia Recode is its ability to optimize videos for specific devices or platforms. The software includes a vast library of pre-configured profiles for popular devices such as Apple iPhones and iPads, Android smartphones and tablets, gaming consoles, and more. Users can simply select their desired device profile, and XMedia Recode will automatically adjust settings such as resolution and bitrate to ensure optimal playback performance on that device.
Furthermore, XMedia Recode is a highly customizable software package. Users can configure various settings to meet their specific needs, including the ability to adjust the priority of the conversion process, set CPU usage limits, and more. Users can also save their own custom presets for future use, further streamlining the conversion process.
Overall, XMedia Recode is an impressive video conversion software package that offers a wide range of features and capabilities. Its clean and user-friendly interface, support for numerous input and output formats, batch processing capabilities, and advanced customization options make it a favorite among both casual and professional users. Whether you need to convert videos for playback on specific devices, edit footage quickly and easily, or simply streamline your video conversion workflow, XMedia Recode has everything you need to get the job done efficiently and effectively.
XMedia Recode Portable can convert almost all known audio and video formats, including 3GP, 3GPP, 3GPP2, AAC, AC3, ADTS, AMR, ASF, AVI, AVISynth, DVD, FLAC, FLV, H.261, H.263, H.264, M4A , M1V, M2V, M4V, Matroska (MKV), MMF, MPEG-1, MPEG-2, MPEG-4, TS, TRP, MP2, MP3, MP4, MP4V, MOV, QT, OGG, PSP, RM, (S ) VCD, SWF, VOB, WAV, WebM, WMA and WMV.
XMedia Recode can only convert unprotected DVDs.
XMedia Recode converts 3GP to AVI, 3GP to FLV, AC3 to MP3, AC3 to WAV, ASF to 3GP, ASF to FLV, ASF to MP4, AVI to FLV, AVI to 3GP, FLAC to MP3, FLAC to WMA, FLV to 3GP, FLV to Mp3, DVD to 3GP, DVD to AC3, DVD to AVI, DVD to MP3, DVD to MP4, DVD to MOV, DVD to SVCD, DVD to VCD, DVD to WMV, OGG to MP3, OGG to WMA, MPEG to AVI, MP2 to MP3, MP4 to FLV, MP4 to AVI, M4P to MP3, MOV to 3GP, MOV to AVI, MOV to FLV, WMA to MP3, WMV to FLV, WAV to MP3.
The utility works with most formats out there and it also has an option to convert DVD and Blu-Ray discs into any format you like. But probably the ace up its sleeve is actually the way it manages to address novice user and more experienced ones at the same time.
Different output profiles to work with
First of all, those uninitiated have the option to choose one of the many built-in profiles for a one-click conversion job. For example, if you wish to convert an AVI video and transfer it on your iPhone, you have the option to pick the iPhone model and let the app do the whole job.
Advanced parameters
At the same time, power users can step into the more advanced side and modify bitrate, keyframe interval, framerate, rate control mode and many other settings regarding both the video and audio chapters, using the other configuration tabs.
Performance
The conversion process goes very smoothly and the user also has the option to keep an eye on the running process by opening the 'Jobs' tab. The preferences dialog is minimal and is less likely to help you unless there's a problem with the tool, as all the important settings are actually stored in the main window.
A top media encoder on the market
As a conclusion, if you are looking for an app that's able to work with virtually all audio and video formats out there, XMedia Recode Portable should be one of your top choices.
How to use XMedia Recode:
XMedia Recode is a free video and audio conversion tool that supports a wide range of formats. It can also perform basic editing functions such as cropping, cutting and merging files. In this tutorial, we will go over the steps to use XMedia Recode for converting video and audio files.
Step 1: Download  XMedia Recode Portable
Step 2: Launch XMedia Recode
Once installed, launch XMedia Recode by double-clicking on its desktop icon or searching for it in your Start menu.
Step 3: Add Files to XMedia Recode
To add files, click on the "Add" button or drag and drop files into the main window. You can add multiple files at once by holding down the Ctrl key while selecting them.
Step 4: Select Output Format
Choose the output format by clicking on the "Format" dropdown menu. XMedia Recode supports a wide range of formats including MP4, AVI, H.264, MOV, MKV, MP3, WAV, FLAC and many more.
Step 5: Configure Output Settings
After choosing the output format, click on the "Options" button next to it to configure the output settings. You can adjust various settings such as codec, bitrate, frame rate, resolution, audio channels, and more.
Step 6: Choose Destination Folder and Name
Specify the destination folder where you want the converted file to be saved by clicking on the "Browsing" button. You can also change the name of the output file if desired.
Step 7: Convert File
Once you have configured all the settings, click on the "Add to Queue" button to add the file to the conversion queue. You can then start the conversion process by clicking on the "Encode" button.
Step 8: Monitor Progress
XMedia Recode will show you the progress of the conversion process in real-time, including the estimated time remaining and the percentage completed.
Step 9: Check Converted File
After the conversion process is complete, you can check the converted file to make sure it plays correctly and looks the way you want it to.
That's it! This tutorial should provide you with the basic steps for using XMedia Recode to convert video and audio files.
What's NEW in Xmedia Recode Portable:
Update of ffmpeg
Update of AOM AV1 (3.7.1) Codec
Audio and Video Codec: Added "Delay" option
Troubleshooting
Download XMedia Recode Portable