Portable OcenAudio 3.13.0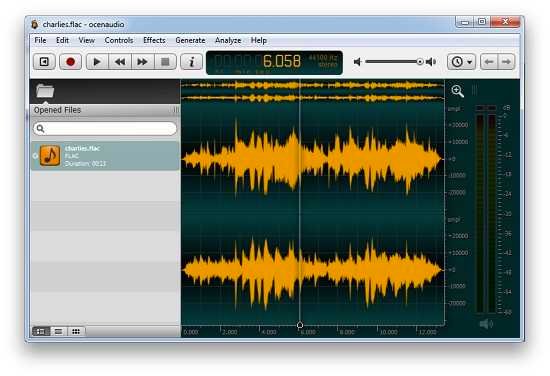 OcenAudio is a free audio editor with a wide range of useful features and an attractive graphical interface. Thanks to a simple and conveniently implemented interface, everyone can master this product and work in it.

OcenAudio has a small volume, but at the same time it contains quite a wide range of features and a set of software tools focused on fast, high-quality and convenient editing of audio files, regardless of their format. This program is worth our and your attention, so below we will talk about what it can do and what you can do with it. Separately, it is worth noting that any change made by the user is displayed in real time.
When an application comes with an intuitive GUI and easy to understand controls, this encourages even beginner users to experiment with it and discover its features. Such is the case with ocenaudio.
Intuitive audio editor
As you would expect, you need to start by selecting the source file (either via drag and drop, or by manually browsing to it). Numerous formats are supported (PCM, FLT, ALW, CAF, ASIG, WAV, DAT, AU, AIFF, VOC, AAC, AMR, MP3, M4A, 3GP, MOV, OGG, WMA, ASF, FLAC, TTA, APE, MKV, AVI, OCEN and many more), so chances are you will be able to process your required track without issues.
Once a file is loaded within the main window, you can preview its contents as a timeline, and you can start making one or more selections using your mouse. This way, you can easily apply effects to several fragments of your tracks without needing to perform multiple operations.
Supports audio effects
It needs to be emphasized that ocenaudio supports VST plugins, so you can increase the number of available effects using dedicated plugins.
When it comes to the effects integrated within the application, they are grouped in relevant categories, such as amplitude, filter, equalization, delay, dynamics processing, time and pitch, noise reduction and specials.
You also get the possibility to insert silences, normalize or smooth your selections.
Extra functions
If you are interested in analyzing your audio file, you can examine the statistics generated by ocenaudio for the current channel, along with various FET analysis charts.
You can also explore and modify metadata information for the currently open file, meaning you can edit fields like song name, artist, album, genre, year or artwork.
Conclusion
To wrap it up, ocenaudio is a feature-packed solution for meeting all your audio-related needs, then exporting the result to numerous supported formats.
The main features are:
Full featured audio editing
All those audio editing tasks that the average user puts forward, OcenAudio solves without problems. In this program, you can cut and glue files, cut out unnecessary fragments from them, or, conversely, leave only what you need. In this way, you can create a ringtone for a mobile phone or edit an audio recording (for example, a podcast or radio broadcast), removing unnecessary fragments from it.
Effects and filters
In its arsenal, Ocean Audio contains quite a lot of different effects and filters with which you can process, modify, improve audio files. Using these tools, you can normalize the sound, reduce noise, transform frequencies, add an echo effect, and much more.
Audio file analysis
OcenAudio has audio analysis tools that can help you get detailed information about a particular file.
For a more detailed analysis, it is better to use a spectrogram, with which you can analyze an audio file.
Thus, you can understand what else needs to be changed or corrected in it in order to achieve the best sound quality.
Changing the quality
This program allows you to change the quality of audio files, both for better and for worse. Using this tool, you can reduce the file size or improve its quality. Of course, it is impossible to turn a voice recording into Lossless in this way, however, it is still possible to achieve a tangible improvement.
Equalization
OcenAudio has two advanced equalizers – 11-band and 31-band – that you can use to work with the frequency range of an audio file.
Using equalizers can not only improve or degrade the quality of a composition as a whole, but also change the sound of a particular range – boost low frequencies to add bass, or cut high frequencies to muffle vocals, to name just one example.
Editing metadata
If you need to change some information about a track, it's very easy and convenient to do it with OcenAudio. By opening the "Metadata" section, you can change or write down the name of the track, artist, album, genre, year, specify the serial number and much more.
Format Support
This program supports most of the current audio file formats, including WAV, FLAC, MP3, M4A, AC3, OGG, VOX and many others.
Support for VST technology
Users who find the functionality and built-in tools of Ocean Audio not enough can connect VST plugins from third-party developers to this audio editor. With their help, you can perform more complex audio editing. In order to connect the plug-in, it is enough to specify the path to the folder in which it is located in the program settings.
Download OcenAudio Portable