Portable MKVToolNix GUI 74.0.0 Multilingual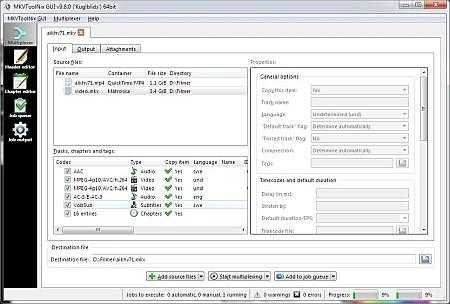 MKVToolNix Portable is a set of tools to create, alter, split, join and inspect Matroska files(mkv). With these tools one can get information about (mkvinfo) Matroska files, extract tracks/data from (mkvextract) Matroska files and create (mkvmerge) Matroska files from other media files. Matroska is a multimedia file format aiming to become THE new container format for the future.
MKVToolnix Portable is an advanced application that enables you to open, examine, edit and mux Matroska files (.mkv). It offers support for other popular video file types too, along with audio tracks and subtitles.
Inspect and manipulate Matroska files
The tool enables you to view, append and take apart tracks, chapters and tags, as well as to edit a wide range of data. For example, when it comes to general track options, you can set the track name, language, default and forced track flags, tags, and timecodes.
What's more, you can set the aspect ratio, FPS, delay, stereoscopy mode, cropping, cues, compression mode, and custom command-line parameters for enhanced functionality. External files can be embedded in the movie as attachments.
Create and edit movie chapters
It's also possible to create chapters and define properties, such as start and end time, flags, segment and segment edition UID, together with chapter name, language and country. Configurable global settings focus on the tag file, whether to create a WebM compliant file or not, split mode, file linking, and so on.
An important aspect worth taking into account is that MKVToolnix Portable offers support for batch jobs, which means that you can leave the workstation unattended while the tool executes time-consuming tasks.
You can examine the current command line and copy it to the Clipboard or save it to file to use in future projects, manage the queue jobs, add command-line options, load chapters from external files, edit the header, as well as save the project as an .mka, .mkv or .mk3d-formatted file.
New features and enhancements
mkvmerge: SRT handling: added a hack called `–engage keep_whitespaces_in_text_subtitles` which disables stripping whitespaces from the start & end of each line of SRT entries during muxing.
Bug fixes
all: Windows: UNC paths of type `\\?\C:\…` are supported again by switching back to Boost's file system library instead of using C++17's file system library.
 mkvmerge: AVC/H.264 & HEVC/H.265 packetizers: when appending tracks the pixel dimensions will be checked & muxing will be aborted if they don't match.
mkvmerge: file type detection: file types that can be detected unambiguously by their content (e.g. Matroska, MP4, WAV…) will now preferred in the detection order over file types based on their extension.
mkvmerge: SRT handling: whitespaces will now be stripped from the start & the end of each line of each entry, not just from the end of the last line.
mkvextract: SRT extraction: whitespaces will not be stripped from the start & end of the whole entry anymore.
MKVToolNix GUI: multiplexer: when adding multiple files that include certain file types (chapters, segment info and tag files) and when the choice where to add them is "all files to a single new tab", these certain file types will now be added in the newly added tab as well instead of the current tab that had already been open.
build system: fixed compatibility with Ruby 3.2.0 by using `FileTest.exist?` instead of `File.exists?`, `Dir.exists?` & `FileTest.exists?` which were removed in that release.
Build system changes
MKVToolNix is now using & requiring Boost's "file system" and "system" libraries again instead of C++17's file system library. This is due to gcc's library not supporting UNC paths of types `\\?\C:\dir\file.ext`.
Download MKVToolnix Portable