Portable MKVToolNix 79.0.0 Multilingual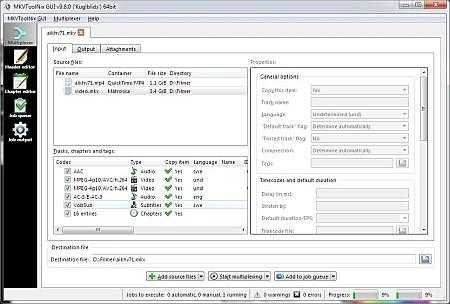 MKVToolnix Portable is a powerful and easy-to-use software application for creating, editing, and inspecting Matroska multimedia container files, also known as MKV files. This free and open-source tool, developed by Moritz Bunkus, supports a wide range of video, audio, and subtitle formats, making it an essential utility for anyone who works with digital media.
One of the most notable features of MKVToolnix Portable is its ability to combine multiple input files into a single output file. This means that you can merge several video, audio, or subtitle tracks from different sources into one file without having to re-encode them. This feature is particularly useful when dealing with movies or TV shows that come in separate files for each episode or with multi-language tracks that need to be muxed together.
MKVToolnix Portable also allows you to extract specific tracks from an existing MKV file and save them as separate files. This is handy when you only need one particular language track or want to extract the subtitles for translation or editing. Additionally, the software lets you edit the metadata of MKV files, such as title, author, description, and cover art, which can be useful for organizing your media library or sharing files online.
Another important aspect of MKVToolnix is its support for various video and audio codecs, including H.264, HEVC, VP9, AAC, AC3, DTS, and FLAC, among others. This means that you can work with high-quality video and audio files without losing quality or compatibility issues. Furthermore, the software offers advanced options for adjusting the video and audio parameters, such as bitrate, resolution, framerate, and channel layout, giving you full control over the output quality and size.
In addition to these core features, MKVToolnix includes several other tools that can be useful for advanced users. For example, the "mkvmerge" command-line tool allows you to automate the process of muxing and demuxing MKV files, which can save time and effort when dealing with large batches of files. The software also includes a "mkvinfo" tool that displays detailed information about the structure and contents of an MKV file, such as the number and type of tracks, the duration and size of each segment, and the compression method used.
Overall, MKVToolnix Portable is a must-have tool for anyone who works with digital media in the Matroska format. Its intuitive interface, comprehensive features, and robust performance make it an excellent choice for beginners and professionals alike. Whether you need to merge, extract, or edit MKV files, or just want to explore the details of your media content, this software has you covered. Best of all, it's completely free and open-source, meaning that you can use it without any restrictions or licensing fees.
Inspect and manipulate Matroska files
The tool enables you to view, append and take apart tracks, chapters and tags, as well as to edit a wide range of data. For example, when it comes to general track options, you can set the track name, language, default and forced track flags, tags, and timecodes.
What's more, you can set the aspect ratio, FPS, delay, stereoscopy mode, cropping, cues, compression mode, and custom command-line parameters for enhanced functionality. External files can be embedded in the movie as attachments.
Create and edit movie chapters
It's also possible to create chapters and define properties, such as start and end time, flags, segment and segment edition UID, together with chapter name, language and country. Configurable global settings focus on the tag file, whether to create a WebM compliant file or not, split mode, file linking, and so on.
An important aspect worth taking into account is that MKVToolnix Portable offers support for batch jobs, which means that you can leave the workstation unattended while the tool executes time-consuming tasks.
You can examine the current command line and copy it to the Clipboard or save it to file to use in future projects, manage the queue jobs, add command-line options, load chapters from external files, edit the header, as well as save the project as an .mka, .mkv or .mk3d-formatted file.
New features and enhancements

* mkvmerge: AV1: added support for reading Dolby Vision from AV1 IVF & OBU
  streams. Patches by Quietvoid.
* mkvmerge: MPEG TS reader: added support for colors in teletext
  subtitles. Patch by Angela Schmid.
* MKVToolNix GUI: multiplexer: when adding files the GUI can automatically
  enable the "forced display" flag for subtitle tracks if the file name
  contains the word "forced" delimited by certain characters
  (configurable). This feature is turned on by default. Implements #3586.
* MKVToolNix GUI: multiplexer: added the option `--stop-after-video-ends` to
  the dialog for additional command line options. Implements #3594.
* MKVToolNix GUI: multiplexer: when adding Blu-ray playlists the dialog
  allowing the user to select the playlist to add will now show audio & video
  track properties as well (pixel dimensions for video; sampling frequency,
  channels for audio). Implements #3597.
* MKVToolNix GUI: header editor: in order to reduce confusion with users non
  that versed in Matroska elements, the naming of the two "language" track
  properties has been changed: the old element is now titled "Language
  (obsolete)" & the current, IETF BCP 47 based one is simply called
  "Language".
* MKVToolNix GUI: preferences: you can now use the "delete" key to remove
  entries from simple list widgets for strings (e.g. the list of recently used
  destination directories).

## Bug fixes

* mkvmerge: DTS reader: if a DTS stream doesn't start with a DTS core but a
  sub-stream element (EXSS), the reader will now look for a core. If found,
  it'll start processing from there instead of from the start. This fixes the
  timestamp calculation if the sampling frequency in the core & in the
  extensions are different. Fixes #3602.
* MKVToolNix GUI: multiplexer: the "emphasis" and "stereoscopy" combo-boxes
  now have a much smaller minimum width, allowing to make the whole
  "properties" pane much smaller again. Fixes #3581.
* MKVToolNix GUI: macOS: when you install the application from the DMG it'll
  no longer register itself as an alternate handler for its supported file
  types. It seems like this overrode existing associations, forcing people to
  change them manually to whatever they wanted them to be. Additionally this
  forced the associated file to always be shown with an MKVToolNix icon. The
  GUI's own `.mtxcfg` files will still be registered. Fixes #3588.
Download MKVToolnix Portable