Portable Update Fixer 1.2.0.15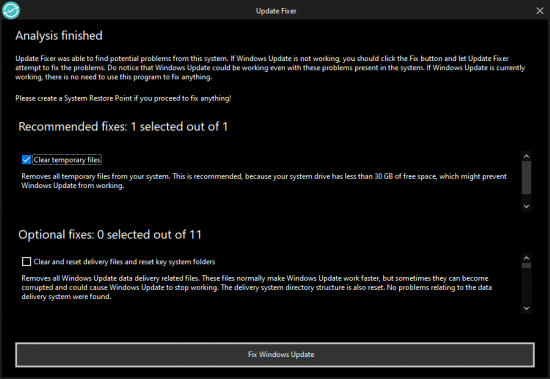 This program is an automatic Windows Update Fixer, but we couldn't actually use that name, because Windows is Microsoft's trademark and obviously we are not Microsoft. Therefore, our program is called Update Fixer.
Why does Windows Update fail?
There can be many reasons why Windows Update fails, such as:
System services relating to Windows Update have been disabled or misconfigured.
The Windows Update delivery files are corrupted or locked.
Certain system directories are corrupted or missing.
Settings relating to Windows Update are incorrect in the Windows system registry.
Unfortunately, Windows Update often displays unhelpful error messages. For example, Windows Update failing because error 0x800705b4, 0x80070424 or c0000022.
These Windows Update error codes do not usually help much in fixing Windows Update.
Other common problems are when you experience Windows Update stuck at 100 percent or Windows 11 Update stuck anywhere between 0% and 100%, or, Windows 11 updater not working at all.
Windows comes with the official Windows Update Troubleshooter but it often fails to fix anything. There are also scripts designed to fully reset Windows Update, but they do not always work. Also, a script that resets everything is a hammer but sometimes what you need is a precision tool.
These are the reasons why we developed Update Fixer. We want to help you to fix Windows Update, easily.
Download Update Fixer Portable