Portable Vivaldi Browser v5.5.2805.48 (x64) Multilingual
Internet/Web Browser. Better than any other browser. If you're not using Vivaldi Portable you're not using the web's best browser. We're building the most feature-packed, customisable browser out there and we have two ground rules: privacy is a default, and everything's an option. Built-in features: e-mail client, calendar, contacts, feed reader, translation (108 languages), screen capture (incl. full-page screenshots), ad/tracker blocker, etc.
Vivaldi is based on the Chromium project, so you can use all the extensions/add-ons for Google Chrome browser. Take a look at the extensions available in the Chrome Web Store.
Features:
• Tab Management
Unique features give you full control of how you group and display browser tabs.
• Customization
Tweak and tune every part of the browser to create your own unique experience.
• User Interface
An adaptive interface lets you adjust the position, size and appearance of the browser's UI elements.
• Navigation
Get to where you're going faster with fully configurable Search options, custom shortcuts and a Bookmark manager fit for power users.
• Privacy & Security
Vivaldi is built with privacy as a priority and gives you full control of settings critical to keeping your data safe.
• Tools
An arsenal of built-in tools like Notes, Image Properties and more give you advanced functionality without sacrificing performance.
• Mouse & Keyboard
Use custom Keyboard Shortcuts, Mouse Gestures or the command line control of Quick Commands. The choice is at your fingertips.
In a world where web browsers try desperately to copy and match each other's features and latest gimmicks, there's one browser that stands out in more ways than thought possible. Built by a team of Opera expatriates, the browser in question is called Vivaldi, and ever since it left the technical preview development stage, it has been slowly making a name for itself.
Vivaldi – be the composer of your own web browsing experience
Right off the bat, it's worth noting that Vivaldi is not the prettiest, the safest, or the fastest browser out there. In short, Vivaldi might not be everyone's cup of tea, as we all know how diverse user preferences can be and how even the most little of details can often tip the scales when it comes to choosing "the best browser."
That said, even though Vivaldi is remarkably intuitive, and literally anyone can fully appreciate and take advantage of its kit, the browser is designed for a specific type of user, the type of user who appreciates customization/configurability above all else. And, we're not just talking about visual aesthetics here, as Vivaldi grants users the ability to tweak and fine-tune virtually every little working part of the browser's features and GUI to create a unique and perfectly tailored experience.
An explosion of customization features that are not only skin-deep
By default, Vivaldi looks just like most browsers, with the typical layout one might expect: tab bar on top, followed by a typical toolbar with all the basic controls and search bar underneath, the browsing section, and two more interesting toolbars – one on the left side of the GUI (with easy-to-reach sections such as History, Downloads, Bookmarks, and Notes) and one at the bottom.
This is where all the similarities end, though, as Vivaldi's interface is extremely adaptive. The browser provides users with a plethora of themes (which can be scheduled to change at various times), the ability to add any site to the sidebar, change the position of any toolbar element, and much more such wizardry.
The GUI has a built-in zoom tool, for both itself and the pages users visit, a nifty reader view, customizable page actions, a full-screen mode, and a vertical reader mode. If up until now things don't seem spectacular, wait until you start discovering everything Vivaldi has to offer in terms of tab management.
Truly spectacular kit designed specifically to make power users happy
All these customization features are designed to do one thing: ensuring the best possible web browsing experience and, ultimately, increase productivity. Vivaldi unique features such as tab stacking, tab tiling, session management, auto-stacking tabs, tab cycling, tab hibernation, lazy loading, and multi-tab selection.
For example, tab stacking is extremely useful when it comes to decluttering the browser's workspace, and particularly useful for users who usually work with large numbers of tabs. Tab tiling allows users to view several tabs at the same time, a very useful feature for researching purposes.
Vivaldi Browser Portable still has a lot more customization features. Users can change the window and the start window background images, add extensions (most Chrome Web Store extensions work on Vivaldi since it shares the same engine with Google Chrome), add speed dial thumbnails, and tweak image and animation loading options for each page.
For those who doubt Vivaldi's functionality potential and may even call it gimmicky, it's worth noting that data from Vivaldi can be synchronized across multiple computers, you capture instant screenshots using a neat built-in tool, take advantage of a useful Developer Tools section, and even tweak your Philips Hue lights.
Vivaldi also boasts support for keyboard shortcuts, mouse gestures, quick commands, rocker gestures, and other single-key shortcuts, all in the name of increased productivity. In terms of privacy options, the browser boasts private windows, private search, encrypted synchronization, WebRTC IP Privacy Settings, and a cookie manager.
Productivity and customization features working in perfect concert for bespoke user browsing experience
By now, it should be quite clear that Vivaldi has a staggeringly high number of little features, every one of which can be fully or partially customized. One thing that will stand out is the browser's Settings section, a section that is without a doubt – very complex, especially for first timers.
New. Now with Vivaldi Mail v1.0. Vivaldi Mail, Calendar, and Feed Reader have arrived, built right into your favorite browser.
Vivaldi Mail makes it easy to manage e-mails from multiple accounts, mailing lists and feeds in a unified inbox.
Stress less, celebrate more! Because your e-mails and schedules are now better organized and in safe hands with Vivaldi Mail.
Vivaldi Mail is our ode to the original, simple, and reliable form of communication. And we hope you will enjoy using it as much as we have enjoyed building it for you.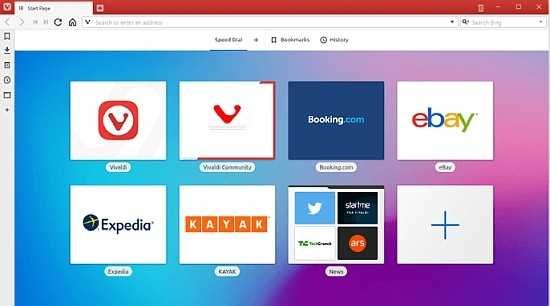 Download Vivaldi Portable