Rescuezilla 2.4.2 (x64) Boot ISO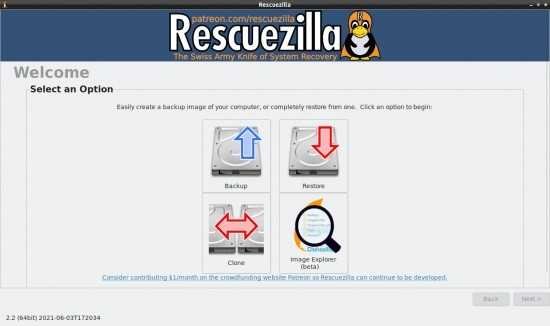 Rescuezilla is an easy-to-use disk imaging application that's fully compatible with Clonezilla — the industry-standard trusted by tens of millions. Yes, Rescuezilla is the Clonezilla GUI (graphical user interface) that you might have been looking for.
Disk imaging makes a backup of your computer's hard drive which is managed as files stored on an external hard drive. If your hard drive fails, you can restore your disk image and within a few minutes all your documents and settings will be restored to the exact same state they were in when the last snapshot was taken.
Rescuezilla lets you perform backup, restore and recovery actions, even if you aren't able to boot into your regular operating system. It does not matter if you use Windows, Mac or Linux. It doesn't matter if you can't even login. Download and write the ISO to a USB stick, and reboot your machine. Your computer will load a complete mini operating system with a point-and-click user interface into your computer's memory without writing any information to your hard drive.
Rescuezilla is a fork of Redo Backup and Recovery (now called Redo Rescue) after it had been abandoned for 7 years.
More Features, Less Complex
Rescuezilla has the most features coupled with the simplest, most user-friendly interface:
Easy graphical user interface boots from USB in seconds
No installation needed; runs from a USB stick or a CD-ROM
Saves and restores Windows, Mac and Linux machines
Fully interoperable with Clonezilla, the industry-standard trusted by tens of millions
Supports images made by VirtualBox, VMWare, Qemu and all known open-source imaging frontends including Clonezilla!
Easily mount any supported image and copy out your files (beta)
Access your files even if you can't log in
Recover deleted pictures, documents, and other files
Internet access with a full-featured browser
What's NEW:
If you have a blank screen, and will need to "Graphical Fallback Mode" from the Rescuezilla boot menu, or try the alternative ISO image based on Ubuntu 20.04 "Focal", which has slightly different video drivers. It doesn't occur on my NVidia graphics card systems, but will still occur Intel and AMD graphics systems.
Fixed broken wifi after v2.4 broke it (due to a change in Ubuntu 22.04 Jammy leading to a key package not being installed
Reintroduced ISO variant based on Ubuntu 20.04 (Focal), to assist users with AMD/Intel graphics
AMD/Intel graphics still expected to be broken on "Jammy" variant except when using Graphical Fallback Mode
Fixed image verification for German language (broken for all images in v2.4 German language mode, due to a typo in a translation string)
Fixed similar fatal user-facing error messages caused by translation typos in the French, Danish and Catalan translations
Add the font to fix display of the cross mark character "❌" in the image verification summary
Fixed "stuck at 0%" progress bar when the destination is read-only
Added protection to prevent other unexpected situations from leading to the same behavior
Many existing translations updated, but also added:
Thai/ภาษาไทย (th-TH)
Some improvements.
Download RescueZilla Boot ISO
RescueZilla-2.4.2-64bit.Kinetic – 1.1 GB
RescueZilla-2.4.2-32bit.Bionic – 809.0 MB