Portable OpenShot Video Editor 3.1.0 (x64) Multilingual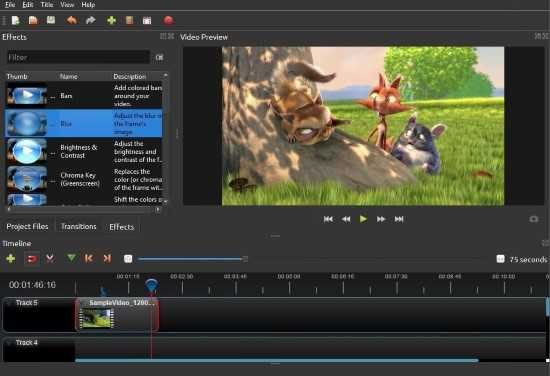 OpenShot Portable can take your videos, photos, and music files and help you create the film you have always dreamed of. Easily add sub-titles, transitions, and effects, and then export your film to DVD, YouTube, Vimeo, Xbox 360, and many other common formats. OpenShot has many great features, such as trimming and arranging videos, adjusting audio levels, transitions between videos, compositing multiple layers of video, chroma-key / green screen effect, and support of most formats and codecs.
The application has an interface familiar to other editors, which can be easily mastered. The program is great for both home use when processing amateur video, and as a professional tool for creating promotional videos, training videos.
Feature-rich, yet user-friendly interface
The program comes wrapped in a sleek and stylish UI designed with tones of black and grey. The main window consists of three panels, namely the area where you can preview the files, transitions or effects, the timeline and the player where you can preview your projects.
While the app includes a simple toolbar, the vast majority of the editing features can be found via the context menu. It is worth mentioning that you can seamlessly add more files, markers, zoom in or out as well as enable snapping from the bar just above the timeline.
Even though it may sound like a cluttered interface, the functions are neatly arranged and intuitive enough, so the chances of having troubles navigating through the UI are close to zero.
Enables you to manage and access frames at any time
The trump card of the application consists of its animation tools using keyframes. You should know that the utility offers you the possibility to use a preset animation for your clip, a feature that can come in handy for first-time users until they learn the ins and outs.
If you have more experience with video editing, then there is a good chance that you might want to create the keyframes manually. Since it was developed as a non-linear application, it means that you can access any frame and edit it further until you get the desired animation effect at any given time.
Comes with a plethora of functions
As you would expect from a program in this category, you can manipulate a variety of video properties, including, but not limited to volume, size, position, speed, length, aspect ratio, effect and transition. You will be happy to learn that the application includes a wide variety of HD formats, such as Apple TV, Blu-Ray, YouTube-HD and Vimeo-HD to name a few.
Once you are done editing, you can export the video to standard file formats, like AVI, FLV, MOV, MP4, OGG, MPEG and FLV. On a side note, if you want to save the current progress, then you can save the file in an OST format.
An excellent app for creating HD-quality videos
Bolstering an impressive editing capability for video as well as images, OpenShot Video Editor might be the tool you need to create and tweak your clips and slideshows to professional quality.
What really sets OpenShot apart from other video editors is the easy-to-use user interface. We have worked very hard to create a video editor that everyone can enjoy!
Want to really impress someone with your video? Need to add some extra oomph to your video? With OpenShot, you can create 3D animated title sequences, which are guaranteed to impress your viewers!
Most 3D animation software is very difficult to use, but not OpenShot. With just a few clicks of your mouse, you will have created your first animation! Behind the scenes we use the amazing open-source 3D package Blender.
With dozens of audio and video effects at your finger tips, what will you create? Perhaps the next big Internet sensation? Maybe a mash-up of your favorite television show? Or, perhaps editing your home video collection and sharing them with friends and family?
Features:
Support for many video, audio, and image formats (based on FFmpeg)
Powerful curve-based Key Frame animations
Desktop integration (drag and drop support)
Unlimited tracks / layers
Clip resizing, scaling, trimming, snapping, rotation, and cutting
Video transitions with real-time previews
Compositing, image overlays, watermarks
Title templates, title creation, sub-titles
3D Animated Titles (and Effects)
SVG friendly, to create and include vector titles and credits
Scrolling motion picture credits
Solid color clips (including alpha compositing)
Support for Rotoscoping / Image sequences
Advanced Timeline (including Drag & drop, scrolling, panning, zooming, and snapping)
Frame stepping (key-mappings: J, K, and L keys)
Video encoding (based on FFmpeg)
Digital zooming of video clips
Time-mapping and Speed changes on clips (slow/fast, forward/backward, etc…)
Custom transition lumas and masks
Audio mixing and editing
Presets for key frame animations and layout
Ken Burns effect (artistic panning over an image)
Digital video effects, including brightness, gamma, hue, greyscale, chroma key (bluescreen / greenscreen) , and many more!
OpenShot provides extensive editing and compositing features, and has been designed as a practical tool for working with high-definition video including HDV and AVCHD .
What's NEW:

Free & Open-Source Video Editor
Improved Profiles (400+ Export Profiles, New Profile UI, and more)
Huge Time Remapping update (improved audio resampling, support for backwards audio, bezier curve support)
Improved Undo / Redo system, includes grouping actions (i.e. single undo for split-clips and similar multi-step edits)
Improved Preview & Split Clip dialog (correct aspect ratio, correct sample rate)
Improved Caption Effect (high DPI support, improved VTT support)
Memory leak fixes (clip caching, memory leak fixes, prevent zombie threads)
Improved Performance (FrameMapper & Clip objects now include extra caching and optimizations)
Improved Keyboard Bindings (arrow keys)
Bug fix for Blender Animated Titles using high FPS (incorrect duration)
Bug fix for Mac Chroma Key effect (babl color methods)
Bug fix for video preview widget resizing, to correctly clear cache
Bug fix for Automatic Transition Direction logic (i.e. correctly fade in/out based on where the transition is dropped)
Fixed issue with AppImage to support newer distros (related to glibc compatibility)
Improved About dialog (release notes link, remove "candidate" for official releases)
Expanded default Emojis (adding in Arrows, Shapes, and Brands)
Improved File Properties Dialog, to handle replacing files and thumbnails, and better support for changing FPS
Updated language translations
Updated supporters and donors
Updated docs / user-guide
Download OpenShot Video Editor Portable