Portable EFI Boot Editor 1.2.0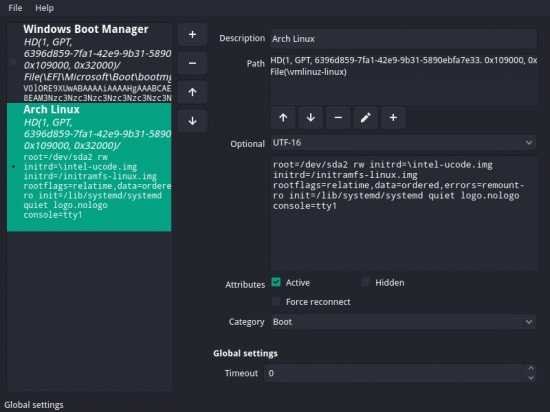 EFI Boot Editor Portable is a powerful tool that allows users to modify and manage the boot options of their EFI-based systems. This software is designed to help users tweak and customize their system's boot configuration, allowing for greater control and flexibility over the startup process.
At its core, EFI Boot Editor Portable is an interface that allows users to edit the EFI boot entries stored in their system's NVRAM (non-volatile random-access memory). These entries contain information about the various operating systems and boot loaders installed on the system, as well as any custom configurations or settings that have been added by the user.
Using EFI Boot Editor Portable, users can add new boot entries, modify existing ones, or delete unnecessary entries. This can be particularly useful for those who dual-boot their system with multiple operating systems or want to change the default boot option.
The interface of EFI Boot Editor is simple and easy to use, with a graphical display of all available boot entries and options. Users can select an entry and view its details, including the name, description, and path to the boot loader file. From there, they can make modifications as needed, such as changing the boot order or selecting a different partition or drive.
One of the key features of EFI Boot Editor is its support for UEFI Secure Boot. This is a security feature introduced in UEFI firmware that ensures only trusted operating systems and bootloaders are allowed to start up on the system. With EFI Boot Editor, users can securely configure their system's boot options without compromising this important security measure.
EFI Boot Editor is also highly flexible, with support for a wide range of boot loaders and operating systems. It can be used with Windows, Linux, macOS, and other popular operating systems, as well as with third-party boot loaders like GRUB and rEFInd.
Another useful feature of EFI Boot Editor is its ability to create custom boot entries. This can be particularly helpful for users who have multiple partitions or drives on their system and want to create a custom configuration for each one. For example, a user might create a separate boot entry for a Windows partition, a Linux partition, and a macOS partition, each with its own unique settings and configurations.
Finally, EFI Boot Editor is an open-source tool, meaning that it is freely available for download and use by anyone. This makes it a popular choice among power users and system administrators who need to manage the boot options of multiple systems.
In conclusion, EFI Boot Editor Portable is a powerful and versatile tool that allows users to manage the boot options of their EFI-based systems with ease. Whether you're a power user looking to customize your system's startup process or a system administrator managing multiple systems, EFI Boot Editor is a reliable and effective solution that can help you get the job done.
Provides a preview of the path and current attributes
The application is portable, so simply decompress the archive in the desired location and launch the executable to get started. The app comes with a clean and user-friendly interface designed as a dashboard with the main functions located in the left side. Therefore, you can preview the Windows Boot Manager along with EFI USB devices, Network and DVD / CDROM.
For the Windows Boot Manager you can check out the Description, path, category, global setting like the timeout and whether the attributes are active or hidden. Optionally, the application can provide the same information in other formats, namel HEX, BASE64, UTF-8 or UTF-16.
A tool for managing the EFI Boot Manager configuration
Considering the role of the tool, it is advisable that you create a restore point for Windows before proceeding. In addition, it may be ideal to use an Administrator account to make certain modifications, as certain files cannot be modified otherwise. It goes without saying that you must know what you are doing, as otherwise, your machine may not boot anymore.
In the eventuality that you want to make some modifications to the Boot Manager of your EFI system architecture and don't want to reboot or perhaps, don't have an administrator account, then perhaps you can consider giving EFI Boot Editor a try.
Easily manage configurations
Opening the EFI Boot Editor will greet you with a neat and intuitive user interface wherein all of its main functions can easily be accessed in the left corner. Its user-friendly dashboard is able to provide you a preview of the Windows Boot Manager along with EFI UDB devices, Network, and DVD / CDROM. You can utilize this program to view the description, path, category, global setting, and attribute status.
Here, you can effortlessly know if certain attributes are active or hidden. All of the same information is accessible even in other formats like HEX, BASE64, UTF-8, or UTF-16. When implementing modifications, there are some tasks that you should do beforehand to ensure seamless customization and safety of your system files overall. This includes creating a restore point before proceeding to modify.
It's an important step so if there are any alters applied that you don't like, you can go back to the previous settings with ease. Having an administrator account is suggested but not a requirement as you can encounter some files that need this authority before you can ever perform changes. Keep in mind that a high technical knowledge is necessary when using its services.
Hassle-free boot editor
EFI Boot Editor is an essential Windows companion for your Boot Manager. This way you can have a convenient GUI interface for all your modification needs. If you're an expert computer user then operating the important tasks are a piece of cake. Beginners and average users though are not recommended to utilize this as it can be very risky to implement alteration without full knowledge of the specifications.
Download EFI Boot Editor Portable