Portable Complete Internet Repair 9.1.3.6335 Multilingual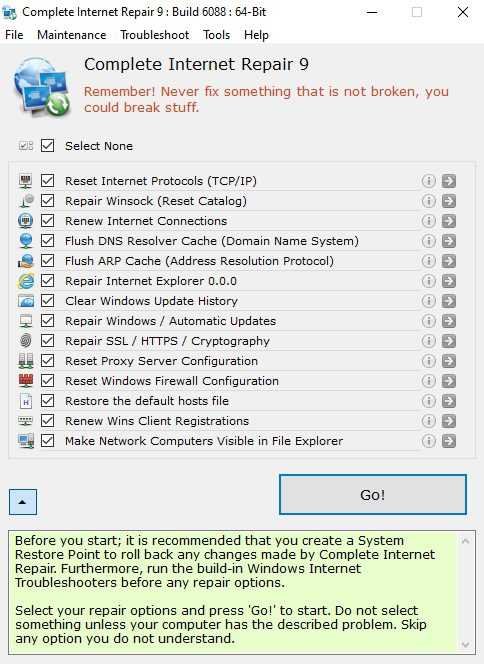 We are living in an Internet age and with any widely used technologies, come a new set of problems. Because services like Facebook, Twitter, YouTube, accounting, backups and document editors becoming more and more popular, most people cannot function without the internet. But what to do when your internet connection breaks down. Yea sure; a technician is an option, but this is an expensive option. Enter Complete Internet Repair Portable.
Complete Internet Repair Portable is a powerful software tool designed to help users repair any Internet-related issues that they may be experiencing. This software is incredibly versatile and can be used to troubleshoot and fix a wide range of problems, from simple connectivity issues to more complex network configuration problems.
One of the most significant benefits of Complete Internet Repair Portable is that it is incredibly easy to use, even for users who have little to no technical knowledge. The software comes with a simple and intuitive user interface that guides users through the entire repair process, step by step.
The software is compatible with all versions of Windows, including Windows 10, and can be downloaded and installed quickly and easily. Once installed, users can launch the software and begin repairing their Internet connection with just a few clicks.
One of the key features of Complete Internet Repair is its ability to repair a wide range of Internet-related problems. The software can be used to fix issues with Internet Explorer, Windows Update, Windows Firewall, and more. It can also be used to repair issues with DNS, TCP/IP, and Winsock, which are all critical components of a stable and reliable Internet connection.
Another significant benefit of Complete Internet Repair is that it is incredibly fast and efficient. The software is designed to scan and repair any issues with your Internet connection quickly, without requiring any complicated configurations or settings.
The software also comes with a comprehensive set of diagnostic tools that can help users identify and troubleshoot Internet-related problems. These tools include a ping test, a traceroute test, and a DNS lookup tool, which can all be used to diagnose and resolve connectivity issues.
Complete Internet Repair also includes a range of advanced features that are designed to help users optimize and improve their Internet connection. These features include a TCP optimizer, which can help to improve the speed and performance of your Internet connection, and a NetStat tool, which can be used to monitor network traffic and identify any potential bottlenecks or issues.
Overall, Complete Internet Repair Portable is an incredibly powerful and versatile software tool that is essential for anyone who relies on the Internet for work or personal use. Whether you are experiencing connectivity issues, network configuration problems, or other Internet-related issues, this software can help you diagnose and repair the problem quickly and efficiently. With its easy-to-use interface, comprehensive diagnostic tools, and advanced features, Complete Internet Repair is a must-have tool for anyone who wants to ensure a stable and reliable Internet connection.
WHAT CAN BE REPAIRED
With any repair utility, you will need to remember two golden rules. Firstly; Do not try to repair something that is not broken, you might break it. Secondly; the utility cannot repair it all, we are not like the all-seeing and all-knowing Oracle, we cannot anticipate each and every situation, but this all said; Complete Internet Repair Portable should be able to help with most of your internet issues. Complete Internet Repair might help (no promises) if you are experiencing any of the following problems:
Internet or network problem after removing adware, spyware, virus, worm, Trojan horse, etc.
Loss network connection after installing/uninstalling VPN, firewall or other networking programs.
Unable to access any website or can only access some websites.
Pop-up error window with network related problem description.
No network connectivity due to registry errors.
DNS lookup problem.
Fail to renew the network adapter's IP address or other DHCP errors.
Network connectivity issue with limited or no connections message.
Windows update does not work.
You are having problems connecting to secured websites (ex. Banking).
Internet Explorer stopped working or crashes all the time.
Sticky proxy server settings.
A few other internet errors, but we will not discuss all here.
TROUBLESHOOTING MODEM ISSUES
As previously mentioned, Complete Internet Repair will not repair hardware issues. If Complete Internet Repair did not help with your internet issue, go through the following basic troubleshooting steps before you call an expensive technician:
Make sure the modem is plugged in, on and working.
Make sure everything is plugged in or if you are using wireless make sure you are connected to the modem.
Call your service provider to test the outgoing line for you (maybe they will need to reset the line or have a problem on their side.
Save your internet access username and password.
Reset your modem (you will need to consult the documentation of the modem to find out how)
Reenter your internet access login information (the default login information for access to the modem configuration interface should be printed in the manual, but this is usually; username: admin password: admin).
After following all these steps and your internet is still not working, you modem could be broken and you will need to replace it or phone that overpriced technician to come lend a hand.
Download Complete Internet Repair Portable