Portable 3DP Chip 23.09 Multilingual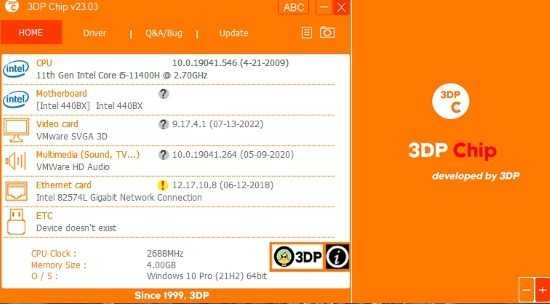 3DP Chip Portable is a powerful software tool designed to help users identify and download the latest drivers for their computer hardware. Developed by 3DP, a leading provider of driver management software solutions, the program is easy to use and highly effective.
At its core, 3DP Chip Portable scans your system to identify all of the installed hardware components. This includes everything from your video card and sound card to your motherboard and network adapter. Once the scan is complete, the program displays a comprehensive list of all the devices on your computer.
Each device is listed with its name, model number, and current driver version. From here, you can easily see which drivers are outdated or missing entirely. It's worth noting that having up-to-date drivers is crucial for keeping your computer running smoothly and avoiding compatibility issues.
The next step is to download the updated drivers. With 3DP Chip Portable, this process is incredibly straightforward. Simply select the device for which you need a new driver and click the "Download" button. The program will automatically search its database for the latest version of that driver and begin downloading it.
One thing that sets 3DP Chip Portable apart from other driver management programs is its extensive database of drivers. The program is constantly updated with the latest drivers from manufacturers, ensuring that you always have access to the most up-to-date drivers available.
In addition to its driver scanning and download capabilities, 3DP Chip also includes several other helpful features. For example, the program allows you to view detailed information about each device on your system, including its hardware ID and vendor ID. This can be useful if you're trying to troubleshoot a hardware issue or simply want to know more about your computer's components.
3DP Chip also includes a backup feature that allows you to save copies of your current drivers. This can be useful if you ever need to roll back to an older driver version or if you reinstall your operating system and need to reinstall all of your drivers.
Overall, 3DP Chip Portable is an excellent tool for anyone looking to keep their computer's drivers up-to-date. Its simple interface and powerful scanning and download capabilities make it easy to use for both novice and advanced users alike. So if you're tired of dealing with outdated or missing drivers on your computer, give 3DP Chip a try – you won't be disappointed!
Clean function lineup
The user-friendly interface shows device information such as CPU, Motherboard, Graphics Card, Multimedia, Ethernet Card and Mouse. Just below all of this you can see the CPU clock, memory size and operating system.
You can also copy the system information to the 3DP chip's clipboard and send a bug report to the developer in case the software doesn't detect the device properly. Additionally, this tool allows you to view the driver version/date in the main window.
Backup/restore options
The smart features included in the package allow you to select the desired drive from the list to perform backup operations and restore data in just a few clicks. Additionally, you can view additional details about each drive. B. Exclude description, class, vendor, date and version, and Microsoft product from the list.
Release Note:
Newly added product or support has been enhanced.

 - Motherboard (Vendor + Model + Chipset name)
  - [Colorful A320M-K PRO] AMD A320

 - Motherboard (Vendor name)
  - Colorful

 - Video card
  - AMD Radeon Graphics
  - AMD Radeon RX 7700 XT
  - AMD Radeon RX 7800 XT
  - Intel Data Center GPU Flex Series 140
  - Intel Data Center GPU Flex Series 170
  - NVIDIA A800 40GB Active
  - NVIDIA A800-SXM4-40GB
  - NVIDIA GeForce MX250 (10,25W)
  - NVIDIA GeForce MX330 (10W)
  - NVIDIA GeForce MX350 (20W)
  - NVIDIA GeForce MX450
  - NVIDIA GeForce MX570
  - NVIDIA GeForce 940MX (23W)
  - NVIDIA GeForce GTX 1650 Ti
  - NVIDIA GeForce RTX 2050
  - NVIDIA GeForce RTX 2060
  - NVIDIA GeForce RTX 3050 Laptop GPU
  - NVIDIA GeForce RTX 3050 4GB Laptop GPU
  - NVIDIA GeForce RTX 3050 6GB Laptop GPU
  - NVIDIA GeForce RTX 3050 Ti Laptop GPU
  - NVIDIA GeForce RTX 3060 Laptop GPU
  - NVIDIA GeForce RTX 3070 Laptop GPU
  - NVIDIA GeForce RTX 3070 Ti Laptop GPU
  - NVIDIA GeForce RTX 3080 Laptop GPU
  - NVIDIA GeForce RTX 3080 Ti Laptop GPU
  - NVIDIA GeForce RTX 4050 Laptop GPU
  - NVIDIA GeForce RTX 4060 Laptop GPU
  - NVIDIA GeForce RTX 4070 Laptop GPU
  - NVIDIA RTX A500 Embedded GPU
  - NVIDIA RTX A1000 Embedded GPU
  - NVIDIA RTX A4500 Embedded GPU
  - NVIDIA RTX 2000 Ada Generation Embedded GPU
  - NVIDIA RTX 3500 Ada Generation Embedded GPU
  - NVIDIA RTX 4500 Ada Generation
  - NVIDIA RTX 5000 Ada Generation Embedded GPU

 - Ethernet
  - Intel Ethernet Controller I225-V
  - Realtek RTL8812AU Wireless
Download 3DP Chip Portable