Portable WinContig 5.0.0.0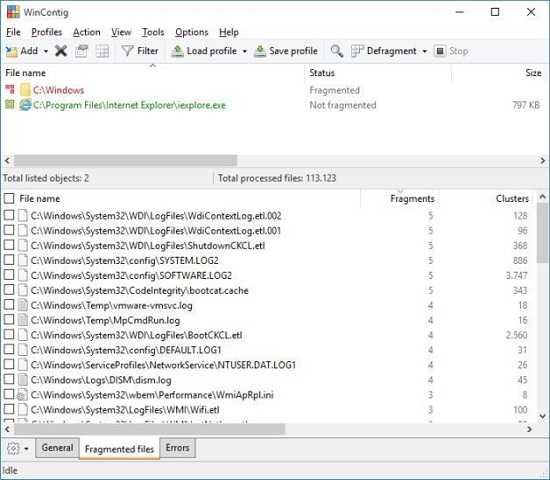 WinContig Portable is an easy-to-use stand-alone defragmentation tool that doesn't create any installation directories or Registry entries on your computer. Its purpose is to quick defrag files without the need to defrag the whole disk. In addition, WinContig allows you to group files into profiles, and also it accepts a number of optional command-line switches that you can use to control how the program operates.
WinContig is a small and reliable defragmentation software tool that lets you declutter certain files and not the whole disk. The program is based on the standard Microsoft defragmentation API.
The interface of the app is highly intuitive and therefore, it will be very easy to work with, no matter the previous experience the user has. You are going to be able to view all the files you want to defragment and color-coded statistics.
The user interface supports multiple languages such as English, Romanian, French, German, Hungarian, Japanese, and the list goes on.
The program is small and comes in a ZIP file format. This means that after download, all you have to do is extract the files to the hard drive and start defragging.
Seeing that installation is not involved, you can copy the application to any portable device, such as USB flash drive and use it on any other computer. Moreover, this means that the program will not update the Windows registry with new keys, or add new entries to the Start menu.
WinContig also enables you to save a profile of the files and folders you want to defragment at a later date, in a WCP format.
When trying to eliminate fragmentation from several directories, you can set the priority of each and every item from "Low" to "Normal" or "High".
All in all, WinContig is a very useful piece of software that lets you defragment specific files, without needing to apply the process to the entire HDD. Since installation is not a prerequisite, the application can be used on several computers with great ease.
Download WinContig Portable