Portable VidCoder 8.19 (x64) Multilingual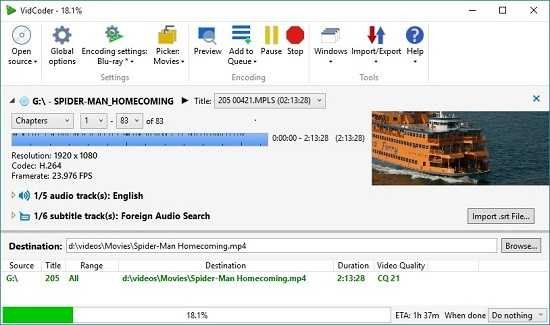 VidCoder Portable is a very easy to use DVD, Blu-ray and any video file to MP4/MKV video converter. It uses HandBrake as its encoding engine. Easily batch convert your video/DVDs/ISO/VIDEO_TS and Blu-ray to MP4 or MKV or WEBM. Burn-in/Hardcode srt subtitles. Multi-threaded, H.264/AVC encoding with x264 and H.265/HEVC with x265, the world's best video encoder. Completely integrated encoding: everything is in one process and no huge intermediate temporary files.
It has a simple and uncomplicated design that allows users to add clips to the list by dragging and dropping or using the built-in browse button. If you wish to rip DVDs and Blu-rays, you must first choose the directory where the data will be stored.
Batch processing is supported by VidCoder, which means you may add several video files to the list and encode them all at once.
The tool allows you to upload subtitles in SRT format and customize the parameters by cropping the clips, specifying their size, and applying video filters (e.g. deinterlacing).
You can choose the video codec, quality, and framerate while setting up the video settings, while the audio parameters can be changed in terms of bitrate, codec, and sample rate.
The program includes a number of advanced features targeted for advanced users. It can assist users in changing the frame rate and configuring different video parameters.
You may also preview the clips in a dedicated window, choose the output format (MP4 or MKV), and select from a variety of preset presets (e.g. Android, iPod, Windows Phone).
During our testing, we discovered that the utility completes the converting process swiftly and without errors.
Feature List
Multi-threaded
MP4, MKV containers
Completely integrated encoding pipeline: everything is in one process and no huge intermediate temporary files
H.264, H.265, MPEG-4, MPEG-2, VP8, Theora video
Hardware-accelerated encoding with AMD VCE, Nvidia NVENC and Intel QuickSync
AAC, MP3, Vorbis, AC3, FLAC audio encoding and AAC/AC3/MP3/DTS/DTS-HD passthrough
Target bitrate, size or quality for video
2-pass encoding
Decomb, detelecine, deinterlace, rotate, reflect, chroma smooth, colorspace filters
Powerful batch encoding with simultaneous encodes
Customizable Pickers to automatically pick audio and subtitle tracks, destination, titles and more
Instant source previews
Creates small encoded preview clips
Pause, resume encoding
What's NEW:
Updated HandBrake core to 1.6.0
Added AV1 video encoding with SVT-AV1 (software) and Intel QSV AV1 (hardware)
Added high bit depth and color depth support to various encoders and filters
Added Bwdif deinterlace filter
Many other fixes and library updates
Changed the scan dialog on queuing multiple items into an inline, non-blocking progress bar.
Added "Conservative" crop option.
Now when the Picker chooses audio or subtitle tracks based on language, it checks the track name as well as the language code, to catch tracks that have not been correctly coded.
Added Greek language.
The CLI now accepts folders when encoding, and will enqueue multiple files from within the folder.
Changed encoder bitrate range calculation to be automatic based on the HandBrake core library. This allows choosing bitrates up to 6144 kbps for E-AC3.
Various other bug fixes
Download VidCoder Portable