Portable SharpCut 1.4.4.0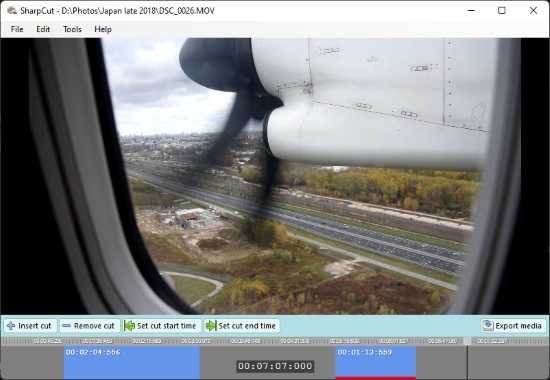 When you record important events in your life, the files become so large that no one can see them completely. However, you can extract the most interesting scenes and save them as separate videos that are easy to watch on any device of your choice.
The cutting process doesn't require recoding, so it's a great app for beginners, but experienced users will love its efficiency. options. Instead, SharpCut Portable focuses on timeline scrubbing performance and ease of use. The interface is as self-explanatory as possible while maintaining modern usability. SharpCut supports MP4, MKV, TS, AVI, MOV, MPEG, WEBM, and OGV source file formats.
SharpCut demonstrates its ease of use when working with large (and long) video files. Unlike LosslessCut, SharpCut does not require remuxing of containers other than MPEG-4 (.mp4) for files containing HTML5 video tags to work. Perfect if you want great video editing capabilities without a lot of features. intuitive look
With an easy-to-use GUI, the application aims to enable even beginners to save the most exciting parts of large clips as standalone videos.
We need to start by loading the files we want to process. There are two ways to do this.
You can drag and drop files into the main window or manually move them to that location.
SharpCut supports multiple source formats including MP4, MKV, TS, AVI, MOV, MPEG, WEBM, OGV.
How to visually cut a video
Unlike other video editing tools, SharpCut doesn't require any expertise and allows you to easily extract specific segments from your videos.
You can set the start point by jumping to the frame you want and go to the end of the scene to mark it as the end point. You can repeat this process multiple times for a single clip and end up with a nice little collection of scenes, each exported to its own MKV or MP4 file.
In summary
Overall, SharpCut may not look very impressive at first glance, but its graphical interface is specially designed to make it easy to extract one or more segments from your chosen video. If you prefer, you can save your current project and continue with LosslessCut.
Release Note:
Bug fix: Fixed a bug where absolute paths would be used for media stored in the same path as the project
Bug fix: Fixed a bug where the fast preview frame would show when it shouldn't
Download SharpCut Portable