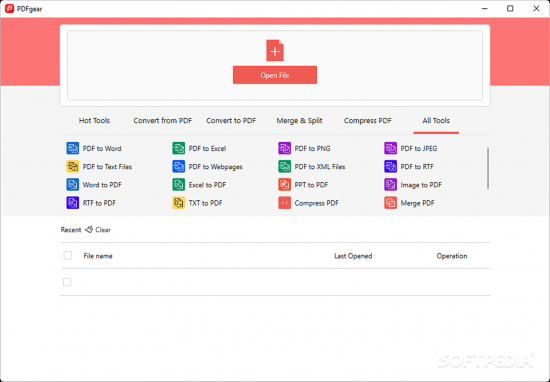 PDFgear Portable is a powerful and versatile software tool that has been designed to help users manage and manipulate PDF files with ease. It provides a wide range of features and functionalities that allow users to create, edit, convert, merge, split, compress, and secure PDF documents with just a few clicks.
One of the standout features of PDFgear Portable is its user-friendly interface, which makes it incredibly easy for even novice users to navigate and use the software effectively. The software is designed to work seamlessly on both Windows and Mac platforms, ensuring compatibility with a wide range of devices and operating systems.
With PDFgear Portable, users can create professional-quality PDF documents from scratch or by converting other file formats such as Word, Excel, PowerPoint, and more. The software provides a variety of customization options, including the ability to add watermarks, headers, footers, and page numbers, making it an ideal tool for businesses and professionals who need to create high-quality documents quickly.
In addition to creating new PDFs, PDFgear also allows users to edit existing PDF files. Users can easily modify text, images, and even entire pages, without having to go through the time-consuming process of recreating the entire document from scratch. The software also provides advanced features like OCR (Optical Character Recognition) technology, which allows users to scan printed documents and convert them into editable text.
Another key feature of PDFgear is its ability to merge and split PDF files. Users can combine multiple PDFs into a single document, or divide a large PDF into smaller, more manageable files. This functionality is particularly useful for individuals or businesses that deal with large volumes of PDF documents on a regular basis.
PDFgear also provides a range of security features, which allow users to protect their sensitive information from unauthorized access or tampering. Users can add passwords, digital signatures, and encryption to their PDF documents, ensuring that only authorized individuals can access or modify the content.
Finally, PDFgear also offers a range of tools for compressing PDF files. This is particularly useful for businesses that need to send large PDF documents over email or other online platforms, as it can significantly reduce the file size without compromising on quality.
Overall, PDFgear Portable is an incredibly powerful and versatile software tool that provides users with a wide range of features and functionalities for managing and manipulating PDF files. Its intuitive interface, advanced editing capabilities, and robust security features make it an ideal choice for individuals and businesses alike who deal with large volumes of PDF documents on a regular basis.
Features:
PDF Editor
PDF Reader
PDF Annotator
PDF Splitter
PDF Organizer
Print PDF
Sign PDF
Batch PDF
OCR PDF
PDF Form
Highlight PDF
Download PDFgear Portable