Portable ShotCut 23.07.09 (x64) Multilingual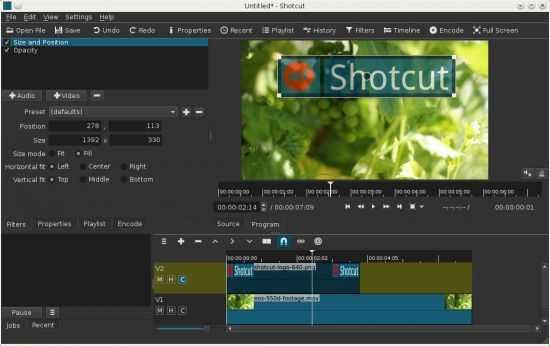 Shotcut Portable is a simple and user-friendly video editor that offers a series of features and functions to help you adjust and retouch your favorite movies, in just a few clicks of your mouse.
The application supports various video, audio and even image formats, so you can work with any type of media you want. The 'Multi-format Timeline' enables you to mix and match resolutions as well as framerates throughout an editing project. You can analyze the video frame by frame, allowing you to correct or enhance its every aspect.
Another interesting feature of Shotcut is the fact that it opens and plays MLT XML as clips, so you can even use this application to test such files. In addition, Shotcut allows you to create and play MLT XML playlists, that you can easily encode or stream to a preferred network.
The application also provides you with a number of video filters, such as 'Blur', 'Color Grading', 'Crop', 'Glow', 'Mirror', 'Rotate', 'Saturation', 'Sharpen', 'White Balance' enabling you to fully customize the appearance of your movie, while the 'Color Wheels' can be used for color correction and grading.
Moreover, Shotcut enables you to work with a set of audio filters, namely 'Balance', 'Gain', 'Pan', that can prove useful in adjusting several sound issues in your file.
The 'Encode' component makes it possible for you to convert your video to numerous output formats, such as M4A, MXF, VOB, FLV, MP4, M2T, MPG, AVI, MOV, OGG, WEBM, and others.
After finishing with the various editing processes that you want to perform on your video, you can stream it using the network protocol scheme, address port and parameters as an URL address.
Shotcut is a comprehensive and efficient media editing tool that offers basic as well as more complex functions, some of which go beyond those of many similar applications, that you can use with confidence.
Features:
– supports oodles of audio and video formats and codecs thanks to FFmpeg (or libav as-built)
– supports many image formats such as BMP, GIF, JPEG, PNG, SVG, TGA, TIFF as well as image sequences
– no import required – native editing
– frame-accurate seeking for many formats
– multi-format timeline: mix and match resolutions and frame rates within a project
– network stream playback (HTTP, HLS, RTMP, RTSP, MMS, UDP)
– frei0r video generator plugins (e.g. color bars and plasma)
– Blackmagic Design SDI and HDMI for input and preview monitoring
– JACK transport sync
– deinterlacing
– detailed media properties panel
– recent files panel with search
– drag-n-drop files from file manager
– save and load trimmed clip as MLT XML file
– load and play complex MLT XML file as a clip
– audio signal level meter
– volume control
– scrubbing and transport control
– flexible UI through dock-able panels
– encode/transcode to a variety of formats and codecs thanks to FFmpeg (or libav as-built)
– capture (record) SDI, HDMI, webcam (V4L2), JACK, PulseAudio, IP streams, X11 screen
– stream (encode to IP) files and any capture source
– batch encoding with job control
– create, play, edit, save, load, encode, and stream MLT XML projects (with auto-save)
– unlimited undo and redo for playlist edits including a history view
– connect to Melted servers over MVCP TCP protocol
– control the transport playback of Melted units
– edit Melted playlists including suport for undo/redo
– OpenGL GPU-based image processing
– multi-core parallel image processing (when not using GPU and frame-dropping is disabled)
– video filters: Blur, Color Grading, Crop, Diffusion, Glow, Invert Colors, Mirror, Opacity, Rotate, Saturation, Sepia Tone, Sharpen, Size and Position, Stabilize, Text, Vignette, Wave, White Balance
– audio filters: Balance, Copy Channel, Downmix, Gain, Normlize, Pan, Swap Channels
– 3-way (shadows, mids, highlights) color wheels for color correction and grading
– eye dropper tool to pick neutral color for white balancing
– UI translations: Catalan, Chinese, Czech, Danish, English, French, German, Portugese, Spanish (not all 100%, but you can help)
– HTML5 (sans audio and video) as video source and filters
– Leap Motion for jog/shuttle control
– DeckLink SDI keyer output
– UI themes/skins: native-OS look and custom dark and light
– control video zoom in the player: fit viewable area (default), 50%, original (100%), and 200%
– multitrack timeline with thumbnails and waveforms
– thumbnail and waveform caching between sessions
– audio mixing across all tracks
– video compositing across video tracks
– trimming (on timeline)
– append, insert, overwrite, lift, and delete (ripple) editing on the timeline
– 3-point editing
– external monitoring on an extra system display/monitor
– fade in and out audio and fade video from and to black with easy-to-use fader controls on timeline
– cross-fade audio and video dissolve transitions easily by overlapping shots on the same track of the timeline
– video wipe transitions: bar, barn door, box, clock (radial), diagonal, iris, matrix, and custom gradient image
What's NEW in ShotCut Portable:
Fixed crash on startup on older Windows 10 computers that do not have Direct3D 11 (broke in v23.05).
Added Track Auto Fade and Track Seam audio filters. These filters address an old problem where clicks and pops may be heard in export when switching between clips due to discontinuities in the audio stream. A recommended technique was to add a 2 frame Fade Audio Out and Fade Audio in filters on clips. Track Auto Fade automates that. Track Seam works on a similar level but rather attempts to do a smoothing between outgoing and incoming samples around edit points. Both of these new filters may ONLY be added to individual tracks–audio or video.
Added Transition type > Cut to the Slideshow Generator.
Added Ctrl+Wheel (command on macOS) to numeric fields to increment and decrement by a larger amount.
Fixed shift-drag-drop from Windows Explorer to Playlist deletes the files! This is an old bug, and Shotcut is not deleting the files. But it accepts a move drop action for the purpose of reordering playlist items. However, doing so with a list of filenames makes Windows assume the receiving application did something appropriate with thes file and then… delete them on behalf of the app just to be sure?!? Smooth move. (Another Windows file manager Directory Opus does not exhibit this bad behavior.)
Fixed another very old bug on Windows where sound does not follow the default output device, for example plugging headphones, until you restart the app. Please note that if you are using Settings > Audio Channels > 6 (5.1) after the default sound output changes, you will likely experience distortion in the audio playback until you restart the app.
Added the --SDL_AUDIODRIVER command line option for Windows and Linux.
Fixed Timeline scrubbing and skimming accelerate too much (broke in v23.06).
Fixed Stabilize analysis jobs not working on a speed-adjusted timeline clip (broke in v23.05).
Fixed the visibility of the cursor in the Text: Rich filter's editor (broke in v23.05).
Fixed the up and down cursor keys not working in some numeric fields (broke in v23.05).
Fixed seeking on the new Speed: Forward Only and Speed: Forward & Reverse filters.
Fixed appending to Playlist from clipboard with nothing yet opened in the Source player.
Fixed UI in macOS shows white blocks on startup.
Fixed the Export > Audio > Quality range for the aac codec.
Fixed the color level of RGB and RGBA sources (e.g. images) with GPU Effects.
Fixed trying to drag a keyframe vertically may snap changing its horizontal position.
Fixed clicking OK in a color dialog on Windows without changing anything resets the alpha to 255.
Fixed the buttons in the Delete Filter Set confirm dialog are hidden if the name is long.
Fixed crash adding a GPU filter to Timeline > Output by not showing GPU filters for that selection.
Fixed top-field-first interlaced output.
Updated Qt libraries to version 6.4.3.
Updated libebur128 to version 1.2.6.
Updated rubberband library to version 3.2.1.
Updated MLT to version 7.18.0.
Download ShotCut Portable