Portable ShotCut 22.12.21 (x64) Multilingual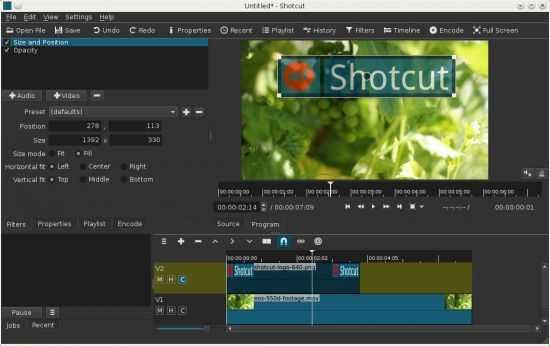 Shotcut Portable is a simple and user-friendly video editor that offers a series of features and functions to help you adjust and retouch your favorite movies, in just a few clicks of your mouse.
The application supports various video, audio and even image formats, so you can work with any type of media you want. The 'Multi-format Timeline' enables you to mix and match resolutions as well as framerates throughout an editing project. You can analyze the video frame by frame, allowing you to correct or enhance its every aspect.
Another interesting feature of Shotcut is the fact that it opens and plays MLT XML as clips, so you can even use this application to test such files. In addition, Shotcut allows you to create and play MLT XML playlists, that you can easily encode or stream to a preferred network.
The application also provides you with a number of video filters, such as 'Blur', 'Color Grading', 'Crop', 'Glow', 'Mirror', 'Rotate', 'Saturation', 'Sharpen', 'White Balance' enabling you to fully customize the appearance of your movie, while the 'Color Wheels' can be used for color correction and grading.
Moreover, Shotcut enables you to work with a set of audio filters, namely 'Balance', 'Gain', 'Pan', that can prove useful in adjusting several sound issues in your file.
The 'Encode' component makes it possible for you to convert your video to numerous output formats, such as M4A, MXF, VOB, FLV, MP4, M2T, MPG, AVI, MOV, OGG, WEBM, and others.
After finishing with the various editing processes that you want to perform on your video, you can stream it using the network protocol scheme, address port and parameters as an URL address.
Shotcut is a comprehensive and efficient media editing tool that offers basic as well as more complex functions, some of which go beyond those of many similar applications, that you can use with confidence.
Features:
– supports oodles of audio and video formats and codecs thanks to FFmpeg (or libav as-built)
– supports many image formats such as BMP, GIF, JPEG, PNG, SVG, TGA, TIFF as well as image sequences
– no import required – native editing
– frame-accurate seeking for many formats
– multi-format timeline: mix and match resolutions and frame rates within a project
– network stream playback (HTTP, HLS, RTMP, RTSP, MMS, UDP)
– frei0r video generator plugins (e.g. color bars and plasma)
– Blackmagic Design SDI and HDMI for input and preview monitoring
– JACK transport sync
– deinterlacing
– detailed media properties panel
– recent files panel with search
– drag-n-drop files from file manager
– save and load trimmed clip as MLT XML file
– load and play complex MLT XML file as a clip
– audio signal level meter
– volume control
– scrubbing and transport control
– flexible UI through dock-able panels
– encode/transcode to a variety of formats and codecs thanks to FFmpeg (or libav as-built)
– capture (record) SDI, HDMI, webcam (V4L2), JACK, PulseAudio, IP streams, X11 screen
– stream (encode to IP) files and any capture source
– batch encoding with job control
– create, play, edit, save, load, encode, and stream MLT XML projects (with auto-save)
– unlimited undo and redo for playlist edits including a history view
– connect to Melted servers over MVCP TCP protocol
– control the transport playback of Melted units
– edit Melted playlists including suport for undo/redo
– OpenGL GPU-based image processing
– multi-core parallel image processing (when not using GPU and frame-dropping is disabled)
– video filters: Blur, Color Grading, Crop, Diffusion, Glow, Invert Colors, Mirror, Opacity, Rotate, Saturation, Sepia Tone, Sharpen, Size and Position, Stabilize, Text, Vignette, Wave, White Balance
– audio filters: Balance, Copy Channel, Downmix, Gain, Normlize, Pan, Swap Channels
– 3-way (shadows, mids, highlights) color wheels for color correction and grading
– eye dropper tool to pick neutral color for white balancing
– UI translations: Catalan, Chinese, Czech, Danish, English, French, German, Portugese, Spanish (not all 100%, but you can help)
– HTML5 (sans audio and video) as video source and filters
– Leap Motion for jog/shuttle control
– DeckLink SDI keyer output
– UI themes/skins: native-OS look and custom dark and light
– control video zoom in the player: fit viewable area (default), 50%, original (100%), and 200%
– multitrack timeline with thumbnails and waveforms
– thumbnail and waveform caching between sessions
– audio mixing across all tracks
– video compositing across video tracks
– trimming (on timeline)
– append, insert, overwrite, lift, and delete (ripple) editing on the timeline
– 3-point editing
– external monitoring on an extra system display/monitor
– fade in and out audio and fade video from and to black with easy-to-use fader controls on timeline
– cross-fade audio and video dissolve transitions easily by overlapping shots on the same track of the timeline
– video wipe transitions: bar, barn door, box, clock (radial), diagonal, iris, matrix, and custom gradient image
What's NEW in ShotCut Portable:
This is an important bug fix release.
New Bugs
Fixed the keyframes button sets size and position parameters to all zeroes in the following filters (broke in v22.11):

Blur: Pad
Crop: Rectangle
Size, Position & Rotate
Spot Remover
Text: Rich
Text: Simple

Fixed a crash when changing a parameter in the Pitch audio filter (broke in v22.11).
Fixed a crash on File > New or File > Close while also playing (broke in v22.09).
Fixed a memory leak in slideshow dialog and transition properties preview (bug in v22.09).
Old Bugs
Fixed Time Remap video filter disables a Crop: Source filter.
Fixed making a gradient stop transparent (alpha value 0) in various filters:

Audio Level Visualization
Audio Light Visualization
Audio Spectrum Visualization
Audio Waveform Visualization
GPS Graphic
Gradient
Improvements and Changes
Added new seek actions to the Player menu:

Forward Jump Alt+Page Down (option+page down on macOS)
Backward Jump Alt+Page Up (option+page up on macOS)
Set Jump Time Ctrl+J (command+J on macOS)

Added Cycle Marker Color with default keyboard shortcut Ctrl+Alt+M (option+command+M on macOS).
Added Advanced > Sample rate to the Properties > Convert dialog.
Download ShotCut Portable