Portable Kindle for PC 1.39.65383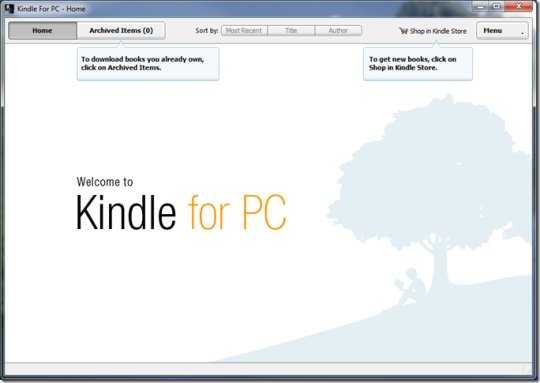 Kindle for PC Portable is a handy and easy to use application that you can use to read Kindle books using your computer, without needing a Kindle device. In order to use it, you need to have a registered Amazon account, as the application prompts you to login right at startup. The interface is simple, allowing you to browse your book library and manage your collections.
Kindle took the world by storm when it released: the transition of books from physical to digital was always in the making, ever since we started using the computer. It was the next obvious step — Amazon saw the opportunity, and took it, granting users a different and more convenient way to get immersed in their favorite writings.
What if your Kindle is out of battery, and you're looking to access a book you own on the device? That is now possible through Amazon Kindle for PC, which, as its name would suggest, offers users a means to read the books they own on Amazon on their computer.
Kindle, but for desktop
The prerogatives of such a program are immediately understandable upon reading its name: this is Amazon's Kindle client for the Windows platform, and through it, users can access the books they own. These books can be read at your leisure, and you're free to pick up your Kindle device anytime to pick up on where you last left off.
Users will appreciate the seamless integration, which makes it possible to effortlessly continue on reading your favorite titles on your desktop, without requiring you to even own a Kindle device. You'll first have to authenticate with your Amazon account, which grants you access to your owned books. The tool takes the form of a sort of PDF reader when opening a book, and the interface is minimal enough not to obstruct what's important.
You can change parameters pertaining to the font for a text presentation that is more to your liking. Different fonts are available, and you're also allowed to change the sizing, alignment, line spacing, and page width of the book. Modifying the brightness is likewise possible, and three color modes are also available: White, Dark, and Sepia.
A few tools to make life easier
Users can bookmark they favorite moments through the Ctrl+D shortcuts anytime they come across something that piques their interest, and the text-to-speech functionality, accessible through Ctrl+T, is also a welcome addition for more laid-back reading sessions.
In addition, you can always highlight any passages by holding the left-mouse button while hovering over them. This also opens up a menu, which allows you to add an accompanying note, and search that section on the web, as well as on Wikipedia.
Double-clicking a word will bring up its dictionary definition. Multiple dictionaries, across different languages, are supported, so make sure to select the relevant language for you.
A desktop reader
Amazon Kindle for PC lets you read the books you own on Amazon with little effort: log into the app, and the books you own and love will be waiting for you
Double-clicking on any book opens it for reading. Navigating is easy, as the table of contents can help you jump to the desired chapter and you can use the 'Search' function to easily find a phrase or a location. There are two different methods for turning pages: using the mouse scroll wheel or the keyboard arrow keys.
Users can easily change the font size, set the number of words per line, adjust the brightness and modify the color mode or even place the text on two different columns in order to enhance the reading experience. Full screen mode is also available.
In addition to this, users can take notes, highlight text sections and add bookmarks in order to remember important book sections. Also, you can view passages that are most frequently highlighted by other users.
The program features a handy dictionary that can display complete definitions when a word is selected, but you can also search it online directly from the application.
One of the advantages that this software comes with refers to the synchronization functionality. For instance, if you have a Kindle device or you are using Kindle on your iPhone (with the same registered Amazon account), this feature helps you synchronizes your bookmarks, annotations and the last page read, so that you pick up where you left off when switching between devices.
If you do not own a Kindle device, but you want to read your favorite digital books, Kindle for PC is the tool for you. Ease of use, together with its customization and sync features make it a great tool for reading e-books.
FEATURES
Take your Kindle books with you:
The Kindle app is available for most major smartphones, tablets and computers. That means with our free Kindle reading apps, you can buy a Kindle book once, and read it on any device with the Kindle app installed*. You can also read that same Kindle book on a Kindle device if you own one.
Sync to the furthest read page
With Amazon's Whispersync technology, you can automatically save and sync your furthest page read, bookmarks, notes, and highlights across all your devices. That means you can start reading a book on one device, and pick up where you left off on another device
Load up with books and more:
Sample Books Before Buying
Read Free Books
Borrow Library Books
Read Magazines & Newspapers on Android devices
Get the best digital reading tools:
Personalize
Look Up Words
Collections
EXCLUSIVE – X-Ray for Books
Download Kindle for PC Portable