Portable Driver Identifier 6.1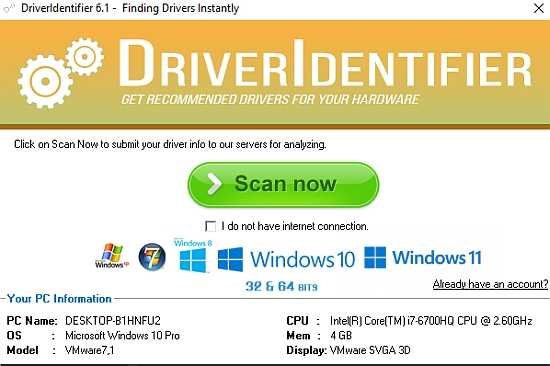 Did you just buy a new computer or did someone give you a laptop as a gift? Or you may want to reinstall your computer? After reinstalling the operating system, you find some devices do not work like no sound, no Wifi. This is because these devices do not have the correct drivers. You can go to the internet and search them one by one. It's not an easy job; it may take hours or even impossible. We see your problem, that's why we created DriverIdentifier Portable. DriverIdentifier will help you find all the drivers you need in just a few minutes.
In the realm of computer engineering, one cannot underestimate the significance of drivers in ensuring optimal performance and seamless functionality of hardware components. Drivers are essential software entities that facilitate communication between the operating system and the wide array of peripheral devices. However, driver management can prove to be a cumbersome task, especially when dealing with outdated or incompatible drivers. In response to this challenge, DriverIdentifier Portable emerges as a sophisticated solution designed meticulously to address the complexities of driver management.
DriverIdentifier Portable is an innovative software application that offers a comprehensive suite of features aimed at simplifying the process of identifying, updating, and installing the appropriate drivers for various hardware components. With its intelligent algorithms and extensive database, DriverIdentifier is capable of scanning and detecting outdated or missing drivers, subsequently bridging the gap between the device and its optimal performance.
By employing advanced techniques from diverse fields such as machine learning and artificial intelligence, DriverIdentifier can efficiently discern intricate patterns in system configurations and hardware specifications. This remarkable capability enables the application to recommend suitable driver updates while maintaining compatibility with the user's unique computing environment.
One commendable aspect of DriverIdentifier is its user-centric design, which ensures accessibility and ease of use for individuals with varying levels of technical expertise. The intuitive interface allows users to navigate through the application seamlessly, thus promoting an efficient workflow for driver management tasks. Moreover, the inclusion of detailed instructions and informative resources within the software aids users in comprehending complex technical concepts, rendering the process relatively straightforward.
Another notable characteristic of DriverIdentifier is its commitment to security and reliability. By implementing rigorous verification procedures, the application ensures that only authentic and certified drivers are sourced from reputable manufacturers. This diligence significantly mitigates the risks associated with malicious software or faulty driver installations, thereby safeguarding the stability and integrity of the user's system.
In conclusion, DriverIdentifier represents a paradigm shift in the landscape of driver management, offering a comprehensive and user-friendly solution to the myriad challenges associated with maintaining an up-to-date and compatible driver ecosystem. With its powerful features and cutting-edge technology, DriverIdentifier has undoubtedly set a new benchmark for excellence in the field of computer engineering, and serves as an invaluable asset for users seeking a streamlined approach to optimizing their hardware performance.
Driver Identifier Portable is a reliable driver scanner designed to check your computer to generate reports of outdated or missing drivers. In addition, the application also provides users with a link to download the driver that needs updating.
The health and performance of any computer depends on the robust configuration of the device, as well as regular maintenance activities. This includes, among other things, driving care. Outdated or missing drivers often lead to errors, hardware problems, and the inability to perform normal computer operations like listening to music or playing games. However, updating the drivers installed on the computer will fix all the problems mentioned above and improve the overall performance of the machine. Such action can be performed manually, which may take time, or automatically using third-party software.
DriverIdentifier Portable is a reliable solution that simplifies driver care with in-depth analysis of machine configuration. It generates an online report that includes a list of all installed drivers, along with details like the manufacturer, version, and status of each entry.
If an update has been detected, a download link is automatically generated, allowing you to save the installer locally and deploy it. The catch is that the service is subscription-based, which means there is a fee to download updates. The advantage is that you can choose a free account, which gives you access to all the updates for just one day.
Once you have updated all the drivers mentioned in the report, you should relaunch the application to make sure everything is up to date. If the report indicates that all your drivers are in good condition, it means the operation was successful.
In summary, DriverIdentifier is a good alternative to manually updating drivers. It's not alone in its software category, battling equally reliable competitors but charging a premium for the job. Signing up for a free day is what brings it to the top of the list.
Key Features
An incredible database.
DriverIdentifier commits to provide the most updated drivers. It's simply because we have advanced techniques to find and update drivers continiuosly.
No internet connetion
Don't worry if you have no internet connection. Just download our application to your USB, open it in your offline computer.
Any drivers for any computers.
Simplifies downloading new drivers from the Internet.
Drivers update capability
Updates previously installed drivers to their latest versions. Windows XP / Vista / 7 /8 / 10 /11 (x86-x64) Supports all modern operating systems! Both 64-bit and 32-bit versions!
Easy to use
Simple and foolproof interface.
Download Driver Identifier Portable