Portable Aman VPN 2.3.2 Multilingual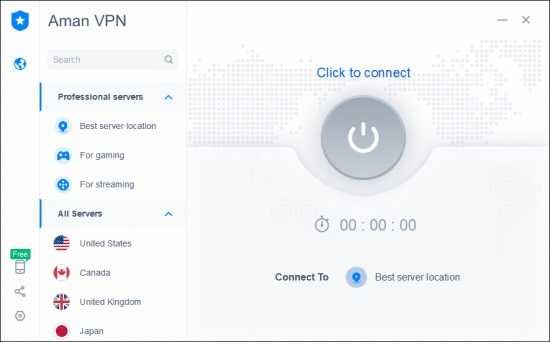 Keeping your privacy intact when venturing out onto the Internet these days has become an increasingly challenging task. One could argue that achieving total privacy is nothing more than a vestigial, far-forgotten memory from the days when the online medium wasn't so riddled with threats and peaky eyes. Aman VPN Portable aims at providing you with a minimalist tool for protecting your privacy, through its VPN capabilities that ensure access to a wide range of connection servers.
Basic design, which facilitates easy operation, and doesn't carry any unwanted complexity to it
The application features a really simple design, and it becomes apparent rather quickly that graphics and overall built aren't its forte. And we feel that it shouldn't necessarily be, as in this case the scope and function are somewhat more important.
However, in terms of the actual features that are present, including the toggle for the virtual private network and the selector for servers, we believe that the app could have benefitted from more functionality.
Choose one of the numerous available servers, press the connect button and you're ready to surf the Web
As stated above, the app features a good selection of servers, from a wide range of countries, this way ensuring that users have access to a wide palette of connectivity options. Furthermore, each country entry itself has multiple sub-servers, as well as an option for automated server selection, which we found to be a nice touch.
All that users need to do is to press the initialization toggle and they're good to go. Simple setup, and even simpler operation.
Simple VPN client, which although not offering groundbreaking features, does manage to do what it was meant to
Aman VPN addresses those who seek a minimalist VPN client that can help them guard their online privacy without too much fuss with regard to app configuration.
Get secure and private access to the Internet
Why you need a VPN
Hackers can gain your password, threaten your account security and inquire all your browsing records by public network.
Why you should choose Aman VPN
Aman VPN provides best encryption standard. You can surf the Internet anonymously via Aman VPN. Therefore no one can track your activities.
Protect your device all platform and online at the same time
Aman VPN serve you all platform
By creating an account, you could use Aman VPN on Windows, Mac, Android, iOS, smart TV and so on. Once you have owned an account, you could use AmanVPN on each platform for free.
Aman VPN provide unified experience
Across all platform, Aman provide unified user interface. It is easy-to-use for you when you switch to completely different devices.
Fast connection with one-click
Global servers guarantee your speed
Aman owns thousands of servers from 94 famous cities all over the world. You could choose any location you want to keep your network from threat within few seconds.
Easy-to-use interface makes it simple
Senior UI designer brings a brief, easy-to-use interface. With just one click button, Aman VPN will give you all-round protection.
Download AMAN VPN Portable