Portable Video Shaper 5.0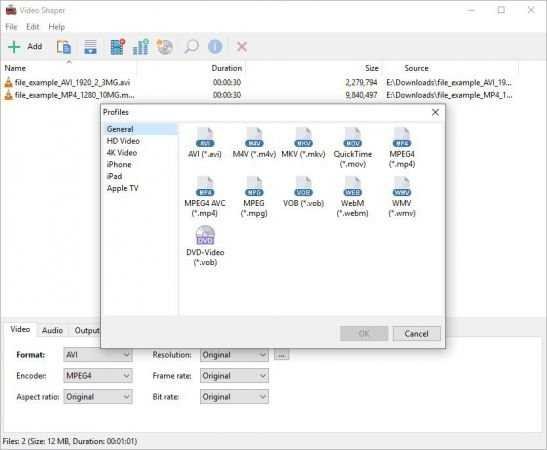 VideoShaper Portable is a versatile and easy-to-use video processing software that allows users to edit and convert videos quickly and efficiently. It is a comprehensive tool that offers a range of features for both beginners and professionals.
One of the standout features of VideoShaper Portable is its intuitive interface, which makes it easy to navigate and use. The software is designed to be user-friendly, with simple and clear menus that allow users to access all the tools they need to edit and convert videos.
VideoShaper Portable offers a wide range of video editing tools, including the ability to trim videos, add watermarks, and adjust video quality. Users can also crop videos, add subtitles, and adjust the aspect ratio of videos to suit their needs.
One of the most impressive features of VideoShaper is its ability to convert videos to a wide range of formats. It supports popular formats such as MP4, AVI, MOV, and WMV, as well as less common formats such as MKV and FLV. This makes it easy to convert videos for use on different devices, such as smartphones, tablets, and gaming consoles.
VideoShaper also offers a range of customization options, allowing users to tailor the software to their specific needs. Users can customize the interface, create custom presets, and even adjust the bitrate and resolution of videos to optimize them for different devices.
Another impressive feature of VideoShaper is its ability to compress videos without compromising their quality. This is particularly useful for users who want to upload videos to the internet or share them via email, as it reduces the file size of the video without sacrificing its visual quality.
VideoShaper also offers a batch processing feature, which allows users to process multiple videos at once. This is a great time-saving feature for users who need to convert or edit large numbers of videos.
In addition to its video editing and conversion features, VideoShaper also includes a range of audio tools. Users can extract audio from videos, convert audio files to different formats, and adjust the volume and bitrate of audio files.
Overall, VideoShaper is a powerful and versatile video processing software that offers a comprehensive solution for anyone looking to edit or convert videos. Its intuitive interface, wide range of features, and customization options make it an excellent choice for both beginners and professionals. Whether you're looking to trim a video, convert it to a different format, or optimize it for a specific device, VideoShaper has the tools you need to get the job done quickly and efficiently.
Video Shaper Portable is a lightweight and easy to use video conversion software, which allows you to convert and burn video files, extract audio tracks from video files, preview video and apply visual effects.
One cannot argue with the fact that there is no lack of video converters out there. Even so, what you should keep in mind about Video Shaper is that it does its job quickly and efficiently, while also providing audio extraction and disc burning capabilities, despite its somewhat misleading title.
Preview the videos to convert before you do so
Working with Video Shaper proved to be a piece of cake. The main window hosts a list of all the source videos, displaying their duration, size, and location. Thanks to the integrated preview function, you can watch each of the clips using a simple player to make sure it is the one you wanted to convert.
Select the output format and configure audio and video settings
There are a few settings you can configure, also available within the main window. If you plan on converting the videos, you can select the output format. Video Shaper provides support for some of the most widely used file types, namely AVI, MKV, MOV, MP4, or WMV. Furthermore, you can encode to DVD or VCD (NTSC or PAL).
Additional settings enable you to change the encoder, the aspect ratio, the bit and the frame rates, and the frame size of the resulting clip.
If extracting audio tracks is your choice, then you should know that Video Shaper can output MP3, WAV, OGG, WMA, and FLAC files. Just like before, you can also alter a few audio settings, namely the encoder to use, the channel, the sample rate and the bit rate.
Burn videos on disc with just a few clicks
The third function of Video Shaper is burning discs. In other words, it can burn the input files onto an empty disc inserted in the computer's drive, at 8x speed. Additionally, it also comes with erasing capabilities, which means you can use it with re-writable media.
Convert video to AVI, MOV, MKV, WMV, VCD, DVD, MP4
Extract audio and save to MP3, WAV, OGG, FLAC, WMA
Burn video files to CD, DVD or Blu-ray Disc
Preview video files and save snapshots
Command line support
Supports batch conversion and extraction
Support Windows Vista, 7, 8, 8.1, 10 (32 and 64 bit)
Convert
Video Shaper allows you to convert any video file and save it to various formats such as AVI, MKV, WMV, DVD, MP4 etc.
Extract
With Video Shaper you can extract audio tracks from any video and save it to various format such as MP3, WAV, OGG, FLAC etc.
Burn
Using Video Shaper you can burn your video files to CD, DVD or Blu-ray Disc as well as erase any rewritable media.
What's NEW:
• Updated disc burning SDK.
• Improvements to program performance.
Download Video Shaper Portable