Portable Robointern v1.25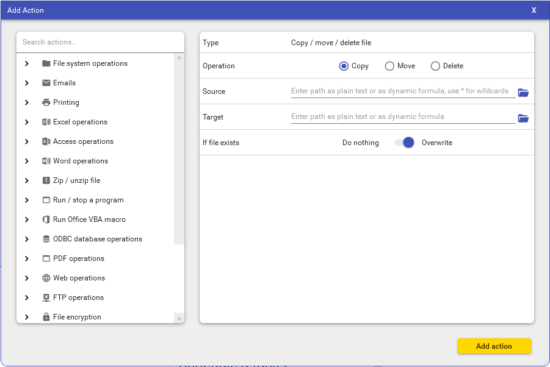 RoboIntern is an automation and task scheduling tool with focus on repetitive office tasks, but offers many more other tasks. With a beautiful UI it lets you get rid of tedious tasks in an intuitive way, without any coding skills required.
Robotic process automation (RPA)-like features for anyone.
Main tasks supported:
MS Excel, Word, Access operations
Highly customizable emails generation
ODBC database operations
File system operations
Archiving operations
PDF operations
FTP & SFTP operations
Running various scripts (Python, Javascript, VB.Net, Powershell)
Encrypt and decrypt files (OpenPGP)
Tasks can be set to run manually or with the below triggers:
On a time schedule
On receiving an email
On a file being modified, created or deleted
On another task having run
On ODBC database query returning records
On the computer starting, waking up from sleep, unlocking or locking
Requirements
Windows 7 or higher, .NET 4.5.2+ required, no installer, freeware
RoboIntern is completely free and is independently developed.
Download RoboIntern Portable