Portable FireAlpaca 2.11.6 Multilingual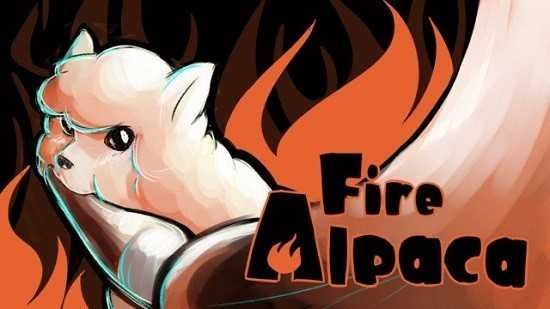 FireAlpaca Portable is a simple to use but comfortable editing software to convert images, photos and any other images. There is not any advanced or specific features, but the basic set of tools to quickly and easily edit the images. The annex contains the brush tools, fill, pen, eraser, magic wand, lasso. In addition, you can edit the color, brightness, contrast, rotate and crop the image, change its size, etc. It is worth noting that the program supports the work with layers similar to the popular Photoshop editor, thereby opening wide enough opportunities to change the photos and images.
FireAlpaca is a free digital painting and illustration software designed for artists, designers, and hobbyists. This powerful tool offers numerous features and tools that make it easy to create stunning illustrations, paintings, and drawings.
One of the most notable aspects of FireAlpaca is its user-friendly interface. The software has a sleek and intuitive design that makes it easy for users to navigate and locate the tools they need. The layout is minimalistic, featuring only the essential tools needed for drawing, such as brushes, layers, and color tools. This simplicity ensures that even beginners can quickly dive into the software without feeling overwhelmed or lost.
FireAlpaca also boasts a wide variety of customizable brushes. Users can choose from a vast range of brush types, including watercolor, oil painting, airbrushes, and more. Each brush can be customized to suit your specific needs, allowing you to adjust the size, opacity, and pressure sensitivity easily. With these options, artists can create unique strokes and textures in their work, delivering personalized results.
In addition to brushes, FireAlpaca has an array of other tools to help improve your artwork. These include layer masks, rulers, grids, and perspective tools. Layer masks allow users to edit and adjust individual layers, while rulers and grids help maintain accurate proportions and perspective in your drawings. These tools enable artists to create precise and professional artwork.
FireAlpaca also has support for various file formats, making it easy to import and export your work. Users can save their files in JPEG, PNG, BMP, PSD, and other popular image formats. Additionally, FireAlpaca is compatible with Wacom tablets, providing a more natural and convenient way to draw and paint.
Another significant advantage of FireAlpaca is its community. The app has a large and active community of artists who share their work, offer advice, and provide feedback. This community provides inspiration and valuable resources for artists of all skill levels to improve their work.
In summary, FireAlpaca is a fantastic digital painting and illustration software designed for artists, designers, and hobbyists. Its intuitive user interface, customizable brushes, and various tools make it easy for users to create stunning artwork. Whether you are a beginner or an experienced artist, FireAlpaca provides the perfect platform to unleash your creativity. Plus, with its large and active community, you can always find inspiration and support to enhance your skills further.
With regard to the program used graphic formats, it .psd, .jpg, .png, .bmp, .gif and .mdp (FireAlpaca own format). The interface is designed in classic and familiar to other graphical editors as to guarantee rapid development of application functionality and configuration toolbox "for themselves." In general, the editor can be recommended for novice masters and designers, having to do all the necessary basic functionality and intuitive shell.
Organized user interface
When you edit images or draw them from scratch, it is necessary to have all your tools at hand, with the minimal distraction from these, in order to focus on the canvas.
FireAlpaca offers you the option to choose which menus and toolbars you wish to keep visible and which to hide. It even has a fast keybind for hiding everything but your project.
Whenever you move your mouse over an option or feature, a tooltip is displayed in the left corner of the program, which makes the application very user-friendly.
Customizable brushes and tools
FireAlpaca comes with a pack of preset brushes with various effects. And even if these can be customized, you have the option to add your own brushes or pencils to better fit your work style.
The program supports graphic tablet usage, allowing you to take advantage of the pen pressure sensitivity in order to control the size and opacity of your strokes.
Layered artwork
The large variety of tools that comes with FireAlpaca works well with the ability to separate your projects into layers. This way, you can quickly test out ideas without having to change the main image.
Layers can be duplicated, so you can easily revert any made changes. The order of the layers sets their visibility priority, making the first layer to be visible on top of the others. Any layer can be also hidden easily.
Multiple projects in different tabs
Another useful feature is the integration of multiple tabs, so you can work simultaneously on more than one project, without having to run other instances of the program.
Having multiple tabs allows you to copy elements from one draft and add them to another project with ease.
Languages: English, German, Spanish, French, Portuguese, Russian, Chinese (Taiwan), Chinese (Simplified), Japanese, Korean.
What's NEW:
Added posterization filter.
Fixed a bug where the brush addition position was incorrect when adding a brush in a brush group.
Fixed a bug that prevented brush stippling (immediate drawing with a click).
Fixed a bug where anti-aliasing was not applied to layer and brush character drawings on high dpi displays.
Download FireAlpaca Portable