Portable Shades Tweaker 1.5 Multilingual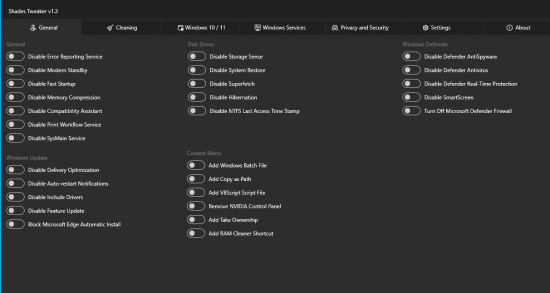 Shades Tweaker Portable is a tool that aims to be a control panel of sorts, where users can more conveniently configure their machine. As for the available modifications, the general behavior of your system, its services, and privacy features can be freely accessed. In addition, the Cleaning menu enables a quick and painless maintenance process.
A third-party control panel for your computer
Perhaps that's the best way to go about describing this program. What you get here is essentially a toolbox that provides quick access to a series of functions of interest. The interface will first present you with the General tab, which features a variety of more generalist tweaks.
These tweaks involve toggling certain Windows functions, such as Fast Startup, Modern Standby, modifying how Windows Update works by disabling Delivery Optimization, blocking Microsoft Edge automatic installations, as well as blocking drivers from being installed. Some disk and context menu-related options are likewise available from the same interface.
If you wish to go a little deeper, the Windows 10/11 tab lets you disable certain features of the respective operating systems, such as Cortana, Search Indexing, excluding Bing from Windows Search, and so on.
Do away with telemetry and redundant services
The Privacy and Security tab is the most feature-rich if we're to consider the number of options it puts at your disposal. Through it, you'll be able to disable certain telemetry functions, such as Diagnostics Data and Tracking, Location History, Application Telemetry, and many others.
Some services can be disabled by way of the Services menu. It's best to look up each entry to ensure that you're not deactivating something essential to your workflow, however.
General maintenance can also be conducted
As for maintenance, the Cleaning menu is very interesting in itself. It can rid your system of any superfluous logs, temp files, and cached data. A quick analysis will display the elements that can be dispensed with. That's all well and good, but I would advise users to be careful when cleaning certain caches, though.
All in all, Shades Tweaker Portable is a utility that will serve many users well. The program is easy to pick up and use, but it's best to inform yourself before changing anything you're unfamiliar with. Any modifications I made were applied with no delay, and being able to freely import and export configurations can significantly quicken your work, especially on subsequent Windows installations.
Release Note:
Debloat Feature added
Improved cleaning department work function
Russian language added
Portuguese language added
Portuguese (Brazil) language added
Some bugs and performance improvements.
Download Shades Tweaker Portable