Portable Safe Mode Launcher v1.1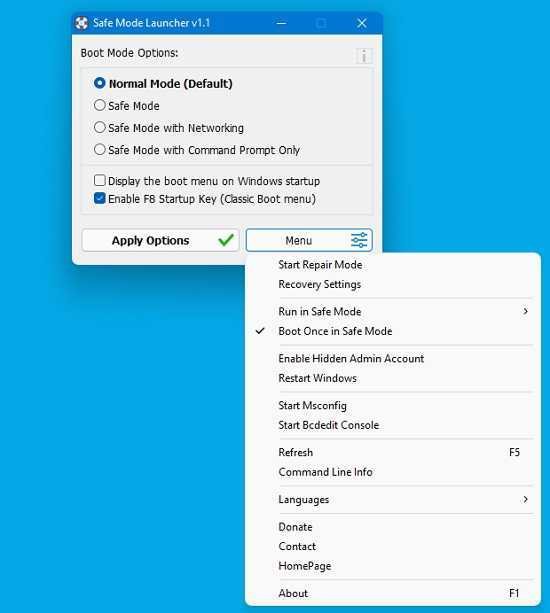 Safe mode is a boot option that starts the operating system in diagnostic mode rather than standard mode. It can be utilized if there is a system-critical issue that prevents Windows from running normally. Removing stubborn and difficult-to-uninstall software or malfunctioning drivers, as well as removing malware, are just a few of the things that frequently need the use of Safe Mode.
In safe mode, Windows uses a generic VGA display driver rather than the vendor-specific driver, so you'll probably be limited to 16 colors and a low resolution.
Depending on the version of Windows you're using, there are a few different ways to start Windows in Safe Mode.
The traditional method for anyone to enter Windows Safe mode is to continually press the "F8" key when the operating system boots, shortly after the BIOS or manufacturer's splash screen, but this method is no longer valid in Windows 10 because the F8 boot menu was eliminated to optimize system boot time.
With "Safe Mode Launcher," you can re-enable the F8 start key. Please keep in mind that different computer brands utilize f8 differently; for example, an HP laptop contains "helps" that make finding safe mode practically hard; Toshiba uses f12…
Select one of the settings in the interface and press the Apply Options Button to start your PC in safe mode. If it does not prompt you to start in safe mode, select "Restart Windows" from the Menu button.
Safe Mode Launcher provides a few important features, such as automatically switching to regular mode when you enter Safe Mode using the software and restart the system.
You will not be stranded in safe mode if you use this option. You can also activate the secret Administrator account with a single click (Under the Menu). With the "Enable F8 Startup key (Classic Boot Menu)" option selected, you can choose between the Graphical Boot Menu and the Classic Boot Menu.
Download Safe Mode Launcher Portable