Portable Natron 2.4.1 (x64)
Dedicated to all artists and designers, Natron Portable provides an open-source alternative to other complex image processing applications that can perform digital compositing. With its help, you can combine graphical elements from various sources and integrate them into a single scene.
On the surface Natron has a powerful GUI interface that is a flexible and intuitive multi-platform node based engine. Natron may seem to be a simple compositing application but it does have layers of complexity that will allow your creativity to reach new heights. Natron has flexible
Roto and Rotopaint tool-set that can generate unlimited layers of masks, mattes and shapes.
Natron Portable has a powerful 2D and Planar tracker to help reduce hours of rotoscoping to meet personal or client deadlines. It has some strong keying or matte generation tools that has been developed from the main OFX software developers and a plethora of tools from the open source plugin developing community.

Variate input support and plugin use
While it might take you a while to get accustomed with it, Natron features an intuitive interface displays all options within reach. The Node Graph enables you to get a glimpse at all the opened viewers and assign them images and the preview pane displays the output in real time.
Natron is compatible with various graphic formats, enabling you to work with files such as JPG, PNG, TIFF, DPX, EXR, YUV, VQL, VSM and many more. Its functionality can be extended through the use of OpenFX plugins, that is, if the default toolkit does not satisfy you.

Robust rendering engine and editing toolset
The application comes with a plethora of editing options that, used wisely, can help you obtain the desired result. With a multi-threaded rendering engine and multi-tasking capabilities, Natron can display results as you make changes to the design.
It features colorspace management functions (saturation, contrast, gamma, offset, shadows, midtones, highlights adjustments), image resizing, cropping and transforming tools, dainterlacing and noise reduction and a series of filters that enable you to enhance your pictures. Furthermore, the built-in curve editor helps you deal with keyframes and animate visual effects.

Next-level digital compositing
Relying on a powerful multi-threaded rendering engine, Natron can help you mix image sections together so as to make them look as if they were part of the same scene. Its rich editing options and the powerful internal renderer, combined with digital compositing know-how allow one to deliver impressive results.
Features
32-bit floating-point linear color processing pipeline.
Color management handled by OpenColorIO.
Dozens of file formats supported: EXR, DPX, TIFF, JPG, PNG through OpenImageIO and FFmpeg.
Support for many free, open-source, and commercial OpenFX plugins—currently almost all features of OpenFX v1.4 are supported.

OpenFX-IO to read anything else than standard 8-bits images
OpenFX samples (in the Support and Examples directories)
…And many more! Please tell us if you successfully tested other commercial plugins.

Intuitive user interface: Natron aims not to break habits by providing an intuitive and familiar user interface. It is possible to customize and separate the graphical user interface on any number of screens. You can re-use your layouts and share your layout files (.nl).
Performance: In Natron, anything you do produces real-time feedback in the viewer thanks to the optimized multi-threaded rendering pipeline and support for proxy rendering (computing at a lower resolution to speed up rendering).
Multi-task: Natron can render multiple graphs at the same time. It can also be used as a background process in headless mode.
Recover easily from bugs: Natron's auto-save system detects inactivity and saves your work for yourself. Natron is also able to render frames in a separate process, meaning that any crash in the main application would not crash the ongoing render (and the other way around).
Project files saved in XML and easily editable by humans.
Fast & interactive viewer – Smooth & accurate zooming/panning even for very large image sizes (tested on 27k x 30k images).
Real-time playback: Natron offers real-time playback with excellent performance thanks to its RAM/Disk cache. Once a frame is rendered it can be reproduced instantly afterward, even for large image sizes.
Animate your visual effects: Natron offers a simple and efficient way to deal with keyframes with a very accurate and intuitive Curve Editor as well as a Dope Sheet to quickly edit your motion graphics.
Command-line rendering: Natron is capable of running without a GUI for batch rendering with scripts or on a render farm.
Rotoscoping, rotopainting, and tracking support
Multi-view workflow: Natron saves time by keeping all the views in the same stream. You can separate the views at any time with the OneView node.
Python 2 scripting integration:

Parameters expressions
User-defined parameters
Nodes groups as Python scripts
Script editor to control the application overall
User-defined python callbacks to respond to particular checkpoints of the internals of the software (change of a parameter, before rendering a frame, etc…)
Integration of Pyside to the GUI so that the interface is extensible with new menus and windows

Multi-channel compositing: Natron can manipulate multi-layered EXR files thanks to OpenImageIO. Users can choose to work with any layer or channel on any node, new custom layers can also be created.
What's NEW:
Changes
Default number of render threads is more reasonable on multi-core systems: min(num_cores, RAM/3.5Gb).
Fix checkerboard drawing on macOS Catalina and later.
Fix undoing "Reset to default" on parameters.
Fix NodeGraph manipulation and navigation issues.
Fix Retina/High-DPI display issues on macOS, Windows and Linux/X11.
Fix multi-dimensional parameter linking (bug introduced in 2.4.0
Fix bug where any argument containing an integer between commas would be interpreted as a frame range.
Python: app.saveProject and app.saveProjectAs now do project variable substitution, as in app.saveProjectAs("[Variable]/output.ntp").
Fix ASCII curve import.
New color selection dialog for RGB and RGBA knobs.
Fix histogram smoothing (was 5 times too strong).
Add Python functions guiApp.copySelectedNodes and guiApp.pasteNodes.
Plugins
Transform, CornerPin, Position and Ramp nodes now display the motion path.
HueCorrect now has the ability to do hue vs. hue adjustments, with an option to change the background curve guide.
Merge: Fix behavior on most operators when A is not connected or A's RoD and B's RoD are disjoint.
Reformat: fix bugs when "turn" is checked with Resize Type = None or Type = Scale.
Write: Remove file first when overwriting.
Mirror: Fix crash.
SeNoise: Add option for colored noise.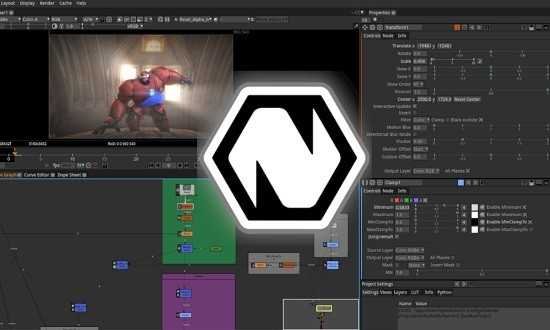 Download Natron Portable