Portable ID Photo 2023 v17.1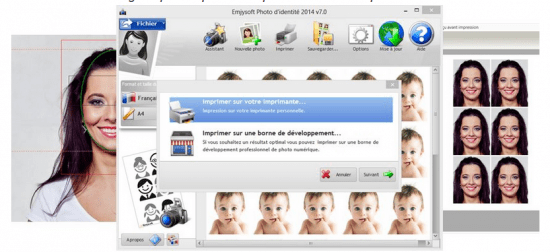 Create and print your own passport photos.
Creation of an ID photo from any source.
To create your ID photo, simply import your original photo from a digital camera, your smartphone, a scanner or your webcam.
One software for all photo-identity sizes.
All sizes are supported. It is sufficient simply to indicate the width and the height. The software handles the rest of the calculations. But that is not all, the software is already pre-configured for the USA format and French format.
Precise reframe of the subject for a successful identity photo.
The reframing is done using the assistant who guides you step by step.
Simply indicate with your mouse the pupils of the eyes, the chin and the forehead. The software then undertakes to carry out and optimise the cropping.
Everything is respected as the proportion of the face, the area of the eyes, the rotation of the axis of the eyes…
You can, of course, manually change the new framing or disable this option.
Save your crop pictures.
Save your framing in the gallery to reuse it whenever you want. You no longer need the subject to photograph or even retouch the photograph.
Imagine being able to redo identity photos without the presence of your children, and now it is possible.
Several individuals on a draw, it is possible.
Did you dream of being able to mix different people on a single sheet of paper?
Well, you can, and it's also ecological and economical. Only our software offers this feature.
Printing on several paper sizes (A4, 10×15, …).
The ID Photo software makes it possible to print on many paper formats: A4, A6 or 10×15 for printing on a terminal.
The A4 format is often used to print large quantities of photo directly on its personal printer.
Print or export your photo identification boards
You can print your ID photos on your personal printer. If you want an optimal result, you can print on a professional digital photo development kiosk. Just export your board in 10×15 format to an USB stick. Of course all this is done automatically.
Download ID Photo Portable