Portable HandBrake 1.6.1 (x64) Multilingual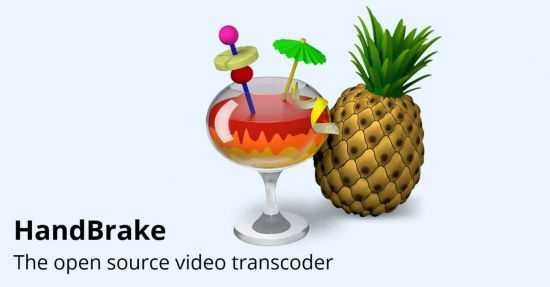 After more than 13 years of development, the HandBrake Team is delighted to present HandBrake v1. Thank you to all of our many contributors over the years for making HandBrake what it is today. HandBrake is a tool for converting video from nearly any format to a selection of modern, widely supported codecs. HandBrake portable is a multiplatform, multithreaded video transcoder. Supported sources: Any DVD-like source: VIDEO_TS folder, DVD image or real DVD, and some .VOB and .TS files, Blu-ray source,
Most any multimedia file it can get libavformat to read and libavcodec to decode. Outputs: File format: MP4, MKV, Video: MPEG-4, H.264, or Theora (1 or 2 passes or constant quantizer/rate encoding), Audio: AAC, MP3, Vorbis or AC-3 pass-through (supports encoding of several audio tracks), Switchable or burned in subtitles and much more!
The interface of the application is standard and both beginners and experienced individuals can easily get accustomed to this program.
You can import a DVD folder or video file by using the file browser or the "drag and drop" method. Then, you can select the title and chapters, preset, output format destination, as well as configure settings before initiating the encoding process. I recommend using the included Presets if you lack the needed advanced knowledge.
You can apply many video filters (grayscale, detelecine, decomb, deinterlace, denoise, deblock), as well as set the video codec (H.264, H.265, MPEG-4, MPEG-2, VP8, Theora) framerate and quality, audio codec (AAC, HE-AAC, MP3, AC3, OGG), mixdown, sample frequency rate and bitrate.
Also, you can add, remove or import subtitles (SRT format only) and enable the "Forced Only", "Burned In" and "Default" options, create chapter markers and import/export a CSV file.
When it comes to advanced options, you can select the encoding method (e.g. reference frames), psychovisual, analysis (e.g. "Adaptive Direct Mode"), partition type, deblocking, and others.
Additionally, you can preview results, create a task list (i.e. batch conversions), import and export presets, configure program settings, and more.
The program uses a moderate amount of system resources, takes a long time to complete a task but manages to keep very good image and sound quality. There's also an online user guide available.
Built-in Device Presets:
Get started with HandBrake in seconds by choosing a profile optimised for your device, or choose a universal profile for standard or high quality conversions. Simple, easy, fast. For those that want more choice, tweak many basic and advanced options to improve your encodes.
Supported Input Sources:
Handbrake can process most common multimedia files and any DVD or BluRay sources that do not contain any kind of copy protection.
Outputs:
File Containers: .MP4(.M4V) and .MKV
Video Encoders: H.265 (x265 and QuickSync), H.264(x264 and QuickSync), H.265 MPEG-4 and MPEG-2, VP8 and Theora
Audio Encoders: AAC / HE-AAC, MP3, Flac, AC3, or Vorbis
Audio Pass-thru: AC-3, E-AC3, DTS, DTS-HD, TrueHD, AAC and MP3 tracks
Even more features:
Title / chapter and range selection
Batch Scan and Queueing of encodes
Chapter Markers
Subtitles (VobSub, Closed Captions CEA-608, SSA, SRT)
Constant Quality or Average Bitrate Video Encoding
Support for VFR, CFR and VFR
Video Filters: Deinterlacing, Decomb, Denoise, Detelecine, Deblock, Grayscale, Cropping and scaling
Live Video Preview
Release Note:
Fixed quality slider not allowing negative values for encoders supporting them
Fixed issues upgrading presets from older versions
Fixed a potential graphical interface hang when stopping the queue
Fixed optical disc drives on the source selection pane not scanning correctly
Fixed erroneous display of 2-pass check box for Intel QSV AV1 encoder (not yet supported)
Fixed a build configuration issue that broke version 1.6.0 for Windows on arm64
Fixed an issue that prevented NVDEC from being available
Fixed passthru audio erroneously falling back to encoding
Fixed the Save New Preset button incorrectly overwriting recently added presets
Fixed a potential decoder issue that could cause desync with audio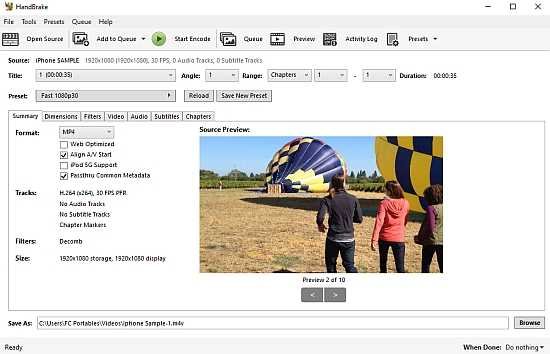 Download Handbrake Portable