Portable Darktable v4.0.0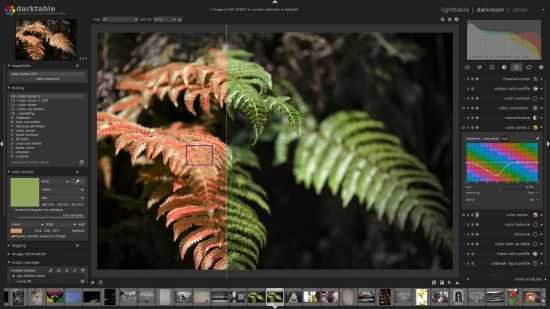 Darktable Portable is an incredibly comprehensive photo processing program that lets you edit your RAW image files in a digital darkroom. The idea is to be able to work with your negatives and easily return to the original way in a non-destructive way. The program is compatible with over 400 different camera models, letting you edit your photos completely and professionally with endless features.
When it comes to working with your photos, you can import them from your desktop computer or directly from the camera you work with. The great thing about Darktable is that it offers a complete and customizable importation system. For example, it even lets you turn a series of photos into a time lapse, among other options.
Darktable is divided into 5 modules: Lighttable, Darkroom, Map, Slideshow, and Tethering. This is done in order to conveniently group the functions.
In general, the Darktable and Adobe Lightroom's interfaces are almost identical, so you should not have problems when switching to Darktable.
darktable is created for photographers, by photographers.
Having developers that are also avid photographers as part of the target audience is good for understanding the real world problems, challenges, and workflows.
darktable is a photography workflow application and raw developer. A virtual lighttable and darkroom for photographers. It manages your digital negatives in a database, lets you view them through a zoomable lighttable and enables you to develop raw images and enhance them.
darktable edits your images non-destructively all the way through its pipeline. Your original image is never modified. Professional color management features ensure fidelity all the way to print and GPU accelerated processing means you can speed up your workflow using your video card.
Currently darktable contains 61 image operation modules. Many modules support powerful blending operators offering blend functionality that works on the incoming image information and the output of the current module or be used with drawn masks.
Darktable is – together with RawTherapee – the perfect alternative to Adobe Lightroom.
Main modules
Basic image operations
Tone image operations
Color image operations
Correction modules
Effects/artistic image postprocessing
Download Darktable Portable