Portable Audacity 3.4.2 Multilingual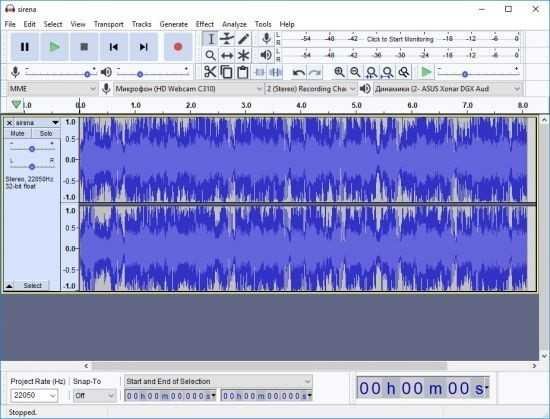 Audacity Portable is a free, easy-to-use and multilingual audio editor and recorder for Windows, Mac OS X, GNU/Linux and other operating systems. You can record sounds, play sounds, import and export WAV, AIFF, AAC, MP4, Ogg Vorbis, and MP3 files, and more. Use it to edit your sounds using Cut, Copy and Paste (with unlimited Undo), mix tracks together, apply effects to your recordings, change the speed or pitch of a recording, and really much more.
Audacity Portable enables FLAC support. The program also has a built-in amplitude-envelope editor, a customizable spectrogram mode, and a frequency-analysis window for audio-analysis applications. Built-in effects include Bass Boost, Wahwah, and Noise Removal, and it also supports VST plug-in effects.
Audacity Portable is without a doubt one of the best and easiest digital audio editors on the market and it will meet any requirement at 100% no matter if it is home or professional audio edition.
One of the key features of Audacity is its ability to record audio from a variety of sources, including microphones, line-in inputs, and even streaming audio from the internet. Once the audio has been recorded, users can edit it using a range of tools and effects, including trimming, cutting, and pasting sections of the audio, adjusting the volume and pitch, and adding reverb and other effects.
Audacity also supports a range of audio formats, including WAV, AIFF, and MP3, making it easy to work with different types of audio files. Users can import and export audio files in these formats, as well as export edited audio files in a variety of formats, including MP3, WAV, and FLAC.
One of the key benefits of Audacity is its user-friendly interface. It is designed to be easy to use, with a range of tools and options that can be accessed from a simple menu system. This makes it easy for users to navigate and find the tools they need, without having to spend a lot of time learning how to use the software.
Audacity also includes a range of advanced features that make it a powerful tool for audio professionals. For example, it supports multi-track recording and editing, allowing users to work with multiple audio tracks simultaneously. It also includes a range of built-in effects and filters, such as noise reduction, equalization, and compression, that can be applied to audio files to improve their quality.
Another key benefit of Audacity is its open-source nature. This means that the software is free to use, and users can modify and customize it to suit their needs. There is also a large community of users and developers who contribute to the software, providing support and guidance to new users, as well as developing new features and plugins.
Overall, Audacity Portable is an excellent choice for anyone who needs a powerful, versatile, and easy-to-use audio recording and editing software. Whether you are a professional sound engineer, a musician, or just someone who wants to record and edit audio files for personal use, Audacity is a tool that you should definitely consider.
Features:
– recording (from a microphone or mixer)
– import/export of WAV, AIFF, AU, FLAC, MP3 (via LAME encoder) Ogg Vorbis files
– advanced editing (cut, copy, paste, delete commands with unlimited "Undo" and "Redo," multitrack mixing)
– digital effects (change the pitch, remove background noises, alter frequencies, remove vocals, create voice-overs for podcasts, etc.) and plug-ins (support for LADSPA, Nyquist, VST Audio Unit, including VAMP analysis plug-ins).
What's NEW:
Audacity 3.0.0 is a major update on our previous Audacity 2.4.2. We've changed the format in which we save Audacity projects! Previously we saved projects as a sometimes large number of small files, with an '.aup' file to coordinate the lot. This way of doing things is sometimes called 'pile of files' storage.
The problem, which happened all too often, was that data files and .aup file parted ways. Users quite reasonably expected the .aup file to contain the entire project. Well, the new .aup3 file does contain the data as well. The technical detail is that we are using an open source database, SQLite3, to store everything in one .aup3 file. That all happens 'behind the scenes'. SQLite3 is open source, and it is a delight to work with. Nevertheless, this was a huge change, and we decided it was too risky to include many other changes we wanted to make at the same time – so 3.0.0 is almost entirely about this big format change.
Working with .aup3 projects editing audio should on most machines be a little faster than before, because there are fewer files being worked on. Finishing and closing a project at the end of working can be quite a lot slower, since there is more to do when a project is closed. We think the trade offs are worth it.
Label Sounds & Noise Gate
We did have time to improve our 'Noise Gate' effect and add a new analyzer, 'Label Sounds', that can label sounds and silences. We also made a few small tweaks elsewhere. You can now import and export macros, and there are a couple of new commands for using the last used tool or last used analyzer that you can give shortcuts to.
Bugs fixed
We also fixed over 160 bugs that had been accumulating over the years. This is quite a staggering amount of work. The majority of these bugs were minor problems, easily worked around. Some though were really juicy high priority bugs that would have mattered a lot to the people affected by them. We're really glad to have these bugs fixed now.
We hope you enjoy using Audacity 3 as much as we enjoyed putting it together.
Release Note:
This is a hotfix release. It fixes the following issues:
Fix a crash when opening projects with zero-length clips.
When exporting a file, the sample rate of the tracks is now considered, and last-used sample rate is remembered.
Copy-pasting behavior now pastes into clips again by default. This can be changed via Preferences -> Track Behavior -> Always paste audio as new clips.
Mix and render now also resets the gain for the resulting track.
Fix clips shifting to the right when effects are applied to them.
Fix clicks occurring when overdubbing a project with muted tracks.
Fix files being exported without a file extension in rare cases.
Show all sample rates possible for MP2 exports.
Fix pasting into labels.
Fix a crash when clearing loops.
Fix copying when "select all audio if selection required" is enabled.
Fix GTK detection and compilation for wxWidgets 3.2.4.
Fix Nyquist-related crashes.
Fix EQs in macros.
Fix a crash when closing Audacity.
Fix builds on arm64/armhf.
Use dladdr when possible to setup modules paths
Download Audacity Portable