Portable WinPaletter 1.0.8.0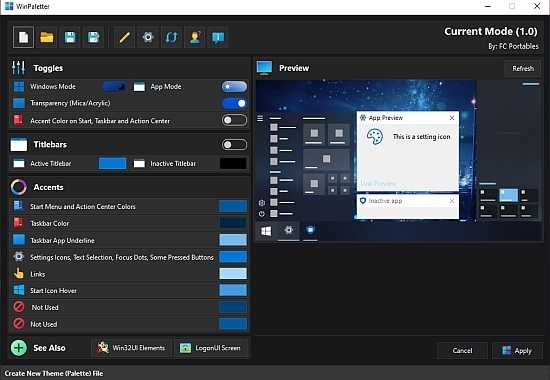 Windows is pretty generous when it comes to customization: as a user, you have the freedom to personalize your system in a variety of ways. Whether it is using widgets, changing your cursor's look, or modifying the aspect of your taskbar, menus, and other such things — you can customize your system's interface more to your liking.
If you're looking to change the accents of your Windows 10 or 11 machine, then you might want to take a look at WinPaletter Portable, a software solution that affords you much more freedom than what you'd get by default. Alter the look of your system by changing the color of your taskbar, start menu, specify a color for the lines, toggles, and buttons, and much more.
Per your preferences
Those who like to personalize their system's appearance will feel right at home here. With an interface as intuitive and straightforward as this one, there really isn't anything worth addressing when it comes to setting everything up. Boot up the program, and start customizing.
For starters, you can switch between light and dark mode, toggle transparency, as well as modify the colors of your interface. You can begin by changing the Titlebar color: active and inactive states can have different colors, so feel free to experiment.
Make it your own
Where users can get very thorough with their customization is the Accents section. You can modify the look of many elements, such as the Start Menu, Taskbar, Action Center, as well as specify certain colors to appear while hovering over the Start button. There's a lot of room for customization, and the Color Picker menu expands upon it.
You can pick virtually any color you want through the Color Wheel and Color Grid, but you can also have the program fetch the color palette from an image of your choosing. In addition, you can also tweak the look of the Win32 UI elements: the functionality is rather limited here, owing to Microsoft's approach with their latest operating systems.
If you're running Windows 10, you should also consider heading into the LogonUI Screen menu, which allows one to customize the appearance of their machine's log-in screen.
WinPaletter Portable enables you to colorize Windows 10 and 11 accents without restrictions from an easy-to-use interface.
Personalization of your Windows machine is made easy with WinPaletter; it provides you with the ability to change almost every aspect of the way your desktop appears.
The interface is modern and lists the options for color changes for title bars, accents, and more. Preview the changes before committing to avoid clashes in color schemes.
Accent colors are stored in the Windows registry; one is stored as an array, and the others are stored singly in keys' values. WinPaletter makes changing Windows elements' colors as straightforward as possible.
You can also save your combo to a theme file. You can have multiple theme files for different actions if you want to suit the task at hand better.
WinPaletter will also help provide more contrast for those with vision problems.
WinPaletter is an excellent resource for changing the appearance of your Windows machine, and usage will be comfortable for any type of user.
Release Note:
1. WinPaletter Store:
You can now apply themes from the Store either online or offline from local folder
You can also upload your themes
Read this to know more about WinPaletter Store
WinPaletter Store is redesigned from latest beta versions
2. Help (Wiki)
This will help you use WinPaletter, making it simpler than before
Help buttons are added to most forms to redirect you to related wiki page
3. Sounds:
Now you can modify most Windows sounds events entries, including Windows Vista to 11 startup
4. Screen Saver:
You might not know it, it was an animated full-screen window to save\preserve CRT monitors in the past
You can select a file that you can get online or from an old Windows, its extension is .scr
You can find some screen savers in %windir%\System32
5. Wallpaper:
Now you can select an image or a color to be set as your wallpaper, and you can also change its style
Wallpaper tone feature has been moved here to Wallpaper
6. WinPaletter application theme:
Now you can change the colors/style of WinPaletter itself, to make it consistent with a theme you design
You can prevent or block its actions by going to Settings > Appearance and uncheck (Make WinPaletter appearance is managed by the loaded theme ……)
7. Theme file (*.wpth) reading/writing mechanism is rewritten:
Now, theme file contents will be written as JSON that is better in coding, this new theme file format is valid for WinPaletter 1.0.7.7 and higher not lower
You can convert themes made by old versions of WinPaletter to make them compatible with new WinPaletter versions
New format can be compressed to save space especially for WinPaletter Store, to make loading themes from servers quick
New format can have an external theme resources pack file that contains images. sounds, screen savers,… that is loaded each time you load its theme. And this is useful for sharing themes especially through WinPaletter Store
External theme resources pack can be made by pressing edit button in main window (Pencil icon) and go to 'Theme resources pack' and check its choice
8. Theme file info:
New options are added in WinPaletter theme info, including info for Store that is useful for uploading themes, options related to external themes resources pack and theme credits\licenses
Edit these info by pressing edit button in main window (Pencil icon), open all tabs and then edit the info
9. Windows Effects new features:
Colors Filter (Accessibility feature)
Hide scrollbar in modern Windows 10/11 apps
Full Screen start menu for Windows 10
Enable Windows 7 taskbar volume mixer for Windows 10 only
10. Metrics and Fonts new features:
You can change Shell Icon and Shell Small Icon for Windows XP
In Miscellaneous, you can make the fonts "Single bit per pixel" to give your fonts the look of old versions of Windows
11. WinPaletter settings read/write mechanism is re-written
And this is to make it more organized (each section is in a separate key (folder)) and export/import mechanisms changed to be with JSON format. Open HKEY_CURRENT_USER\Software\WinPaletter\Settings after opening WinPaletter to know the changed mechanism if you are curious
Improvements:
Color item info:

It was formely named nerd color info
There will be a dot inside color info rectangle to indicate that the choosen color is not as the default color
Color picker control is now condensed, the previous one was extremely big compared to its contents
New settings section:

Make color label more transparent
Use default Windows monospaced font instead of JetBrains Mono
Use classic color picker instead of WinPaletter's default one on pressing on a color palette item

Extensive reduction in memory (RAM) ussage:

Removed fonts lists in consoles\terminals, being replaced by native Windows Fonts picker (to reduce large memory allocation while loading list of fonts)
Improvements in loading language file (less memory usage and quick application loading time)
Fix memory leak on palette extraction from image
Improvements in loading wallpaper thumbnail, with fixing its bug

Updated JetbrainMono font to v2.304
Patching imageres.dll is blocked by defaults in settings.
Save theme confirmation dialog redesigned, with new applying options (first theme and default Windows)
Bug reporting (Exceptions errors handling) improvements
Now WinPaletter will always start elevated (start as administrator) to make applying themes quicker as much as possible, and to avoid patching imageres.dll error (on changing Windows startup sound)
Drag and drop preview is removed (as this feature is not supported in any Windows application started as administrator)
Language items/texts of What's new labels will be neither loaded nor exported in/from it to avoid confusion between newly added labels' texts and old language translation
Embedded assemblies (references) are now compressed (to try to make WinPaletter with a small file size as much as possible)
Bugs fixes:
OS detection method changed to avoid bug
Application startup crash
Fix no wallpaper preview with wallpaper sideshow or windows spotlight is enabled
WinPaletter update error
Fix wrong preview of color on Windows 11/10 taskbar
Fix wallpaper preview is not synchronized in Windows XP
Fix application crash on starting WinPaletter with classic theme enabled
Windows Terminal:

Fixed edit button sets wrong text on pressing cancel
Fix error occuring during loading Windows Terminal preferences that inhibits the application from opening.

Fix bug of Windows 8.1 Start screen black rectangles if designing theme from another version of Windows (not 8.1)
Fix Windows 7 and 8.1 logonUI/lock screen applying error
Fix applying fonts size trouble with high DPI
Metrics and fonts form error
Fix error on pressing 'Logoff' button on main form
Fix theme apply error on applying Windows Effects
Windows switcher crash
Fix bug of dark/light mode loading in 'Language add snippet' form
UI
Spelling correction
Download WinPaletter Portable