Toggle Camera On or Off Tweak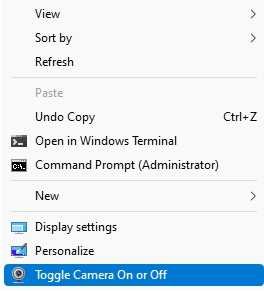 From a privacy point of view, you may want to disable Camera in Windows 10/11. We will review two methods of how it can be done. Almost all modern portable devices come with a camera these days. Laptops and tablets come with webcams and 2-in-1s like Surface come with dual cameras. Windows 10/11 ships with a Camera app for all essential functionality related to capturing video or pictures. Skype calls, various online services, Win32 apps and Universal apps can access your camera.
These days, both external cameras and built-in webcams have an activity indicator. Usually it is implemented as a tiny LED that turns on when the camera device is in use and active. Windows 10 includes a built-in Camera app that allows taking photos and recording videos. For devices without such an indicator, Microsoft has added a special OSD notification that appears when device is activated, and remains in the history in the Action Center.
It is easy to disable the camera on Windows 10/11. For example, you can disable it in Device Manager, and none of the installed apps will be able to use it. But it is not that convenient to find the camera device in the Device manager. To address this issue, Microsoft has added new controls to the Camera listing in Settings. The Settings app has a page for the available cameras, so it is now easy to configure and disable them from there.
But…easier an quicker there's a registry tweak that can do everything for you.
Download Toggle Camera Context Menu Tweak