Portable Subtitle Workshop Classic v6.2.0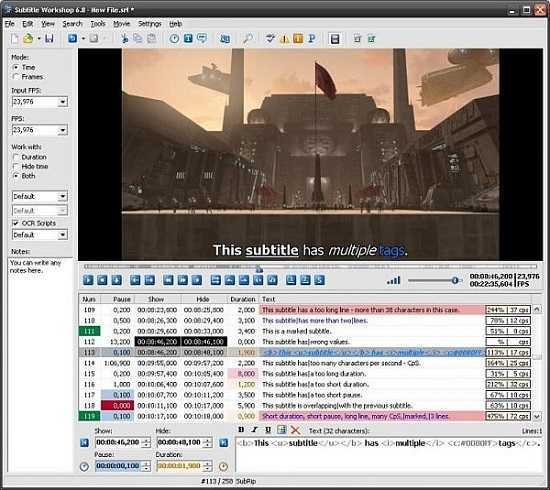 Subtitle Workshop Portable is a versatile software tool designed for creating, editing, and synchronizing subtitles for videos. It is widely used by filmmakers, video editors, and subtitling professionals to add subtitles to films, TV shows, and other videos. Subtitle Workshop Classic is a robust and reliable subtitle editor that offers a wide range of features to enhance the subtitling process.
The software user interface is user-friendly and easy to navigate, making it suitable for both novice and advanced users. The main window of Subtitle Workshop Portable is divided into three sections: the video preview window, the subtitle editing window, and the subtitle list window. The video preview window lets users play the video and preview the changes made to the subtitle file. The subtitle editing window is where users can add, edit, and format subtitles, while the subtitle list window lists all the subtitles in the current project.
One of the most significant advantages of Subtitle Workshop Portable is its support for a wide range of subtitle formats. It can import and export subtitles in popular formats such as SubRip (SRT), SubStation Alpha (SSA/ASS), MicroDVD (SUB), MPL2, and Advanced SubStation Alpha (ASS). Additionally, the software can save subtitles in Unicode and can handle multiple languages in a single subtitle file.
Another essential feature of this software is its advanced subtitle synchronization options. The software allows users to manually adjust the timing of subtitles by dragging and dropping them in the subtitle editing window. It also offers an automatic synchronization tool that can analyze the video's audio and suggest corrections to the subtitle timing. Additionally, the software has an option to adjust subtitle speed to make it easier to read for visually impaired viewers.
Subtitle Workshop Classic's editing options include a range of text formatting tools such as font type, size, style, and color. Users can also adjust the subtitle's position on the screen and choose from different outline and shadow effects to enhance subtitle visibility. The software also comes with a spell checker that checks subtitles for spelling and grammatical errors.
The software offers some time-saving features such as a batch subtitle conversion tool that can convert multiple subtitle files at once. Users can also use the software's keyboard shortcuts to speed up the subtitling process. The software has an easy-to-use project management tool that allows users to organize their work and keep track of their progress.
Subtitle Workshop Classic is a free and open-source software tool that is available for Windows operating systems. It is regularly updated by its developers to fix bugs, add features, and improve performance. The software has a vibrant and active user community that regularly shares tips and tricks on how to use the software more efficiently.
In conclusion, Subtitle Workshop Portable is an excellent tool for anyone who needs to create or edit subtitles. Its support for multiple subtitle formats and advanced synchronization options make it a versatile and reliable software choice. The user-friendly interface, text formatting tools, and project management features make it an ideal option for both novice and experienced users. The software is regularly updated and has an active user community, making it a popular choice for subtitling professionals worldwide.
FEATURES
• Supports converting between, creating, opening, editing, and saving over 60 (currently) subtitle formats via the Subtitle API library, as well as saving subtitles in a custom user-defined file format.
• User-friendly, multi-language, customizable interface (including customizable shortcuts and translation mode).
• Vast array of customizable tools and functions for automatic timing and text manipulations, including automatic durations, smart line adjusting, spell checking, FPS conversion, search and replace, and many more.
• Comprehensive customizable system for automatically or manually detecting, marking, and fixing various timing and text subtitle errors.
• Supports style tags (bold, italic, underline) and color tags in the subtitle text — including full tags support for multiple tags in a single subtitle.
• Supports displaying and manipulating the timing pauses (the time gap between two subtitles) and offers a CpS (Characters per Second) system.
• Multi-level Undo-Redo system.
• Integrated video player with customizable subtitles preview and full screen mode that would play any video or audio format the system has codecs installed for.
• Offers various information about the subtitle file, including custom information based on user-defined rules about the timing or the text.
• Supports the usage of external Pascal scripts, as well as find-and-replace text scripts (called OCR Scripts).
Download Subtitle Workshop Portable