Portable Slimjet 37.0.3.0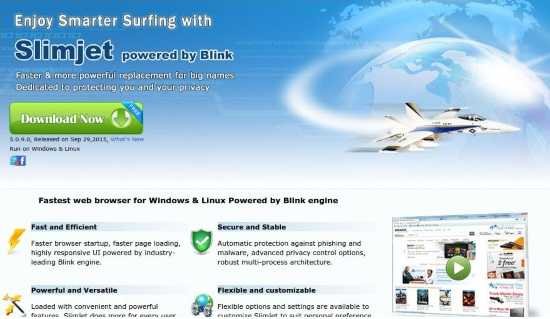 We all know the big names that dominate the browser market with what seems to be an iron fist. Yes, it's a battle of numbers and influence, but outside of it lay some interesting alternative browsers, one of which is Slimjet.
FASTEST WEB BROWSER THAT AUTOMATICALLY BLOCKS ADS
Tired of all the obtrusive ads that attempt to track everything you do online, irritates your eyes and wastes your time? Welcome to the ONLY browser that automatically blocks ALL ads. No plugins, opt-ins or configurations needed. Enjoy a clean and ad-free web at lightning fast speed.
MAXIMUM PRIVACY PROTECTION
Tired of being watched all the time by big companies like Facebook or Google no matter where you go? You can rest at ease here. Rebuilt from the open-source Chromium project, Slimjet doesn't send any usage data back to Google like Chrome. On top of that, Slimjet is armed with the most advanced anti-tracking technology to thwart various attempts to invade on your privacy (e.g., track your identity or profile your behavior) by the intrusive businesses.
Introduction to Slimjet – what you need to know
To put it as simple as possible, Slimjet is a lightweight alternative to Google Chrome, but interestingly enough, it's also a lot more feature-packed.
In fact, Slimjet's main "selling point" has to do a lot with the sheer amount of interesting features which make it fast, efficient, flexible, and most importantly secure and very stable.
We'll get to the features a bit later, but for now, here's what you need to know about Slimjet. It's a Chromium-based browser that uses the Blink engine (same as Google Chrome).
While Chrome has a lot of proprietary media codecs and add-ons bundled within, Slimjet is clean as a whistle. Even though it uses the same engine, it doesn't send data to Google. Lastly, it's important to note that it's (almost) fully compatible with Chrome extensions, plugins, and themes.
Onto the stars of the show – Slimjet's awesome features
If everything above sounds good, then there's a good chance you'll love what will follow. Slimjet's mission is to address some of the most annoying and pressing concerns while browsing the Internet.
This includes blocking off annoying ads thanks to its built-in ad-blocker (which also saves memory, CPU, and bandwidth). While we're on the subject, it's worth noting that Slimjet includes a series of advanced and customizable anti-tracking options.
Other noteworthy features include an intelligent form-filler (makes it easy for you to log in with just one click), an online video recorder (with options to edit and play offline for later), one-click Facebook integration, weather condition and forecast, instant photo uploader (automatically compresses photos to web-ready resolutions), and photo enhancement and framing support (via Photo Salon).
Additionally, you are provided with flexible web page translations, a proxy switcher, URL alias, the ability to quickly save a webpage screenshot, flexible tab control, and the option to stop all GIFs on the current page.
Another great feature is the YouTube Video Downloader. Just like its name states, it allows you to download videos from the popular platform to your local hard disk, and also extract the MP3 files from music videos.
Speaking of downloading stuff from the Internet, the browser also has a Hi-Speed Download Manager which allows you to resume download jobs between sessions and boasts support for multiple connections, meaning it's very speedy.
Conclusion
So, here's a recap: Slimjet – a Chromium-based browser that separates itself from Google's servers and tracking shenanigans. It boasts a lot of useful features aimed at improving your experience, productivity, and privacy.
The one thing that Slimjet does not have is, as expected, the sublime Google integration. This means that by logging in using your Google account, you can't sync history, extensions, passwords, bookmarks, and so forth. Thankfully, it works perfectly well alongside Google Chrome on the same system.
LIST OF MAJOR FEATURES
KILL ALL ADS WITH AD BLOCKER
Fed up with all the annoying ads? Kill them all with the built-in ad blocker. Boost the performance of your browser by saving memory, CPU and bandwidth consumed by the ads.
HI-SPEED DOWNLOAD MANAGER
Slimjet comes with a turbocharged download manager which uses multiple connections in parallel to download files up to 12x faster. It also lets you resume a download job between browser sessions.
YOUTUBE VIDEO DOWNLOADER
Download any youtube videos to local hard disk in various resolution and format for offline viewing. You can also extract mp3 file from the downloaded video file.
FULLY-CUSTOMIZABLE TOOLBAR
Slimjet let users customize the toolbar and add/remove additional buttons to quickly access more features and functionalities.
ONLINE VIDEO RECORDER
Record any online screaming video or other dynamic content in any web page into a local video file. Record and play offline later on.
ADVANCED ANTI-TRACKING OPTIONS
Slimjet includes advanced and flexible anti-tracking options to prevent various attempts to track your identity and profile your behavior.
PHOTO ENHANCEMENT & FRAMING
Slimjet includes a Photo Salon in which you can apply different effects or add beautiful frames to the photos before they are uploaded.
INSTANT PHOTO UPLOAD
Automatically compress photos to web-optimized resolution so that photos are uploaded up to 20 times faster.
WEATHER CONDITION & FORECAST
Display currrent weather condition and weather forecast directly on the browser window.
CUSTOMIZABLE NEW TAB PAGE
You can customize the number of quick-dial buttons and the background image. Multiple search engines and voice input are supported on the search box in the New Tab page.
FLEXIBLE WEB PAGE TRANSLATION
Instead of automatically translating a full web page into the current UI language, Slimjet lets you translate a web page or a piece of text between any two specified languages.
FULL SUPPORT OF MOUSE GESTURES
Full mouse gesture support is included in Slimjet. It lets you perform frequent actions by drawing predefined shapes with your mouse without touching the keyboard.
FLEXIBLE OPTIONS AND SETTINGS
Slimjet provides many additional options and settings so that you can customize the browser to best suit your personal preference instead of being forced to take everything as it is without any choice.
URL ALIAS SUPPORT IN OMNIBOX
Slimjet lets you define short aliases for long URLs which are slow to type and hard to remember. After that, just type the aliases from the omnibox to open the corresponding page.
CLOUD SYNC OF BOOKMARK & DATA
All the bookmark, history and other settings in Slimjet are automatically synced via the cloud server. Keeping the same bookmarks and data on different computers is never easier.
Download Slimjet Portable