Portable Shutter Encoder 17.3 (x64)
Shutter Encoder Portable is a free encoding software for converting images, videos, and audio files, allowing you to choose from a large number of functions. Encode your files, replace audio, burn to DVD, analyze audio Loudness, download web videos, makeyour own timelapse etc … The most simply and efficiently possible
Shutter Encoder Portable is a powerful and versatile software tool designed for video and audio encoding, transcoding, and processing. It is a free, open-source software that is available for Windows, Mac, and Linux, making it accessible to users across different platforms. With its user-friendly interface and extensive range of features, Shutter Encoder is a must-have tool for anyone involved in video and audio production, from amateur enthusiasts to professional filmmakers and editors.
One of the standout features of Shutter Encoder Portable is its ability to handle a wide range of video and audio formats. The software supports over 200 video and audio codecs, including popular formats such as MP4, AVI, MOV, and MKV, as well as more obscure formats such as ProRes and DNxHD. This means that you can use Shutter Encoder to convert videos and audio files to a wide range of formats, making it easy to work with different types of media across different platforms and devices.
Shutter Encoder also offers a range of customization options, allowing you to adjust the bitrate, resolution, and other settings of your video and audio files. This makes it easy to optimize your media for different purposes, whether you are creating videos for social media, streaming services, or broadcast television. The software also includes a range of filters and effects, such as color correction and noise reduction, allowing you to enhance the quality of your media and achieve the look and feel that you desire.
Another key benefit of Shutter Encoder is its ability to process multiple files simultaneously. The software includes a batch processing feature, allowing you to encode and transcode multiple files at once, saving you time and effort. This feature is particularly useful for video and audio professionals who need to process large volumes of media quickly and efficiently.
Shutter Encoder also includes a range of advanced features for more experienced users. The software includes support for 4K and HDR video, as well as advanced features such as frame rate conversion and timecode modification. These features make Shutter Encoder an ideal tool for professional video and audio production, allowing you to work with high-quality media and achieve the precise results that you need.
One of the key benefits of Shutter Encoder is its open-source nature. The software is available for free, allowing users to access its full range of features without the need for expensive licensing fees. Additionally, the software is constantly being updated and improved by a community of developers, ensuring that it remains up-to-date with the latest video and audio technologies.
Overall, Shutter Encoder is a powerful and versatile software tool that is essential for anyone involved in video and audio production. With its wide range of video and audio codec support, customization options, batch processing feature, and advanced features for more experienced users, Shutter Encoder is a must-have tool for amateur enthusiasts and professional filmmakers alike. Its open-source nature also makes it an affordable and accessible option for users across different platforms. Whether you are creating videos for social media or working on a feature film, Shutter Encoder is a reliable and powerful tool that will help you achieve your video and audio production goals.
Shutter Encoder is one of the best video converter software, it handles images and audio too! It has been designed by video editors in order to be as accessible and efficient as possible. Shutter Encoder makes use of FFmpeg to handle its encoding, allowing support for almost every codec you've ever heard of, and many more you haven't. Don't just take our word for it though, Avid themselves recommend Shutter Encoder as part of your Media Composer and ProTools ingesting workflow!
Total Control over Encoding
Shutter Encoder has a panel containing a large number of settings. This includes access to powerful FFmpeg capabilities like duplicate frame detection, framerate interpolation, analytical tools, and deinterlacing with a number of filters available. You don't need to be an expert in encoding to use Shutter Encoder, but if you are, you're going to appreciate the power it gives you!
Trim and Cut your Videos
Thanks to the "Edit media content" window, you can to choose exactly which part of your video gets included in the output file through an intuitive trimming interface. You'll be able to see exactly where those cuts will take place with the built-in video player. With some codecs, you'll able to do this losslessy and extremely quickly thanks to the innovative "Cut without re-encoding" feature.
Fine-Tune your Image
Shutter encoder includes a powerful image adjustement tab, allowing you to adjust colours, apply LUTs, and convert color spaces right in the application, This feature even supports raw image formats like .nef, .cr2 but also .psd, .pdf, .png, .jpg and more!
Powerful Cropping Support
By using the "Image cropping" section you will have the possibility to quickly and easily crop your images as well as your videos. You can define your frame precisely by writing directly your values in pixels or simply select a preset.
Generate and Burn-in Clip Information
Shutter Encoder allows you to burn clip names, text, and timecode into your video, perfect for rough cuts and drafts! No timecode? No problem, Shutter can generate one for you! You can even specify a timecode offset so it doesn't have to start from 0!
Subtitle Embedding and Burn-In
Shutter encoder can be used to embed closed captions and burn-in open captions in only a few clicks. Whether you've created them in the built-in editor, or imported your own .srt, .vtt, or .ass subtitles created elsewhere, there's a way to get it done with Shutter Encoder!
Add your Logos and Watermarks
Shutter Encoder allows you to add any image or video you want as an overlay on your footage, you can even adjust the opacity, size, and position directly in the application!
Built-In Subtitle Editor
Unique to free video converter software, Shutter Encoder includes a powerful built-in subtitle editor. Subtitle editors will appreciate the waveform display and innovative shortcuts to make the process as quick and easy as possible!
Automatic Cut Detection
Shutter Encoder has a powerful cut-detection tool that you can use to split an existing video based on where cuts occur. You can even create an .edl file to import on most major non-linear editing package to produce an editable sequence. A great way to get a head-start on touching up old videos or working on old projects where you don't have the files anymore!
Download Web Content
Shutter Encoder also has the ability to download video directly at the highest possible quality from popular video streaming sites. Just paste the URL, and within minutes you'll have a copy of the file!
List of Functions:
– Without conversion:
Cut without re-encoding, Replace audio, Rewrap, Conform, Merge, Extract, Subtitling, Video inserts
– Sound conversions:
WAV, AIFF, FLAC, ALAC, MP3, AAC, AC3, OPUS, OGG, Dolby Digital Plus, Dolby TrueHD
– Editing codecs:
DNxHD, DNxHR, Apple ProRes, QT Animation, GoPro CineForm, Uncompressed
– Output codecs:
H.264, H.265, VP8, VP9, AV1, OGV, MPEG-2
– Broadcast codecs:
XDCAM HD422, AVC-Intra 100, XAVC, HAP
– Old codecs:
DV PAL, MJPEG, Xvid, WMV, MPEG-1
– Archiving codec:
FFV1
– Images creation:
JPEG, Image
– Burn & Rip:
DVD, Blu-ray, DVD RIP
– Analysis:
Loudness & True Peak, Audio normalization, Cut detection, Black detection, Media offline detection, VMAF
– Download:
Web video
Release Note:
– Redesigned UI and theme
– Added 'MaxCLL' & 'MaxFALL' options for HDR
– Added "Preserve folder hierarchy" checkbox for "JPEG" & "Image" functions
– Ability to preview all settings into the "Video Player"
– Improved "Video player" window performance
– Improved "Display" checkbox
– Improved "Watch Folder"
– Improved UI animations
– The "Render queue" now only adds selected files
– Input and output points are now saved for each file
– Moved all GPU accelerations into the bottom bar
– Corrected bug with 'Convert from' checkbox with audio codecs
– Corrected bug with preset loading with 'CQ' mode
– Corrected bugs with "Replace audio" function
– Corrected bug with "Transitions" section
– Corrected bug with "Web video" function
– Corrected window flickering on Mac
– Corrected bug with '.gif' format
– Corrected freezing bugs
– Various corrections
– Various improvements
– Removed xpdfreader dependency
– Removed mkvmerge dependency
– Removed ffplay dependency
– Updated ffmpeg, ffprobe
– Updated UI core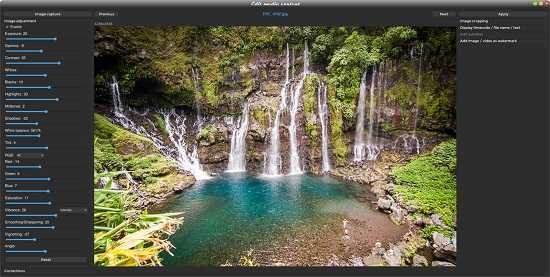 Download Shutter Encoder Portable