Portable Windows Update Blocker v1.7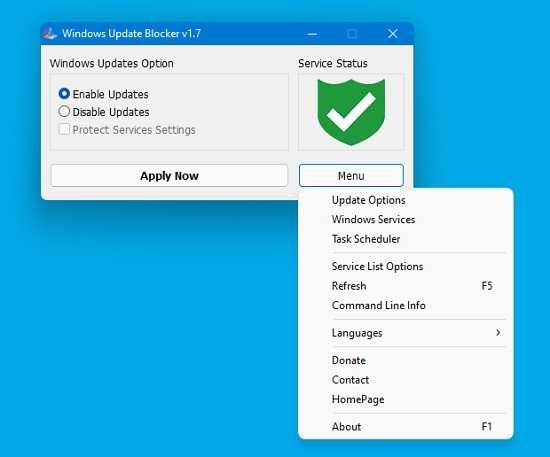 Windows 10/11 provides less UI control over the operating system's updating behavior than previous versions of Windows. There is no option to turn off Windows Updates using the Control Panel or Settings app in Windows 10, and it automatically checks for updates and installs any updates it finds, whether you like it or not.
Most users will find this new feature to be quite useful. You can disable the Windows Update service if you want more control over the update process. This necessitates opening the Services manager, finding the service, and altering its startup parameter and status. When you want the operating system to check for updates, you'll have to enable the service again (It does not look so easy).
With a single click of a button, Windows Update Blocker allows you to entirely block or enable Automatic Updates on your Windows PC.
This program is portable, which means you won't have to go through the installation procedure and no leftovers will be left on your hard drive once you uninstall it.
If you save the application file to an external data device, you can take Windows Update Blocker with you wherever you go and run it on any machine you come across that has everything set up just so and doesn't want to risk an update messing up their system.
Supported operating systems: Windows 11 , Windows 10, Windows 8.1 , Windows 8 , Windows 7 , Windows Vista ,Windows XP (32\64-bit).
Supported languages: English , Turkish , German , Hebrew , Slovenian , French , Russian , Portuguese , Italian , Polish , Spanish , Czech , Ukrainian , Dutch , Greek , Hungarian , Chinese Simplified , Chinese Traditional , Portuguese (brasil) , Thai , Arabic , Korean , Vietnamese , Japanese , Indonesian , Persian , Swedish , Thai , Georgian , Danish (Dansk), Albanian, Azerbaijani, Bulgarian, Serbian , Uzbek , Tajik , Abkhazian , Romanian , Slovak
Download Windows Update Blocker Portable