Portable Optimizer 16.2 Multilingual
A fresh Windows installation isn't as clean as many users would like, as some of the features included in the latest versions of the OS are seen as unnecessary, hampering performance and compromising your privacy.
Optimizer Portable is a user-friendly program that lets you disable various Windows functions, delete superfluous files, remove objects from the starting list, manage the Registry, and more. It is open-source and entirely portable.
Disable Windows features that may be reducing performance and affecting your privacy
The application can disable telemetry, Windows Defender, network throttling, Skype advertisements, error reporting, and more, as well as conduct some general performance optimizations. Although the procedure is simple, it would have been beneficial if some explanations were supplied.
Depending on your Windows version, the program will also allow you to make various adjustments that are exclusive to that version of the Microsoft operating system. These can be found in the second tab, but no explanations are provided.
Clean unnecessary files, remove unwanted startup programs and fix registry issues
Optimizer can help you free up disk space by removing various files that may no longer be necessary, such as temporary items, logs and cache files.
Additionally, it is possible to inspect processes that have been added to the startup list and remove the ones that you prefer not to be launched automatically.
What's more, you can use this program to fix a number of common registry issues, and it can restart File Explorer automatically in order to apply them.
Edit your hosts file and add new items to the context menu
Optimizer makes it easy to add new mappings in your hosts file or remove them, either by inserting individual items or processing the file in an advanced editor.
Lastly, this utility enables you to add custom commands to the right-click context menu, such as programs, shortcuts to folders, website links or files.
All in all, Optimizer is a very useful application that can help you optimize Windows in various ways, clean up your PC and even customize the right-click context menu. It could use some documentation, but it is easy enough to use and features an intuitive, minimalistic UI.
Features:
Full multilingual support (10 languages available)
Speed up your system and network performance
Disable unnecessary Windows services
Disable Windows telemetry
Disable Office telemetry (works only with Office 2016)
Disable Cortana
Disable Windows 10 automatic updates
Download useful apps quickly at once
Uninstall UWP apps
Clean your system drive and major browsers' profile data
Fix common registry issues
Ping IPs and assess your latency
Search IPs on SHODAN.io
Flush DNS cache
Remove unwanted programs running at startup
Edit your HOSTS file
Network speed monitoring
Hardware inspection tool
Add items in desktop on right-click menu
Define custom commands for run dialog
Silent run support using a configuration file
Optimizer Portable is recommended after a fresh, clean installation of Windows to achieve maximum privacy and security. Depending on your version of Windows, Optimizer will also allow you to perform some specific tweaks.
What's NEW:
Hotfix: 'Reinforce policies' issues resolved
New: Completely 'Remove Microsoft Edge' option in Advanced Tweaks (cannot be reverted!)
New: Selective tweaks for "Optimize Performance" and "Enhance Privacy"
Regression: 'Remove Microsoft Edge' removed as an option due to too many false positives in VirusTotal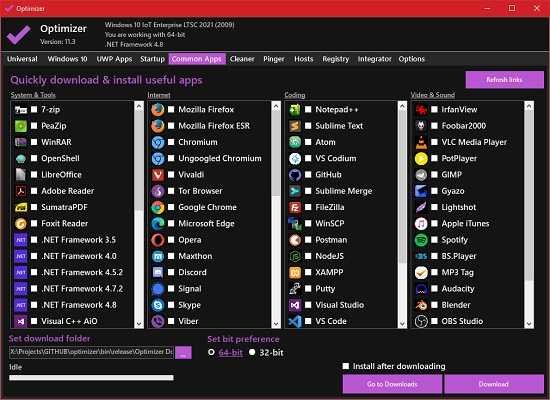 Download Optimizer Portable