Portable Opera One Browser 100.0.4815.30 (x64)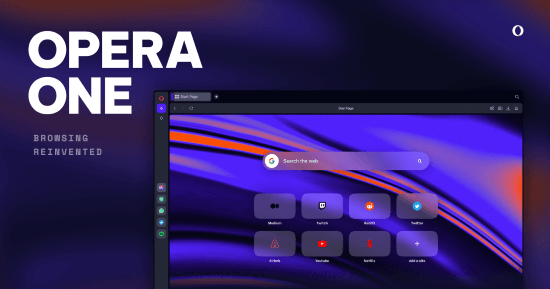 Today, we unveil Opera One Portable – a completely redesigned browser that is planned to replace our flagship browser for Windows, MacOS, and Linux later this year. Based on Modular Design, Opera One Portable delivers a liquid navigation experience and transforms the way you interact with your browser. We've furthermore integrated a multithreaded compositor that brings UI to life like never before, powering innovative new features like Tab Islands. This exciting upgrade comes just weeks after we integrated our first generative AI features, including AI Prompts and sidebar access to ChatGPT and ChatSonic.
Opera Portable has a long history of reinventing itself and its products to adapt to the evolving nature of the web. Opera One is a big step in that direction, particularly with the adoption of a new Modular Design philosophy. While we're starting with an early access developer build now, the  browser will adapt to your needs, bringing only key features and relevant modules to the foreground when and where you need them. Automatically adjusted based on context, Modular Design will provide you with a more liquid and effortless browsing experience. Opera One will also harness powerful new AI-based features, which we'll be adding in the near future.
Tabbed browsing, Speed Dial and other handy features
Its clean and intuitive interface supports multi-tabbed browsing and Speed Dial, a proprietary feature that enables users to quickly access frequent visited web sites, by organizing addresses into a custom-sized grid of arrangeable thumbnails on a preferred background image. They can be accessed through keyboard shortcuts as well.
With the help of Opera Link, users can synchronize their Speed Dial and bookmarks across multiple devices, such as smartphones, tablets or other computers, and they only need an online account to do so.
Other features of Opera Portable include download, mail account, note and extension managers, content blocker (e.g. images, animations), mouse gestures, together with customization options for themes, panels, toolbars and buttons.
A web browser with a history
The web browser has a very good page loading speed, and it uses normal amounts of CPU and RAM. It passed our stability tests with flying colors, as we haven't come across any issues. All in all, Opera Portable proves to be more reliable than ever, and it has certainly come a long way over the years.
Features:
Now it comes with an innovative anti-Bitcoin mining tool. It also displays security badges, which give you a quick glance at the security of a page. If the browser's Fraud and Malware Protection detects anything potentially dangerous, it will display a popup to warn you.
Bookmarks. Now you can quickly enable or disable the bookmarks bar by selecting Show bookmark bar. If you want to bookmark a page, click the HEART icon.
Integrated PDF viewer. In addition, Opera has integrated a fast PDF Viewer directly into the browser so you can keep reading without changing applications.
Support for H.264 and MP3. H.264 video and MP3 Audio is widely used on the internet. Therefore, with Opera Browser you will have native access to such content.
Syncing Bookmarks with Android. If you install Opera browser for Android mobile and for Desktop on your computer, you can see cross-device syncing in action. Make some bookmarks on your computer and see them appear on your Android phone.
Sync open tabs between computers. In Opera for computers, you can now sync your open tabs.
MSE + MP3. MSE Audio now works from within Opera, enabling playback from Google Play Music and similar services.
Custom ad-blocking list support. Users have the possibility to load your own files in the block-list form. Use extra button in Preferences, where you can add/remove any extra block-list files you'd like to load.
Video pop out. Allows you to shift your video frame to the side of your screen, so you can truly multitask. Browse, shop online or do the research without missing out on the video action.
RSS in personal news. RSS support makes the built in newsreader even more customizable.
Download Opera Portable