Portable NewFileTime 6.77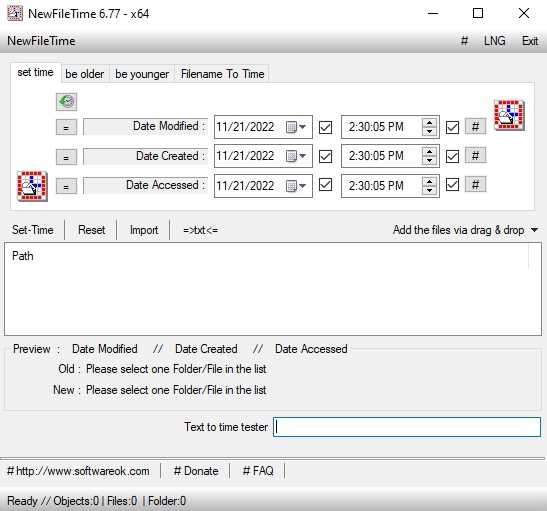 NewFileTime Portable is a small but effective tool that provides you easy access to correct or manipulate any of the timestamps for any file and folder on your Windows system.
Several files and/or folders can be modified at the same time. You can add files simply via Drag and Drop or by import from a folder. In any case, it opens in different ways to bring you quickly to the job at hand. You can make files proportionally younger or older, or you can set a specific date/time.
With this utility everyone can have the ability to make quick corrections to the creation, last access and modification dates/times of the files or folders on their PC. NewFileTime does not have to be installed and can be executed easily from the desktop. Portable use is also possible.
Regardless of whether you had a glitch with your smartphone or digital camera or the EXIF information on your pictures was recorded flawed due to other reasons, there is a chance that you may want to modify it.
NewFileTime is a small and simple application that allows you to change the time stamps of your files and folders.
Quick setup and user-friendly interface
Since the application is portable, it does not require installation, but rather you can decompress the archive on any location on your hard drive. Furthermore, there will be no changes made to your Windows registry entries. At the same time, you are no longer to make any configurations, so you can start using it right away.
The interface of the program is plain and simple. You can import files and folders and, optionally, you can include subfolders and the root directory name by using the file browser. Alternatively, you can take advantage of the supported drag and drop function to add the files you want to edit and batch process them.
Simple and straightforward functionality
The idea behind the application is to provide you with a quick and versatile environment for editing the timestamp on files and directories. Therefore, you can change the date and time of creation, last accessed and last modification.
Moreover, you can also clear the list, export it to a text document or import a text file, as well as preview the old and new time stamp. The program takes up a very small amount of system CPU and memory, and instantly applies settings once you have pressed the "Set-Time" button. In addition, it supports several interface languages.
The minor setback here is the interface which could definitely welcome some improvements. Otherwise, we strongly recommend NewFileTime to all users, whether they are beginners or experienced individuals.
A forthright and efficient tool for editing or adding timestamps
All in all, NewFileTime is not a complex program at all, since it comes with the necessary and sufficient elements for changing timestamps on your files and folders.
Download NewFileTime Portable