Portable Krita Studio 5.1.5 (x64)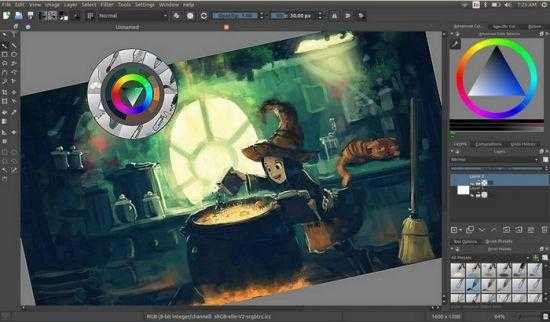 While some might think that everything that is digital art nowadays is made entirely in Photoshop, the truth of the matter is that the unsung heroes of most masterpieces (besides the artists) are the digital painting apps that don't even get half of the credit. Designed for illustrators, concept artists, comic book creators, matte painters and even game artists, Krita Portable is one such application that should get a little bit more attention.
Put simply, Krita is a powerful digital painting and illustration utility that aims to provide you with as much creative freedom as possible, mainly thanks to its collection of tools.
Modern-looking, but a bit crowded interface
The app's black-themed user interface falls perfectly into the modern style adopted by most digital editor or designer apps. The main window of Krita is extensively packed with almost all the features available within the app.
Once you start the tool, you realize that everything tends to be right in your face and, while it may seem a bit intimidating at first, after an adjustment period, things seem quite natural.
Krita's powerful set of brushes is the star of the show
With Krita, you get CMYK support, HDR painting, perspective grids, painting assistants, dockers and one of the most comprehensive set of brushes available (each with its own patterns, settings and roles).
The engines for the brushes include effects like pixelate, smudge, duplicate, filter, hairy, hatching, texture, chalk, color smudge, curve, deform, spray and many others.
Another benefit is the fact that you can save the presets of your brushes, as well as experiment with many blending modes. In addition, Krita comes with modern and complex masking and selection tools.
Extensive support for layers and handy symmetry tools
With the possibility to select and paint shapes or colors, add transparency and opacity levels, this is a very capable tool if you want to apply non-destructive changes to your illustrations.
It is no surprise that an app such as Krita comes with support for both filter masks and layers. You are provided with options to add layers and effects like wave, oil, paint and emboss, as well as adjust their brightness and contrast levels.
Last but not least, for an added touch of creativity, the symmetry tools do a lot more than provide you with basic mirroring capabilities. You can determine parameters such as the angles and axes, modify the center position and play with other advanced settings.
Quite difficult to overlook by digital artists
While at the moment it may not be as popular, as optimized or as good looking as other digital painting apps out there, Krita packs a massive amount of tools and features that make it a very interesting and accessible solution for digital painters and illustrators.
One thing is certain, there are a lot of things Krita can do for you, as they are mostly limited by your own skill and talent, not by the app itself.
Features:
Krita Portable has a user-friendly interface. In the settings menu, you can choose the color theme, which toolbars and dockers you want to use, and edit keyboard shortcuts. Save a given set of dockers as a workspace and switch between them. The canvas can be easily rotated and mirrored. The OpenGL canvas supports high-bit depth monitors. There is a large set of options available to create a no-distractions canvas-only painting mode
It is easy to create seamless textures and patterns now. Press the 'W' key while painting to toggle wrap-around mode. The image will make references of itself along the x and y axis. Continue painting and watch all of the references update instantly. No more clunky offsetting to see how your image repeats itself. You can even paint off the edge and it will automatically start painting on the top. It is one of those features you have to see for yourself.
A brush engine is more than just a typical brush pattern with settings changed. Each brush engine has its own logic and behavior. The included engines are pixel, smudge, duplicate, filter, hairy, hatching, texture, chalk, color smudge, curve, deform, dyna, experiment (Alchemy), grid, particle, sketch, and spray brushes. Brush settings can be saved as presets and shared. There are a staggering amount of blending modes available. The blending modes are arranged by category and have your favorites stored at the top of the list.
Krita comes with many methods of selecting parts of your canvas in order to edit them. You can select with shapes such as rectangles and circle, paint your selection, polgon selection, select by color, select by Bezier. You can add, remove, or intersect to your selection. You can also make selection by layer contents by context clicking the layer and clicking "select opaque". You can create a transparency layer by itself, or add one to an existing layer. This is great tool for non-destructive changes.
Symmetry tools that go much further than basic mirroring. Take full control by being able to determine how many axis you need. Modify the origin center, angle, and smoothing parameters. Easy to toggle x and y mirror buttons in the top toolbar. Drawing aids such as perspective grids and shapes that have magnetic settings.
Filters can be used directly on a layer, or as filter masks or layers. The effect of a filter is previewed on the image itself. There are special effects like wave, oil paint, and emboss. Adjustments such as levels, brightness/contrast, and HSV are also included. Additional tools that can be useful for making selections like color to alpha and color transfer.
Krita has raster, vector, filter, programmatic, group, and file-backed layers. Each layer has settings for visibility, edit lock, transparency lock, and alpha locking. Layers can be dragged and dropped to and from other applications. Vector layers support text, vector shapes and filters on vector shapes. Krita supports the following color models for creating and editing images: RGBA, Gray, CMYKA, Lab, YCbCr, XYZ in 8 bits integer, 16 bits integer, 16 bits floating point, 32 bits floating point. Krita always uses color management.
NEW FEATURES:
The first release after the big 5.0, Krita 5.1 comes with a ton of smaller improvements and technical polish. This release sees updates to usability across the board, improved file format handling, and a whole lot of changes to the selection and fill tools.
Layers
The biggest change to layer handling in Krita 5.1 is Santhosh Anguluri's Google Summer of Code project 2021: Operations for multiple layers. This enables copy, cut and paste and clear on when having a selection on multiple layers at once.
Beyond that there's a small number of UI tweaks made to the layer docker: You can now control how strongly layers indent when in a group. Furthermore a button got added for showing the context menu when rightclick is unavailable, and finally, file layers now report if their file cannot be found.
You can now paint on selection masks with blending modes.
File Formats
WebP support. We had basic WebP support already, but this adds full support using WebP Codec with every possible toggle imaginable.
Support for Photoshop layered Tiffs. Despite Adobe being the steward of the Tiff spec, Photoshop has a unique non-spec compliant way of saving layers into a tiff file: Putting a whole PSD document into the metadata. We now support loading data from such files. On top of this, the export dialog for TIFF was reworked, and we now load and save metadata to tiff.
OpenExr support for 2.3 and 3+. Because of a mistake with our build system, Krita couldn't see OpenExr 2.3 and above, this is fixed now.
Improve retrieval of image data from clipboard. When you copy data between programs, that data is put into the system clipboard. Sometimes when this is done with images programs add several different options. We've improved the UI that allows you to choose which of these options you want to use.
PSD fill layers and color labels. This allows loading and saving layer color labels to PSD, as well as loading and saving the gradient, pattern and color fill layers. This extends the ASL parser inside Krita, which means that layer styles have better color and pattern import as well. Most PSDs use these fill layers in combination with vector masks, which are not yet implemented.
Support for JPEG-XL. Joining the implementation of Avif last release, JPEG-XL is the newest update of the JPEG image file format, and one of the new set of file formats that is designed to bring wide color gamuts and HDR to the web. We haven't yet enabled saving and loading of the HDR color spaces to JPEG-XL, but what we do have is saving and loading animations, making JPEG-XL the first fileformat that doesn't require FFMPEG to allow exporting animations.
Support for ASE and ACB color palettes. The former is used among Adobe applications, the latter is the format used by Photoshop to describe it's spot-color list. We urge people to be a little careful with the latter as it seems that the Pantone values in particular get updated quite frequently. Discuss with your printer which spot colors you want to use.
Technical
Some of the biggest changes this time around have been purely technical.
Fix OpenGl ES for OCIO pipeline, this means OCIO now works on Android. We also use the new GPU pipeline for VFX Platform CY2021 now.
Build a more recent version of Angle for windows. The one we were using was a bit old and this new one has many fixes. Angle has been the most reliable way to allow us to use OpenGL on Windows.
Added YCbCr profiles. We never shipped YCbCr profiles because there were no open versions of them. This made testing certain features quite hard, in particular file testing. So we created some YCbCr profiles and added them as default profiles.
Add support for llvm-mingw toolchain on windows.
Allow compiling with RISC-V. None of us own RISC-V hardware, so this one's mostly for enthusiasts.
Port krita from VC to XSIMD . We use these libraries for so-called 'vector instructions', which is a special way of using the computer that works especially well for repetitive math like blending and mixing colors together. VC's development has stalled, so switching to XSIMD now allows us to worry less about the future. A nice side effect is that colored and lightness brush tips ended up with a good speed boost, as well as having a speed boost on ARM devices (that's tablets and mobile phones).
Add an option to build Krita with precompiled headers. This is something that's mostly useful for developers, as it'll reduce compilation.
Give better information about the location of the AppData directory on windows. The AppData directory can differ greatly when using Krita from the Windows Store, so we wanted to inform the folks that use that method better.
Usability
The specific color selector has been extended with a color preview for and a HSV option for RGB.
Touch gestures (dragging fingers to pan, zoom, rotate) are now configurable, you can choose which action does what.
We used to have a very vague button that said something like 'use aspect of pixels', right next to the zoom. What this mysterious button actually did was switch the canvas zoom between showing pixels at the size of pixels, and showing the canvas at it's physical size. The latter, if Krita has the available information, means that an inch in Krita is an actual inch on your monitor, which is useful for print, while the former is more useful for digital-only work like game graphics. This button has been revamped to communicate this more clearly.
More configuration for the pop-up palette.
Dual color selector shortcut
Missing filter shortcuts
Add ability to switch from scrolling selecting predefined zoom levels to 'smooth zoom'.
The recent files menu has been overhauled.
Right to left layout improvements
Assorted fixes various dialogs
hsv sliders to the adjustment filters.
Only restrict pivot to transform bound when alt is pressed.
Reset button and saving state for the Digital Color Mixer.
New Zoom-to-fit(with margins) option.
Fill and Selection tools
Deif Lou has spend the last 6 months greatly improving the functionality of the fill and contiguous selection tools.
These tools now have better organized tool options, which is necessary, because there's now sliders for variable softness and proper anti-aliasing based on the FXAA algorithm.
There's also three new ways of applying a fill. The first is Continuous Fill, which allows dragging the cursor over all regions you wish to fill.
Release Note:
Fixes:
Fix issue with banding when using the gradient map filter as a filter layer.
Only center paste into active layer if contents are outside image bounds.
EXR: Fix opening EXR files that have only a luma channel.
Fix an issue building with XSIMD 10.0 and up.
Properly use the resolution of a .KRA file when that file is used as a file layer.
Fix a regression in loading PSD files.
Android: Fix loading and creating images on Android and ChromeOS.
Android: Fix an issue with loading translations.
Download Krita Studio Portable