Portable IP Camera Viewer 4.1.2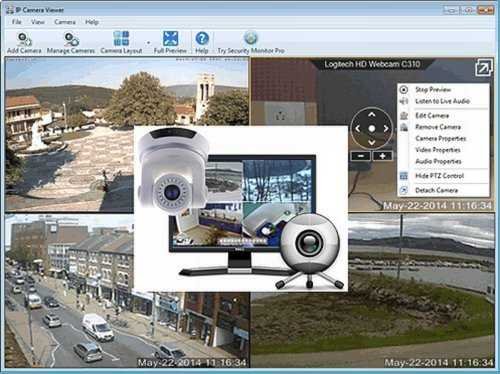 In only a few minutes, you can set up an effective video surveillance system. You may use IP Camera Viewer Portable to watch live footage from your USB or IP cameras on your PC. Any USB or IP camera can be used to keep a watch on your home, business, parking lot, or any other location where security is required. You can watch footage from several IP cameras on your PC.
More than 2000 IP camera models from prominent camera manufacturers are currently supported. It includes Axis, Canon, D-Link, Foscam, Panasonic, Mobotix, Pixord, Sony, Toshiba, Vivotek and many more.
You can send a request to our technical team if your camera or model is not listed in our application. Virtually all USB cameras work with IP Camera Viewer.
Up to four camera feeds can be controlled and viewed at the same time. With this lightweight application, you can get a live preview from numerous cameras. You may monitor your cameras from numerous remote locations on a single screen thanks to IP Camera Viewer's integrated camera and layout management. For your security needs, you can adjust the arrangement and sample layout of the cameras.
Adjust the camera image and video attributes to improve the clarity of the live video. It allows you to customize video parameters like as resolution and frame rate for USB cameras on an individual basis. For USB and IP cameras, you may adjust image attributes including saturation, brightness, and contrast.
What if your camera is mounted upside-down or its preview is tilted a bit? With IP Camera Viewer you can adjust the orientation of your camera preview. It helps you to adjust the coverage area by supporting many PTZ (Pan/Tilt/Zoom) enabled network cameras. IP Camera Viewer Portable provides a digital zoom, even if it is not supported by your camera.
IP Camera Viewer allows you to set up a system that suits your needs. It's absolutely free and ideal for both personal and business use.
What's NEW:
Improved Stability: The memory utilization of CPU is optimized which leads to faster application response.
Support for ONVIF cameras: IP camera Viewer auto detects all the ONVIF cameras in your network. Most new IP cameras are ONVIF-compliant and these can be automatically detected and can be easily added by IP Camera Viewer.
Support for new IP cameras: Support for 42 IP cameras including new brands like Avidsen, Floureon, Olisicht, Home Confort, Ctronics, Hesavision, iBaby, Kkmoon and KTNC.
Download IP Camera Viewer Portable Software