Portable GridPlayer 0.5.0 (x64)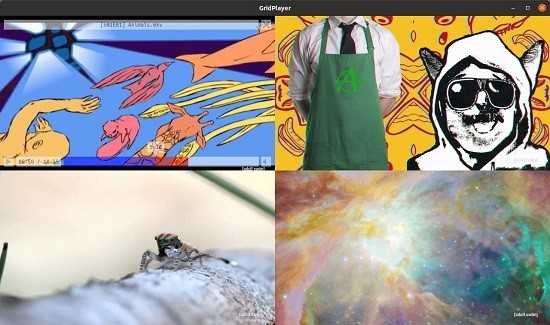 Have you ever found yourself in a situation where you have needed to play multiple videos at the same time, but a single program wasn't enough? If you do, you probably have three or four multimedia players on your drive. GridPlayer Player can be a solution for anyone interested in playing multiple videos while keeping their drive as clean as possible. In addition, this player is built using VLC as an inspiration point, and who is not familiar with VLC?
Simple and versatile
The installed version of the player requires you to have a certain version of Python on your system, but if you go with the portable version, besides the perks of having the app at your disposal at any time, the Python element is included with the archive.
GridPlayer opens up with a blank window that invites you to drop videos in. You can add one at a time or an entire playlist, it's up to you. Even if all videos are starting at the same time, individual controls are assigned. Pause or run videos at will, or double-click a clip to highlight it on full screen. How the app is behaving in full screen in relation to the background videos can be changed from the settings menu.
Intuitive context menu
The context menu is slightly different from what VLC comes with. That is a reason why VLC users should have an easier time getting around the player compared to those new to it. Adding files, opening or closing playlists, changing the grid's look, and checking out the settings tab are half of what the context menu can do for you.
To summarize, GridPlayer is an excellent tool to have around, especially if you are trying to watch multiple videos within the same interface. The VLC architecture is a huge plus, helping with the overall learning curve.
Features:
Cross-platform (Linux, Mac, and Windows)
Support for any video and audio format (VLC)
Support for (almost) any streaming URLs (streamlink + yt-dlp)
Hardware & software video decoding
Control video aspect, playback speed, zoom
Set loop fragments with frame percision
Configurable grid layout
Easy swap videos with drag-n-drop
Playlist retains settings for each video
Release Note:
Arabic translation
Chinese Simplified translation
Dutch translation
French translation
German translation
Italian translation
Japanese translation
Korean translation
Polish translation
Portuguese, Brazilian translation
Spanish translation
Option to paste files/links from clipboard
Option to select audio mode (stereo, mono, etc)
Option to select audio only stream when available
Option to select audio/video track
Stay on top setting
Recent list support for videos/playlists
Single mode switch in context menu
Volume controls in context menu
Download GridPlayer Portable