Portable ChrisPC Free VPN Connection 4.10.26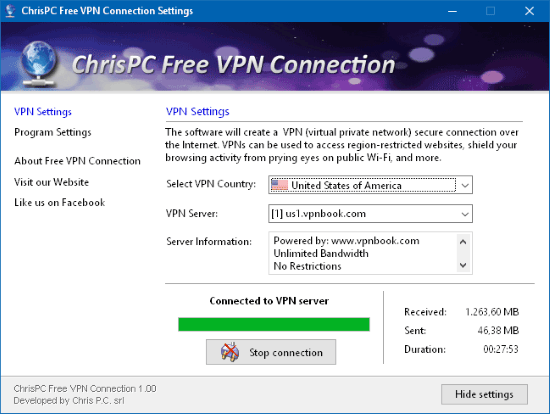 ChrisPC Free VPN Connection lets you create a VPN (virtual private network) connection to free servers from USA, U.K., Germany, Canada, France, Germany, Russia, Singapore, Netherlands.This will help you unblock favorite websites for watching free TV and on-demand television when living abroad, traveling, on business or vacation. Also it's a solution to bypass area restrictions for popular websites: Google, YouTube, Facebook, Instagram, Tumblr, Pinterest.
In this article, we'll introduce you to Free VPN Portable, a powerful software that provides secure and anonymous internet access. With its advanced features and portability, this free VPN solution is perfect for users who require privacy and security while on the go.
Overview of Free VPN Portable:
Free VPN Portable is a cutting-edge software that allows you to establish a secure encrypted connection between your device and the internet. By utilizing a virtual private network (VPN), this tool ensures that your online activities remain private and protected from prying eyes. What sets Free VPN Portable apart is its portability, allowing you to use it on any compatible device without the need for installation.
Key Features:
Secure and Encrypted Connection: Free VPN Portable employs industry-standard encryption protocols to secure your internet connection. It creates a tunnel between your device and the VPN server, ensuring that your data remains encrypted and safe from hackers, ISPs, and other potential threats.
Anonymity and Privacy Protection: By connecting through Free VPN Portable, you can browse the internet anonymously, masking your IP address and location. This helps protect your privacy and prevents websites, advertisers, and other entities from tracking your online activities.
Bypassing Geo-restrictions: With Free VPN Portable, you can effortlessly bypass geo-restrictions and access content that may be blocked in your region. Whether it's streaming services, social media platforms, or websites, you can enjoy unrestricted access to online content from anywhere in the world.
Wi-Fi Security: When connecting to public Wi-Fi networks, Free VPN Portable provides an additional layer of security. It encrypts your data, preventing unauthorized access and potential attacks, such as man-in-the-middle attacks, while using public Wi-Fi hotspots.
User-Friendly Interface: Free VPN Portable offers a user-friendly interface, making it accessible to users of all technical levels. Its simple and intuitive design allows you to connect to a VPN server with just a few clicks, ensuring a hassle-free experience.
Conclusion:
In conclusion, Free VPN Portable is an excellent choice for those seeking secure and anonymous internet access on the go. Its advanced features, including encryption, anonymity, and bypassing geo-restrictions, make it a valuable tool for protecting your privacy and accessing restricted content. With its portability and user-friendly interface, Free VPN Portable offers a convenient solution for users who require a reliable and trustworthy VPN service.
Take control of your online privacy and security today by downloading Free VPN Portable and experience the freedom and peace of mind it provides!
Comes with a database of over 90 VPN servers from all across the globe
The setup is a quick and straightforward process that does not require any special attention from your part. The app comes with an old-school interface and intuitive, so you are unlikely to have troubles getting around, regardless of your experience with similar programs.
In terms of settings, the app enables you to select the country of choice, a wide selection that includes several European territories, USA and Singapore. Depending on the country you select, you can opt between several VPN servers and read more about the one you are attempting to connect with from the Server Information section.
According to the developer, the app packs an extensive database that includes over 90 free VPN servers from the aforementioned countries. In addition, thanks to the app, you can watch videos that are restricted in your region, social media along with the news channels across the world.
A handy tool for accessing the full content of restricted websites
The app works in a similar manner with other tools in this category, meaning that the Internet traffic is sent through an encrypted tunnel to a server that is operated by a free VPN provider. From this server, your traffic becomes public, but with the IP address of the VPN. Simply put, your real IP address is hidden.
In the eventuality that you live in a geographic area where certain videos, TV channels, online newspapers and similar content are filtered or blocked, then you can access them using ChrisPC Free VPN Connection.
Release Note:
Added new servers from France, UK, Germany.
Improved support for Windows 11.
Fixed some minor bugs and errors.
Download ChrisPC Free VPN Connection Portable