Portable FFMPEG Audio Encoder 4.02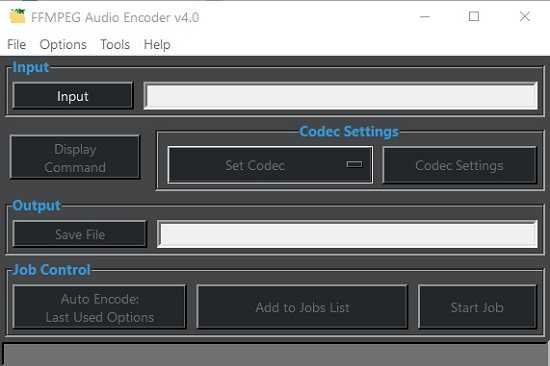 FFMPEG Audio Encoder Portable can intake any media file that has audio and encode it to the codec/settings of your choice. You can open video files and or files that is only audio. You can encode with all the following codecs. Currently DTS only supports DTS to core or extract DTS-HD from files that have a DTS track. Coded completely in python and it's completely portable. It is powered with FFMPEG and has as portable version of MediaInfo, these are all required for the app to run.
Listening to music or watching a video is something that most of us do every day without even thinking about how the media data was delivered to our computers. In fact, like any other data, media data is compressed to make it easier to transfer and save storage space.
The encoding settings do matter, as they influence the playback quality. For instance. If you take the time to learn about different codecs and when and why to use each of them, you should be able to enhance the overall playback experience on your device, even with a bad connection. That is why an application such as FFMPEG Audio Encoder can be extremely useful but only to those who understand how the encoding process works.
Re-encode audio with a few clicks 
As its name implies, FFMPEG Audio Encoder provides a way for you to re-encode the audio stream of any media file to the settings you prefer. With its help, you can obtain the audio from the input media in various formats, using a generous list of codecs with configurable settings.
When launching FFMPEG Audio Encoder for the first time, you are prompted to download the executable files required for it to work properly. The installer downloads MediaInfo, MPV Media Player and youtubedl-GUI. You will have to wait for it to finish downloading the files and save them to its working directory.
Configurable encoding settings 
The main window features a simple layout that makes it very easy to work with. In essence, you just have to open the input file, set the codec and the new encoding settings and start the job.  FFMPEG Audio Encoder is compatible with a variety of input formats of both video and audio files: MP3, MP4, M4A, AAC, AVI, OGG, WAV, FLAC, MOV, just to name a few.
Once the input file is selected, you can proceed to configuring the codec and the encoding settings. FFMPEG Audio Encoder enables you to select the audio track for the selected stream, the playback quality, the sample rate and the time modification rate. Moreover, you can choose between the mono and the stereo channels.
Batch encode audio streams of media files 
FFMPEG Audio Encoder intakes a media file and allows you to re-encode it. The application also supports batch operations, meaning more than one file can be processed in one go. It is a simple application but pretty valuable for those who are familiar with how the encoding process works.
Download FFMPEG Audio Encoder Portable