Portable O&O DeskInfo 1.1.1340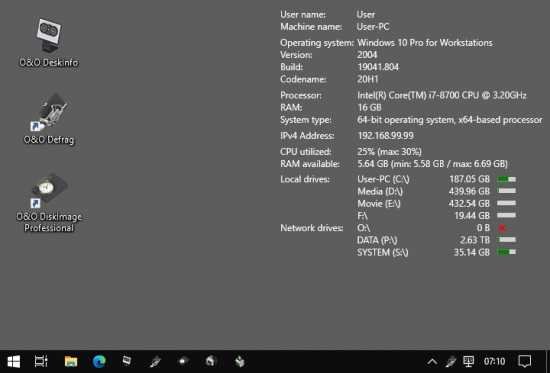 O&O DeskInfo – all important system information directly on the desktop.
CPU, RAM, drives, network…
With O&O DeskInfo you always have all the relevant system information at a glance, right on your desktop! You can also customize the ad yourself to just see exactly what you are interested in! Whether CPU or memory usage or network information – everything is presented in a compact and understandable way.
Simply pass on all information
Do you need this information for a support request? No problem! Simply save all data to the clipboard via the context menu in the info area and easily send it by email or via a web form!
Not the right color? Not in the right place?
You'd like O&O DeskInfo to be somewhere else on the desktop? Or is the font too small or in the wrong color? No problem! Simply select from the context menu. Even choose the right monitor – if you have more than one!
Download, start, done
Are you looking for the installation file? No need, there isn't one! O&O DeskInfo is completely portable. Simply download, start, done. And if you want, O&O DeskInfo will start automatically the next time you want it!
Download DeskInfo Portable