Portable Defender Control 2.1 Multilingual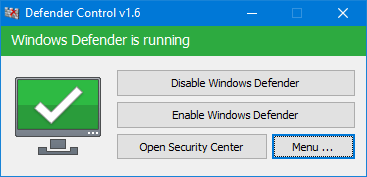 Windows Defender has been bundled with Windows since Vista. It's a small piece of software that works in the background to safeguard your computer from malware (malicious software) such as viruses, spyware, and other potentially harmful programs. It's better to have some spyware protection than none at all, and it's built-in and free!
But If you already have a good anti-malware program installed, defender will likely waste resources; there's no need to have more than one application operating at the same time.
The issue with all Defender versions in Windows Vista and later is that it is built into the operating system and is installed by default with no apparent or secret uninstall option. Many individuals want to disable or delete Windows Defender from their system because they prefer to use other software. However, on Windows 8 and 10, you can no longer turn it off altogether.
A click on Settings in Windows Defender opens the control panel for the program in the new Windows Settings application. You can turn the program's real-time protection off temporarily, but if it's off for a while Windows will turn it back on automatically. It is unclear why Microsoft made the decision to change the behavior of Windows Defender in this regard.
What is clear is that it will irritate people who wish to permanently disable it on the computer they are using. Defender Control is a simple freeware program that allows you to entirely disable Windows Defender on Windows 10.
Why should you use it
1. During copying big data from Pc to Usb or vice versa, disabling defender can decrease the Total Copy time
2. Users may experiencing conflicts between Defender and their antivirus application
3. Some antivirus programs ask the user to manually turn off or disable Windows Defender in Windows 10
4. If you've got it enabled, chances are Windows Defender will start each time you boot your PC. If you're short on resources, have your own methods of dealing with spyware or have simply come to the conclusion that Windows Defender is not for you then you might want to disable it.
Supported languages: English, Turkish, German, Russian, French, Korean, Chinese (Traditional), Chinese (Simplified), Italian, Slovenian, Japanese, Polish, Bulgarian, Spanish, Arabic, Czech, Thai, Hungarian, Swedish, Greek, Portuguese (Brazilian), Hebrew, Vietnamese, Persian, Romanian, Thai, Finnish, Dutch (Nederlands), Ukrainian, Dutch (Dutch), Serbian, Estonian.
Download Defender Control Portable