Portable Battery Limiter 1.0.8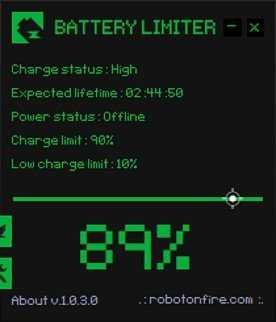 If you're having problems with your laptop battery draining quickly, it could simply be because you're overcharging it. This can be true even for the most expensive laptops.
Sometimes, your battery may be under a lot of pressure to reach the last percentage of its maximum capacity while charging.
The battery limiter portable is a simple little piece of software that helps and alerts you when the charging capacity reaches its limit. So you'll never forget to unplug your laptop again.
The default limit is 90%, but you can change this limit up to 96%. When the alarm goes off, simply unplug your laptop to stop the alarm. The battery limiter portable will keep your laptop from sleeping while it's running so you don't miss an alarm.
New release 1.0.8:
support for multiple audio formats, for your custom alarm sounds (including mp3)
refactored audio procedures
Download Battery Limiter Portable