Portable Altus Whatsapp 4.8.6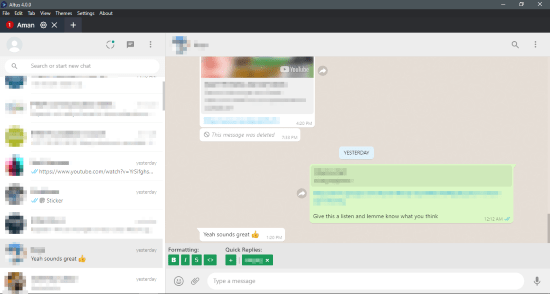 Altus Portable is an Electron-based WhatsApp client with themes and multiple account support, available for Windows, Mac and Linux!
WhatsApp is a leading communication software that has transformed the way people connect and interact with each other. With over 2 billion users worldwide, WhatsApp has become a ubiquitous platform for instant messaging, voice calls, video calls, file sharing, and more. It offers a seamless and user-friendly interface, making it accessible to users of all ages and technical backgrounds.
At its core, WhatsApp provides a secure and reliable messaging service that enables users to send text messages, photos, videos, and voice messages to individuals or groups. With end-to-end encryption, WhatsApp ensures that all conversations and shared media are protected and can only be accessed by the intended recipients. This commitment to privacy and security has made WhatsApp a trusted platform for personal and professional communication.
WhatsApp's popularity can be attributed to its simplicity and versatility. It is available on various platforms, including smartphones and desktop computers, allowing users to stay connected across devices. The intuitive interface makes it easy to navigate through chats, search for messages, and manage contacts. Additionally, WhatsApp syncs seamlessly with users' phone contacts, eliminating the need for manual friend requests or adding contacts.
One of the standout features of WhatsApp is its voice and video calling capability. Users can make high-quality voice and video calls to anyone, anywhere in the world, as long as they have an internet connection. This feature has revolutionized long-distance communication, allowing users to connect with their loved ones, conduct business meetings, or catch up with friends and family, all without incurring expensive phone bills.
WhatsApp also offers a range of multimedia sharing options. Users can quickly share photos, videos, documents, and even their location with a simple tap. This functionality is particularly useful for sharing important files, collaborating on projects, or organizing events. WhatsApp's ability to handle various file formats and sizes ensures that users can effortlessly share and receive media without any hassle.
In addition to its core messaging features, WhatsApp has introduced several innovative features to enhance user experience. For instance, WhatsApp Status allows users to share photos, videos, and text updates that disappear after 24 hours, similar to other popular social media platforms. This feature enables users to express themselves creatively and share moments with their contacts in a more dynamic and engaging way.
Moreover, WhatsApp has introduced end-to-end encrypted group chats, enabling users to create private and secure group conversations. This feature is particularly beneficial for businesses, organizations, and communities that require secure communication channels. Group admins have the ability to control and manage the group settings, add or remove members, and even designate other admins, ensuring smooth collaboration and effective communication.
WhatsApp also supports integration with third-party apps and services, allowing users to share content directly from other apps or access additional features within WhatsApp. For example, users can share photos or documents from their cloud storage services, listen to voice messages without leaving WhatsApp, or even make payments through integrated payment services in certain regions.
Furthermore, WhatsApp has a strong commitment to user privacy and data protection. It does not store user messages on its servers once they are delivered, ensuring that conversations remain private and secure. WhatsApp also provides features like two-step verification and the ability to block or report users, giving users control over their own safety and security.
In conclusion, WhatsApp has revolutionized the way people communicate and connect with each other. With its user-friendly interface, secure messaging platform, versatile multimedia sharing options, and innovative features, WhatsApp has become an integral part of daily communication for billions of people worldwide. Whether it's staying in touch with loved ones, conducting business meetings, or sharing important moments, WhatsApp continues to redefine the way we communicate in the digital age.
Features:
Altus Portable uses the GitHub-produced Electron framework to wrap around WhatsApp Web and add extra features to it.
Multiple Account Support: As of v2.0, you can use multiple WhatsApp accounts simultaneously!
Native notification support for all of the platforms. Clicking the notification opens that specific chat!
Online Indicator: Shows an indicator at the bottom-left corner of the chats that are online!
Dark mode for when you need to chill out your eyes in the night (or even in the day)
Custom Theme Support: Write your own CSS theme for WhatsApp or use the in-built Theme Customizer to create a new one just by picking colors!
Available for most desktop platforms including Windows (7 or above), Linux and MacOS.
Tray icon so you can minimize the app completely and still receive notifications.
Download Altus Whatsapp Portable